Through the use of marketing automation software (like HubSpot) or Google Analytics, we, as marketers, can track how many people come to our websites. We can even determine how this traffic found our website:
Organic search
Social media
Referrals – links from other sites
Email marketing
Direct traffic
Marketing campaigns
While this information does have some value, it does not provide us with any data that we can use to begin to segment, nurture, and engage with this website traffic. This is where the top-of-the-funnel (TOFU) offer comes in to play.
The purpose of TOFU offer is to entice an anonymous website visitor to give up some of their contact information in exchange for access to the content offer.
What is the 'Funnel'?
In this blog post, when I use the term "funnel" I am referring to the inbound marketing funnel that maps a potential buyer's path to becoming a customer. The funnel shows the journey that a website visitor takes from an anonymous visitor, to a prospect, to a marketing-qualified lead, to a sales-qualified lead, to a customer. Here is an illustration of the funnel: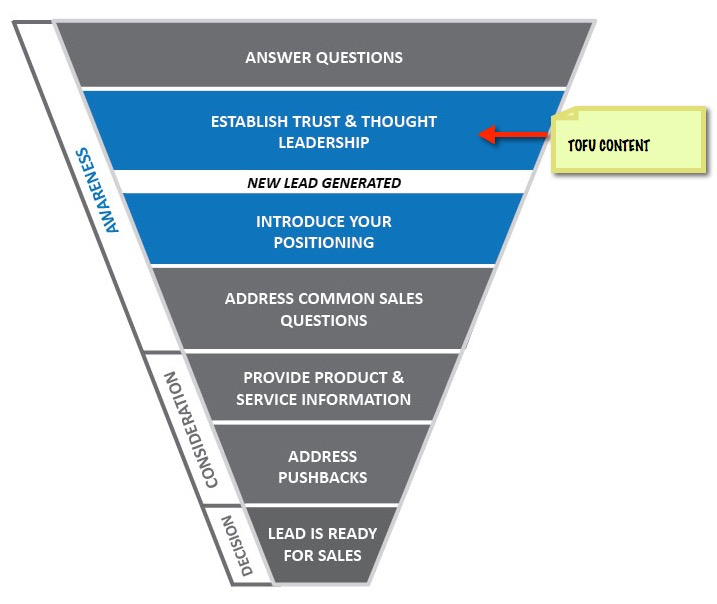 What is a Top-of-the-Funnel (TOFU) Offer?
Someone that has a problem and is looking to be better informed will typically start with a Google search. The search will lead the person to snippets of content (usually in the form of blog posts) that she will click on to see if it is helpful information.
Think of people at this stage as being in learning mode. They want to consume information that will educate them. If a prospect is helped and intrigued by the information they have consumed, they may want to learn more about this specific topic. This is where the TOFU offer comes into the picture.
TOFU content can come in many forms:
White paper
eBook
Video
Webinar
Infographic
Top-of-the-funnel content should have substance and provide more in-depth information about the topic addressed in the blog post. But, this content should also be more general and basic so that it will appeal to a broader audience.
This content should not even mention your company name, rather it should help the prospect with their decision-making process without making them feel like there are being sold to directly.
Content that deals with industry best practices, overviews of the different approaches that can be found in the market, and other broad overviews are effective.
It is critical that the content does answer the questions raised by the prospects. This TOFU content is your opportunity to build brand trust and thought leadership.
REMEMBER: The goal of a top-of-the-funnel offer is to convert an anonymous website visitor to a contact.
A Top-of-the-Funnel Offer is Not a Sales Pitch!
Inbound marketers look at the top-of-the-funnel as the "awareness stage." This is the point in a buyer's journey where the buyer has become aware of a problem, challenge or need that she is facing.
At this early stage, she is looking for content that will better inform and educate her about her needs and help her solve problem. She does not want to be sold to; she wants to be educated!
TOFU that does this will position the business that provided the content as an industry thought leader and will begin to build trust with the prospect.