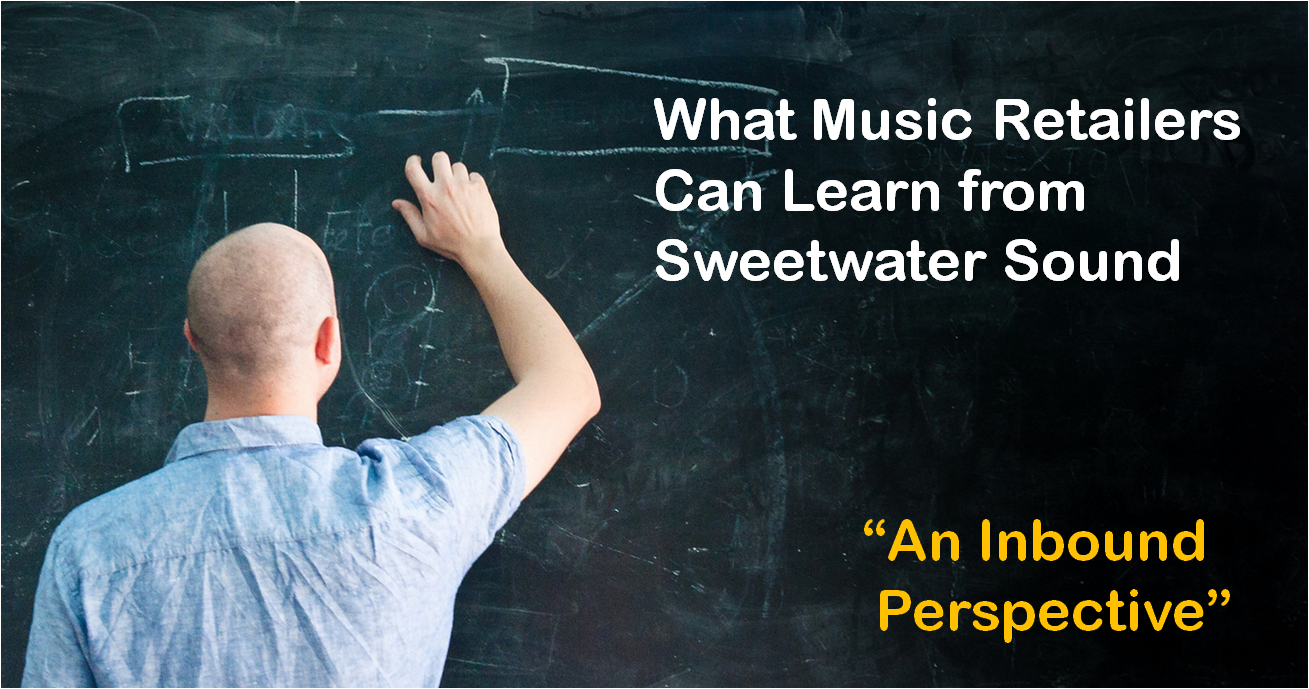 Remember the glory days when Blockbuster dominated the movie rental market? Now, think back to when Netflix entered the playing field and how that affected Blockbuster. In case you missed it, Blockbuster pretty much became non-existent after the new contender came into play.
Guess what? The same concept of online distribution is coming back to haunt brick and mortar stores like Guitar Center, which are failing to compete. The contender that I am particularly interested in is Sweetwater Sound because it is not only a suitable competitor, but in my experience, Sweetwater provides a superior customer experience and engagement over any other musical instrument vendor I've dealt with.
This, I believe, is the key to Sweetwater's success. The experience I've had with Sweetwater is similar to that of a local music store, except there are more options to choose from with guaranteed expert advice.
So what are some of the factors that are making Sweetwater successful?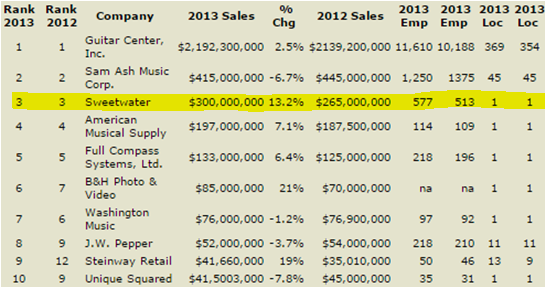 The chart above comes from Music Trades
Even though it looks like Guitar Center and Sam Ash are doing better than Sweetwater in terms of sales alone, it doesn't necessarily mean that they are more profitable in the long run. The numbers that interest me are the percent change in growth from 2012-13. As you can see, Sweetwater has the highest growth in revenue during that period, at 13.2 percent.
Another key indicator is the number of locations each vendor has. Notice how Sweetwater only has one. This means that they have a much leaner business model because they don't have to pay the overhead costs for multiple stores, which is not the case for Sam Ash and Guitar Center.
So it's a no brainer that they are experiencing higher profitability due to the lack of physical store locations, but the main factor behind this is that people just simply prefer dealing with their business model over their competitors.

I'm not trying to suggest that all musical equipment retailers should switch to ecommerce. Just having a leaner business model won't equate to more profitability for everyone. In Sweetwater's case,differentiate themselves from their competitors by providing great content about their products and the outstanding service that goes along with it. It is to this that I ultimately attribute their success to.
An inbound perspective on the Sweetwater process
Excellent customer service paired with extensive product knowledge
As I mentioned before, Sweetwater provides an excellent customer experience, pre and post-sale. Unlike most retailers, Sweetwater goes beyond just handling order statuses and product questions. They go the extra mile and will offer to keep in touch with you personally. As a musician, this is very appealing to me. I'd rather deal with somebody I've had a history with, especially if I'm investing in bigger projects like a home studio. When I call Sweetwater, I know I will always get unbiased advice.

Perhaps their most differentiated offering is their 24/7 technical support team, which will handle all technical support needs. If you were to call with a tech question to Guitar Center for example, they would refer you to the manufacturer unless the person you got to talk to actually knew what you were talking about. In Sweetwater's case, everyone on their support team has to know what you are talking about.

I did this test myself calling and emailing both technical support teams with a basic question; "How do I set up my audio interface with my recording software Logic Pro?" Sweetwater provided me with instructions on how to set it up in Logic, whereas the Guitar Center technician told me to contact the manufacturer.
What is interesting to note is that Sweetwater will offer help with products that they don't sell (i.e. recording software like Logic Pro); whereas Guitar Center will only help with technical support on the products they sell.
Quality content that is differentiated by default
One thing that really surprised me about other musical equipment retailers in general is that most of them really have informational content or blogs on their websites. Sweetwater, on the other hand, does have content such as buyer guides for various instruments, tech tips that provide valuable information about technology in music, and product reviews.

There are virtually no other competitors that are even close to be able to compete with this type of content, which is funny because this automatically differentiates Sweetwater from their top competitors like Guitar Center and Sam Ash. As noted in this blog from an ex-Sweetwater employee, you can visit the site without purchasing anything and still get a tremendous amount of value out of its website due to their educating content alone.


Value over cost
Guitar Center's business model is based on cost via price matching, whereas Sweetwater's is based on the value of their customer experience. More often than not, both retailers are usually identical in their product pricing, which pretty much means that Guitar Center's price match approach is obsolete. Read any forums online about musical equipment retailers and you will see the common preference toward Sweetwater when matched up against its competitors.
Sweetwater's real value comes with their personalized approach to sales. Ssales reps; or as Sweetwater likes to call them, sales engineers, truly aim to be helpful. This is the number one differentiating factor that matters to me most.
In every experience with Sweetwater, I have yet to be let down or turned off by a sales rep. With that said, I believe that if every music retailer emulates the Sweetwater business model and process, that success will follow.
In my next article, I will be talking about how other musical equipment retailers can improve their web presence and increase customer acquisition.
Photo Credit to Claudio Lopez, Flickr