As a provider of hypnotherapy training for mental health professionals, the Wellness Institute competes in a field saturated with "kooky," low-quality websites. Wellness' leadership team hoped a well-branded, high-quality website would stand out, establishing the institute's credibility among an audience of experienced therapists with advanced degrees.
Our agency, Innovative Marketing Resources, specializes in helping our clients create effective inbound experiences for their buyers, from the first contact with our clients' content through becoming a customer. So, having already worked with us on successful inbound marketing campaigns, the Wellness Institute team gave us the mission of overhauling the buyer's experience on their website. We were excited to help.
The Problem: A Website Stuck in the Past
The first thing we noticed was the Wellness Institute's existing website wasn't doing the business any favors. It was clearly designed years before and barely touched since. To make matters worse, it was poorly organized and not optimized for conversion.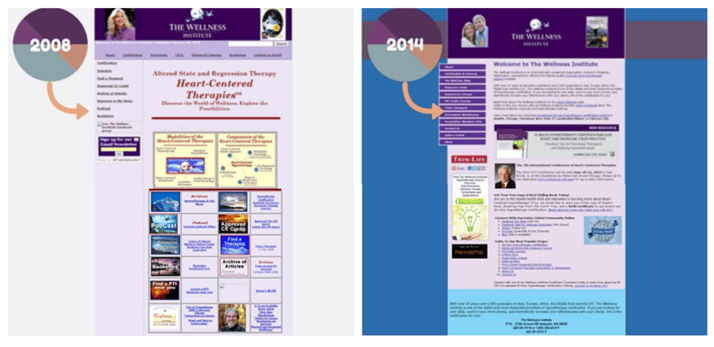 Website visitors were confused and not taking the next step.
As as result of its outdated, disorganized design, customer growth from the Wellness Institute's website had not increased in over three years. The institute was heavily dependent on alumni referrals, which accounted for more than 50 percent of new enrollments. The Wellness Institute was worried that if it continued to rely so heavily on referrals, its network would be quickly tapped out.
The Solution: A Redesign Based on Buyer Personas
We started our redesign by interviewing professional therapists in the Wellness Institute's target market. Through this persona exercise, we learned what Wellness' prospects look for in a post-secondary training institute, the problems they encounter as professional therapists, and the process they go through (including their decision criteria and pushbacks) to select a post-secondary training provider.
We learned that the members of the Wellness Institute's target audience are most concerned about being unable to treat certain "difficult" clients and growing their private practice. We also learned that the credibility of the institute they were learning from mattered a lot to them.
We also did a market gap analysis to understand how visitors perceived the Wellness Institute's existing website. We learned that most visitors found the website too "homemade" and design elements such as pictures and videos did not convey a professional image.
Drawing on what we learned about the Wellness Institute's buyers, we created a purpose map for a new website, identifying a copy and design strategy for each page that aligns with the priorities of the target audience. With this in hand, we went through the copywriting and website design phases for a full-scale redesign.
We built the website on the HubSpot COS which was incredibly user- and developer-friendly. (Watch the video below for a quick walkthrough of our redesign.)

Our process resulted in a cohesive website that was easy to navigate, leading visitors directly to the information we knew they were looking for based on their buyer persona profile.
The Results: Standing Out Among the Competition
The Wellness Institute got a brand new website built on the HubSpot COS with a professional, modern design. The design is clearly more mature than the websites of Wellness' competitors, such as hypnotherapy.com which is ranked second for the keyword "hypnotherapy training" (Wellness is ranked first).
This was a huge improvement from an old website that was hard to navigate, lacked a narrative, and failed at providing a clear path of next steps for users to follow. More importantly, the website has significantly improved at generating leads, nurturing them, and closing them into enrollments.
Before the website relaunch, from March 2013 through Nov. 2014, the website was generating 83 leads per month. Since the launch, it's generating 126 leads per month.

Since the website launch in Dec. 2014, the Wellness Institute has seen a dramatic increase in customers from inbound, year-over-year. How much of an increase? 76 percent in one year, or about 60 enrollments, for a total of $75,000 additional incremental revenue.
The team at the Wellness Institute had this to say:
"We are a small team with a large footprint. Innovative Marketing Resources helped us double our business in the last few years, and with their help in automating so much of our marketing, we haven't had to hire anyone, saving a lot of overhead.
"Innovative Marketing Resources helped us transition from a 'mom and pop' business started 30 years ago to a more dynamic, competitive, and successful organization with still more growth potential.
"We wouldn't be where we are with Innovative Marketing Resources and can't imagine a future without them."