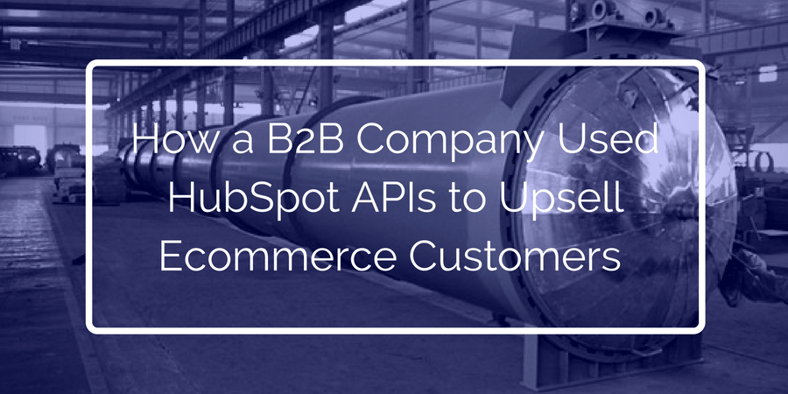 Your B2B company's ecommerce site — and the customers who use it — could be an untapped trove of marketing opportunities.
In B2B, online shoppers are looking for more than prices and specs. They're looking for answers. Every time someone visits one of your catalog pages, it's an opportunity to provide those answers. It's a chance to steer them towards helpful content — and in the process, capture their information for your marketing database.
But for too many B2B companies, the gap between ecommerce and marketing is a yawning chasm. Their ecommerce and online marketing platforms (like HubSpot) are black boxes, neither revealing their valuable secrets.
But shouldn't you be able to market to the people who are already shopping for your products? Aren't the people who already know your brand the ones most likely to become new or upsold customers?
One company, Boiler Supplies, thought so. Here is how they, with the help of our agency and the HubSpot APIs, spanned the divide between ecommerce and marketing.
The Challenge: Upsell Past Customers on a New Accessory
Boiler Supplies had just released a new product that enhanced another of the company's products. The natural market for the new product was the people who had purchased the original. The Boiler Supplies marketing team needed a way to get the contact information for those buyers out of their ecommerce platform and into their HubSpot database.
Luckily for the Boiler Supplies team, they were working with a HubSpot Platinum Partner with as much experience building ecommerce sites as planning and executing inbound marketing campaigns.
Our agency, Innovative Marketing Resources, has been perfecting its proprietary B2B ecommerce platform since 2005. With it, we have launched close to 50 online stores. And in recent years, we've helped B2B companies unite their online sales and marketing efforts by integrating with HubSpot.
"The ecommerce scenario is a great example of how, by integrating other platforms into HubSpot — specifically the catalog presentation and shopping cart platforms — companies can offer a shopping experience that is rich in educational content with the built-in marketing functionality of HubSpot," said Kevin Jorgensen, the IMR partner who heads up our ecommerce and integrations program.

The Solution: Automatic Segmented Smartlists
Boiler Supplies was already using the IMR eccommerce platform integrated with HubSpot. They asked us for a way to create segmented lists in HubSpot to not only reach the people who bought the product described above, but to market to people who bought any given product.
"This client sells thousands of products, so it wasn't practical to create those lists by hand," explained Jorgensen. "So using the integration, we were able to set it up so that every single time they created a new category, a new product, or a new brand on the platform, a new smartlist for that product, brand, or category would be generated in HubSpot."
To do this, Jorgensen and his team made clever use of a number of HubSpot APIs. The idea was to use these different APIs in combination to create a valuable function for our client.
And it has worked.
"We used the APIs to build those lists in HubSpot dynamically," Jorgensen said. "Every time someone buys a product from our client, our client becomes a little smarter."

The Results: Deeper and More Valuable Customer Relationships
Our HubSpot integration has allowed Boiler Supplies to:
Create email campaigns to upsell and cross sell existing customers on new products.
Email targeted satisfaction surveys to learn more about how customers use products.
Deepen the relationship with existing customers, who continue to provide value long after the first sale.
A related function of our integration has allowed Boiler Supplies to market to people who have filled their online shopping carts but abandoned them before completing the purchase. By doing so, Boiler Supplies has increased the number of completed transactions on its site by 45 percent.
"That was basically found business," Jorgensen said. "It was business they wouldn't have completed otherwise."
The Boiler Supplies team has been very satisfied with the results.
"Our ecommerce site is now so much more than a place to sell our products online. The data we can gather through its integration with HubSpot is priceless" said sales manager Jerry Barber. "We have run a number of campaigns based on these smartlists and really grown our relationships with customers, increasing their lifetime value to our business by a significant amount."
Do Your B2B Ecommerce and Marketing Platforms Talk?
Do you envy the marketing insights of a platform like HubSpot but need the functionality of an ecommerce platform to sell the thousands of products in your catalog?
Just because you're in B2B ecommerce doesn't mean your company can't benefit from the modern methodology of inbound marketing. But you do have your own unique challenges. Read about some of those challenges in Kevin Jorgensen's post, "3 Reasons B2B E-commerce Solutions Are Different Than B2C."To start learning how to reach new customers for your B2B company using inbound marketing, click on the banner below for a free copy of Kevin's ebook, "Stop! 3 Things You Need to Know Before You Try Inbound Marketing."
Now it's your turn to share your business's story. Are you trying to use inbound marketing alongside an ecommerce shopping platform? What has worked and hasn't worked for you? Let's hear it in the comments section below.