I get this question a lot: "Does your inbound marketing agency use freelancers or is all the talent in-house?" When clients or prospective clients ask me this, I have to wonder, what's behind it?
Do they assume an agency that does everything in-house is better at inbound marketing?
Do they think an agency that outsources is somehow lacking in inbound expertise?
Granted, there are plenty of horror stories out there about finding and working with freelance writers. You may have experienced a few yourself. I know I have. But I'm proud to admit (much like Mike Brown at nDash Marketing did a few months ago) my agency does use freelancers — and we, and our clients, are stronger for it.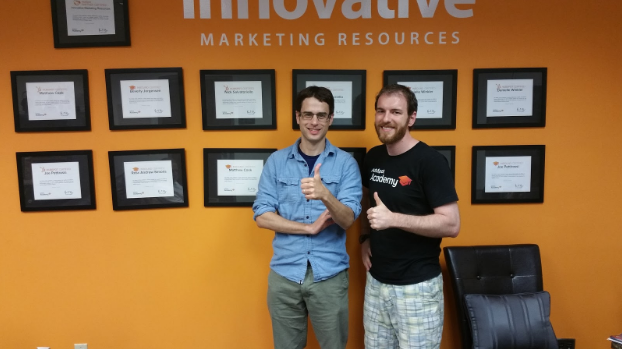 This is me hanging out at IMR Headquarters in Waltham with one of our freelancers, Matt Cook, a former newspaper editor who lives and works out of Portsmouth, NH. Matt has worked with our firm for many years across many client content projects.
Asking the Right Question About Freelancers
I'm not writing this article to bash agencies that choose not to outsource work. Certainly, if you can assemble a full-time team of experts in all the tasks an inbound marketing agency might encounter, in all the verticals you work with, while keeping your overhead costs in check or without making your clients go broke on the billings to support it, then go for it!
But my point is, if freelance talent raises a red flag for you when you're searching for an inbound marketing agency, you're focused on the wrong thing. "Does your agency outsource talent?" is the wrong question. Better questions are:
"Does your agency understand the talent and the skillsets that are needed to achieve my inbound marketing goals?"
"Does your agency have access to that talent and can you bring it to bear to address my challenges within my budget and ROI timeline?"
In other words, whether they're drawing from a pool of internal or outsourced workers, you're looking for an agency that will go all out to find and access the best talent for solving your specific problems.


3 Questions to Ask an Inbound Marketing Agency That Outsources
When you encounter an inbound marketing agency that works with freelancers, ask these questions to make sure they will give you access to the best talent possible.

1. Are You Choosing Freelancers That Expand Your Agency's Capabilities?
We use freelancers at Innovative Marketing Resources (in addition to our crack team of full-time HubSpot Certified consultants) because we don't want to limit our options. We especially don't want to limit our clients' options.
As we plan the optimal inbound marketing strategy for our clients, certain things come up — video animation, highly specialized writing, advanced pay-per-click management — for which we lack the internal expertise; given our core focus, it just wouldn't make sense to keep those skills around full-time. But because we believe we need to execute those tactics well so our clients can be successful, we turn to the best freelance talent we can find when those tactics are called for in our strategy.While I'm sure there are many good reasons for working with an agency that focuses solely on full-time talent, when you have specialized needs, such an agency may be forcing you to settle with the talent they have on hand.

2. Does Your Agency Have the Full-Time Roles That Matter Most for My Engagement?
As an agency that prides itself on consulting and inbound strategy, those are the roles that we keep full-time.So, for example, while we may outsource content writing, we will never outsource:
Topic strategy.
Content editing.
Content optimization.
When we let our writers do what they do best, directed by a strategy we create, we can make beautiful music together. (That, plus we have exacting standards for freelance writers. We have our own network of experienced writers we know and trust; we never use the online marketplaces.
We create high-quality content for our clients but we are not a content shop. Our clients hire us for our strategic and consulting expertise. When you hire an inbound marketing agency, make sure what you need them for the most is what their internal team does best.


3. Do You Use Project Management Best Practices?
It doesn't really matter if your inbound marketing agency's team is freelance, in-house, or a mix of both if they don't have good processes for working together. I think of an inbound agency as a lot like a general contractor, managing the various specialized members of a team effectively to:
Stay on budget.
Stay within the scope of a project.
Use technology to communicate and collaborate.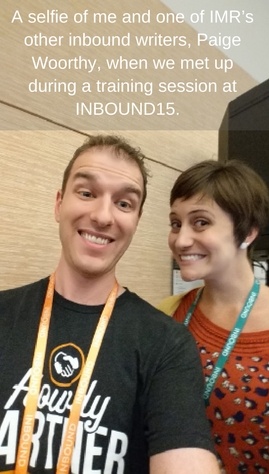 Here at Innovative Marketing Resources, for example, we maintain an ongoing internal handbook of procedures documenting everything we do to serve our clients. Besides efficiency and repeatable results (learning and improving as we go along), one big advantage of this approach is continuity.
Our agency can find additional team members to scale up quickly when we need to. We can access different talent from month to month, for different styles of campaigns, and not settle for the talent we have on-hand, just to cover our overhead.
Here is another advantage of working with inbound marketing agencies with documented processes and project management expertise: It provides a path to working with the best freelancers in the world without the hassles of managing them.
As Mike Brown points out, "Freelancers have agencies beat in some areas." Many businesses want to take advantage of the benefits of freelancers, but they don't have the project management expertise to even try. Agencies with experience can help you benefit from and effectively manage this exploding pool of accessible talent for hire.


Freelancers vs. Full-time: What Do You Prefer?
Have you had positive or negative experiences with inbound marketing agencies that outsource or those that use a 100 percent in-house team? Please let me know in the comments section below. I know neither option is perfect, so I'm very interested in hearing about your different approaches, opinions, and experiences on this.