Dale Carnegie was a massively influential writer, thinker and lecturer with much to teach the business world about self-improvement, salesmanship, corporate training, public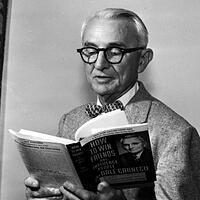 speaking and interpersonal skills. Learning how to "win friends and influence people" is useful in any industry, and Carnegie's teachings can certainly be applied to inbound marketing. In How to Win Friends and Influence People, Carnegie stated, "I am very fond of strawberries and cream, but I have found that for some strange reason, fish prefer worms. So when I went fishing, I didn't think about what I wanted. I thought about what they wanted. I didn't bait the hook with strawberries and cream. Rather, I dangled a worm or grasshopper in front of the fish." This quote echoes a basic tenet of inbound marketing: you must speak to the needs of your prospects, create solutions and give them what they need in the content you create, the product or service you provide and in all client and prospect interactions. I will now explore some of Carnegie's rules to Win People to Your Way of Thinking and discuss how you can apply them to your inbound marketing strategy and amplify your marketing mix.
Win People to Your Way of Thinking
1. The only way to get the best of an argument is to avoid it.
While business dealings can get heated sometimes, it is always best to keep your cool and maintain your professional demeanor. This applies to client meetings and networking—whether in person at conferences or online. Being respectful is never a mistake.
2. Show respect for the other person's opinion. Never say, "You're wrong."
You should be doing all that you can to expand your reach and influence in positive ways. It is important to get involved in the online discourse of your industry—on LinkedIn, Twitter, Facebook and syndication sites like Business 2 Community and Social Media Today. When commenting on the content shared by others in your industry, you should steer clear of overly harsh criticism. There is nothing wrong with expressing a difference of opinion; it should just be done with respect and consideration. Cordially interacting with the top influencers in your industry will raise your professional profile, increase your influence and credibility, and help you be seen as an industry authority. Klout is a good site to explore and identify industry influencers and thought leaders.
3. If you are wrong, admit it quickly and emphatically.
Being obstinate and stubborn will not win you any friends—online or in person. It is important to be open to new ideas and continue to innovate. There are enough over-sized egos in the business world; you do not need to be one of them. Instead, be flexible and realize that no one is infallible. Express yourself in a clear and straightforward manner.
4. Begin in a friendly way.
It is always best to be friendly—with clients, prospects and colleagues. A little good cheer can go a long way in smoothing out disputes and moving projects forward. When you first contact a new prospect, personalize your communication and use first names whenever possible.
5. Get the other person saying "yes, yes" immediately.
To start the sales process off in a positive way, you should provide useful, information-rich content to your prospects via emailing, your blog and premium downloads. This will leave them wanting more and eager to hear from you again. These inbound marketing tactics are much more palatable and effective than a traditional hard sell. Start off giving prospects what they want, and they will be more likely to convert to clients.
6. Dramatize your ideas.
Everyone loves a good story. Add drama to your website content with shock and humor. Relate issues in your industry to popular culture. Do some newsjacking. Adding flair to your content will prevent your site from going stale.
7. Throw down a challenge.
Throwing down a challenge is great way to prompt action. In inbound marketing, you can do this with free trial offers and effective calls to action. Provide great content and demonstrate your value. Give your prospects an offer they cannot refuse.
How will you apply Dale Carnegie's teachings? If you would like to win friends and amplify your inbound marketing, contact Innovative Marketing Resources today.