In order to advance your small business, you need to stay up to date on current trends and continue to innovate. A powerful and effective way to amplify your marketing mix and generate new business is social network marketing. Establishing a social media presence for your business is vitally important. Effective social network marketing necessarily entails creating and sharing information-rich content. There are a number of popular social networks, which are effective channels to share content, create a following and effectively market your business. If you are new to marketing on social networks, Facebook, Twitter, LinkedIn and Google+ are the networks you should initially focus on. Add these networks to your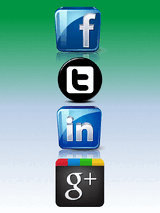 marketing mix to augment your marketing strategy and
increase your bottom line.
Facebook
Marketing on Facebook allows companies to reach over 900 million users, who spend an average of 24 minutes a day on the network. Facebook has a visitor-to-conversion ratio of 0.77%.
Facebook Ads enable marketers to create engaging and socially relevant ads.
Sponsored Stories are another option, which allow marketers to amplify the distribution of their content that Facebook users have shared with their friends.
When someone posts on Facebook that they have "checked-in" at your business, their friends may see this update in their News Feeds. Sponsored stories can be purchased to increase the distribution of these stories among the friends of people who interact—by "liking," commenting on content, participating in discussion or "checking in"—with your company's Facebook Page. Sponsored stories have the ability to increase your reach exponentially.
Twitter
Twitter enables companies to reach over 6 hundred million users, who spend an average of 7 minutes a day on the site. Twitter has a visitor-to-conversion ratio of .69%. With Tweets, you can create and share small, concise yet engaging pieces of content—including links to your website and blog content—that are information-rich and socially relevant.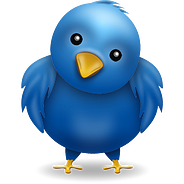 Being a successful Tweeter requires genuine enthusiasm, authenticity, transparency and active engagement and involvement. Send direct messages or shout-out tweets to personally thank followers who share your tweets, comment on or answer questions about your business. Sending thanks is polite and will help get conversations going. Do not only broadcast your own content. Instead, actually converse and really listen to your fellow Tweeters. If someone new "follows" or subscribes to your business, reciprocate by "following back." Responsiveness and true engagement with your audience will increase your reach on Twitter.
LinkedIn
LinkedIn is the world's largest professional network with over 160 million users, who spend an average of 7 minutes a day on the network. LinkedIn has a visitor-to-lead conversion ratio of 2.74%, which is outstanding and greatly outranks the conversion rates of Facebook and Twitter.
Make use of the many available applications to showcase content on your LinkedIn profile, including: Events, SlideShare and Polls. Post status updates frequently—with links and keywords—that will direct your LinkedIn connections to your website content and other related information. Join groups and participate in discussions. Be responsive and take your feedback seriously. Cater your shared content to your target audience; knowing and understanding your audience is invaluable.
Google+
Google is the most highly trafficked website in the world, attracting over a billion visitors each month. Google+ has over 170 million active users, who spend 5 minutes on the site daily. Google Plus Pages for Business (GPPB) are easy to navigate and can generate increased traffic at the top of lead funnels and amplify engagement opportunities. With Direct Connect, searching "+ your company name" on Google leads potential clients right to your GPPB page.
Sharing useful, informative content with keywords and links is a must. However, Google+ is also image-centric, so share plenty of engaging photos to spotlight your business. Google+ is strongly linked to and powered by Google Search, so having a GPPB page will significantly advance your company's search ranking and results on Google as a whole. With the immense popularity of Google, revolutionary targeting and streamlined design, Google+ is a robust channel for targeted online marketing.
Get Started
Effective social network marketing is informative, entertaining, engaging and responsive. Sharing interesting, information-rich content is essential. Remember to be social—get involved, truly engage and directly converse with people on social networks in order to achieve an increased ROI from your social network marketing. The summer is a great time to reenergize your company's social media presence.
The more social media channels you utilize to showcase your content, the better. Experiment and determine which channels work best for your business. For more advice on social media marketing, check out Do Your Twitter Followers Know Whether You Can Fog A Mirror? and How To Build A LinkedIn Presence That Generates Leads. If you would like help, Innovative Marketing Resources is available to create and maintain a targeted social media marketing campaign.