Do you avoid lead nurturing? Many inbound marketers do. In one sense it's easy to ignore this vital step in the inbound marketing process. After all, you attracted a visitor by your superior on-page SEO, presented engaging content, made a compelling offer and achieved the holy grail of marketing – got the prospect to respond and give you their contact information. You did it, right? Well, sort of… failing to follow up with great lead nurturing at this point in the process is like making a really amazing business contact at an event, getting their business card, and then filing it in your rolodex. What good is that connection if you never follow up?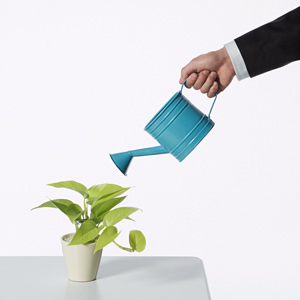 So what makes a great follow up email and how can you create compelling lead nurturing emails? Here are 4 tips:
The Right Message At the Right Time
Assuming your lead nurturing emails follow best practices and pass the customary spam tests, the first filter your new prospect is going to apply is relevance. Does your email subject and title resonate with a recent experience your prospect had with your business? If you've mapped out your sales process, and are mapping your prospects points of engagement, use this information to send a nurturing email that makes sense. If I have visited a product page multiple times, chances are, I'm indicating an interest in a purchase. Sending me an email with an offer to buy could be just the thing to convert me into a paying customer. But sending me an email with an offer to subscribe to your newsletter could be just the kind of turn off that tells me you really don't understand my needs. Using your website analytics, such as event tracking and lead segmentation along with a clear understanding of your sales process will enable you to create relevant lead nurturing emails and send them at the right time.
But what about situations where the inclination to purchase isn't so clear? Same methodology applies. Follow your sales process. If you're marketing management consulting services instead of sportswear for sailing, the appropriate offer may be customer testimonials or analytical whitepapers designed to expand the relationship you've started to build instead of an offer to purchase. The important point is making your offer relevant to the prospect's experience and delivering it in a timely manner.
Professionalism and Authenticity
Second only to relevance is the quality of your lead nurturing email. If you're prospects are like me, the first thing they do after an email is opened, is scan it. A poorly constructed, unprofessional email is likely to be discarded without consideration. Your email should use a design that is consistent with your website branding. If your company and brand can't be recognized in a glance (this goes back to relevance) your message may never be read even though your email was opened. Create obvious clues such as making the return email address from your company's email domain with a person's name, rather than no-reply@mydomain.com.
Keep it short and to the point. The purpose of your email is to get the reader back on your site, not deliver the first chapter of War and Peace. Also, remember that email applications like Outlook and Gmail automatically block images. Keep graphics limited to your branding elements and don't rely solely on graphics to deliver your call to action. There's nothing worse than to have your email delivered, read and then leave the recipient with no way to take action because your CTA is a box with a red "X" in it. When you do use images, make sure you define the "alt" tag with a meaningful substitute for the image.
Clear Call to Action
Always make sure that your CTA is highly visible and compelling. Tell the reader how to get the offer quickly, easily and safely. Remember that people are naturally suspicious of links in emails. Using generic link text like "click here" or "download now" is much less compelling, less relevant and looks riskier than "Renew Your Subscription Online Now And Get An Additional 15% Off." If you do use an image for your CTA, don't forget to put the offer text in the "alt" tag so that it shows up even if the image is blocked, and I recommend including the offer link in your body copy as text as well.
Common Courtesy
Often overlooked in email lead nurturing is a simple follow-up and thank-you for opening an email and especially for responding to it. Your marketing automation system or email sending tool (Outlook doesn't count) will tell you who opened your email and who clicked through on your call-to-action. Here's what inbound marketers often forget to do… You should set up instant, personalized response emails to thank the recipient and make another offer that's relevant. If I just clicked your offer to renew my subscription, I should get something more than a confirmation notice (you did send the confirmation notice, right?) How about a free copy of your "2012 Market Analysis Report" ebook. If the value of your product or service warrants, consider an immediate thank you call, scheduling of training or invitation to an upcoming event for new users. My company makes a lot of purchases from GoDaddy and I've noticed this tactic used whenever our purchase is beyond a certain amount. It's effective. Simple acts of common courtesy lead to increased customer loyalty, greater likelihood of referrals and increased lifetime value.
So don't avoid lead nurturing. You wouldn't just stuff the business card for that hot prospect you met at the tradeshow into the back of your rolodex… so don't drop your leads after they show interest in your product or service. Embrace lead nurturing and look at it as a way to turn that first small win into a relationship that can provide real value.