It's an inbound marketing agency's dream come true. The client calls to say, "Stop, please, we have too many leads!". Except when the call comes at 10PM while you're watching your favorite hoops team fighting for its life in double overtime and when the "leads" are actually a form spam bot that has found, and is assaulting one of your client's lead forms. Your dream come true has become the inbound marketer's version of spamageddon.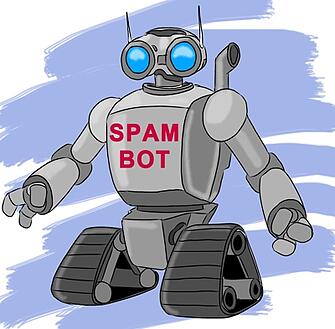 What can you do about automated fill-in bots attacking your forms? Getting hundreds or thousands of garbage leads that clog up your marketing analytics and have to be purged from the database isn't a good demonstration of the value of inbound marketing. There are some steps you can take to protect yourself in the form bot wars. Which defense is right for your business, school or non-profit?

CAPTCHA!

We've all run across this one. Those annoying, impossible to read strings of random characters that you have to parse and type into a text box correctly in order to submit a form. CAPTCHA, or as I like to call these forms, Gotcha!

Sure, these online versions of the riddle of the Sphinx work but if you're like me, there are times when you run across one of these CAPTCHA boxes, and think to yourself, "really?!" and flee the site, disgusted that the world has come to a test to determine whether you can fog a mirror so you can order a copy of Ringo Starr singing Yellow Submarine.
Yes, CAPTCHA is free and will ensure that all your leads are human, but there is a price to pay. According to a recent article on SearchEngineLand.com, the use of CAPTCHAs increase form and page abandonment rates. So, unless you have a rampant form spam problem, it's best to not use CAPTCHAs.

Less Drastic Approach

At Innovative Marketing Resources we opt for a less drastic approach. Creating a trap that only bots can see. This approach will not prevent bots from hitting your lead forms, so you will still have anomalies in your analytics, but it will make it easy to spot the bot and trash the lead (and change your form URL to discourage repeat offenders), and it won't make your forms any more difficult for your real prospects.
Here's how it goes. When building a form on a platform like Hubspot, insert an invisible custom text field called date for example. Because the field is invisible, no person will ever see it or be able to fill it in. However, because bots parse the code for your form, the bot will 'see' the date field and will fill it in. When you are doing your lead export, any record that has information in the date field is by definition, a bot. Toss it.
It's Up To You
So after awaking from the nightmare and reading the next morning that my hoops team had won, it came down to a question of irritating my client's prospects and chasing them off or putting up with bot-filled lead forms that you can easily be identified and tossed in the bit bucket. Which choice is right for your school, business or non-profit is a matter of the volume of bot assaults you receive and the level of security warranted on your forms (financial services marketers for example may benefit from the aura of added security that a CAPTCHA form creates). Have you been attacked by form bots? How have you dealt with it and what tactic, if any, have you used to protect yourself from future assaults?
Drawing credit: Mike Powers, resident illustrator at Innovative Marketing Resources