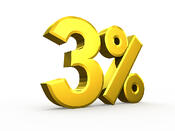 Every day I talk to entrepreneurs who are launching new B2B websites, hoping to build a pipeline of new business through content and inbound marketing. These business owners often rely on "conversion rate" as a measurement of their sites' marketing performance.
A site's conversion rate is the number of people that filled out a form on that site divided by the total number of website visitors, expressed as a percentage (leads/visits). This is an important metric for gauging your buyer's interest in your website content.
But if your B2B website is brand new, how can you know what kind of conversion rate it will have? Knowing what to expect when you have no previous conversion rate data on your site is important for setting expectations with the rest of your team.
I recently helped Patrick Truhlar, Managing Member at Steady Returns LLC, with this very problem. He wanted to know what to expect in terms of conversion rate for his new site, which is launching in March. After a couple weeks of digging into his current site's history of performance, I set some expectations for starting up content marketing with fewer than 200 visits per month coming to his website, which is his current site's trend.
Why is 3% a good guess for a new B2B website?
HubSpot, a leading marketing automation software provider, has surveyed 3,570 of its 11,000 customers and found that, across all its 11,000-plus customers, a conversion rate of 2 percent is average. But that number takes into account absolutely everybody.
More statistics like this can be found on HubSpot's state of inbound site: http://www.stateofinbound.com/
Two may be the average for all companies, but in my experience, when companies start from scratch, they often end up having a higher conversion rate. The reason for that is, over the past 10-15 years, people have been doing a lot of "black hat SEO." They have not been creating helpful information. They've been gaming the system and playing tricks on Google to make it look like their content is valuable, when it really isn't.
Just a few years ago marketers could farm out 100 links to India and get their search rankings up, as an example. The result for many businesses was a ton of website traffic that shouldn't have actually been there. For some businesses, this traffic persists, although it's not doing them any good. The visitors are not right for the business but they're still on the site.
We often find that sites that have been around for longer will have a lower conversion rate, something between 1 and 2 percent. Sites that are younger, that are growing by producing helpful information consistently, will have a higher quality of traffic—and therefore higher conversion rates.
As an educated guess, I think you can expect your conversion rate to be around 3 percent within the first 6 months, if you're just starting out with a new B2B website and you are consistently posting helpful information about the challenges your buyers are facing in the market and capturing leads at each stage of the buying process. But it could be 2 percent; it could be 6 percent. Six percent is really the highest I've seen. I did a website project earlier this year that had a 6 percent conversion rate after about 6 months, but that is rare. Let's take a look at a simple addition to your content marketing plan that typically has a very high impact on your website's conversion rate.
A good conversion rate requires content marketing and influencers
A lot of people I talk to think that, to be successful with inbound marketing, all you have to do is create content. This is an especially dangerous expectation for business owners launching NEW websites because you will need to build your credibility with Google, and thus your audience, from scratch, which takes time. You may not see the results you want right away, no matter how much content you produce.
One of the best ways to shorten the process of growing your conversion rate is to collaborate on content with industry influencers: like interviewing an influencer for your blog, recording a podcast together or teaming up on a webinar for your mutual audience.
The HubSpot sources report below demonstrates how long it takes to get organic traffic (green) to start kicking in. This client was doing two content launches per week during this entire time period.
NOTE: Black line represents website conversion rate (leads/visits).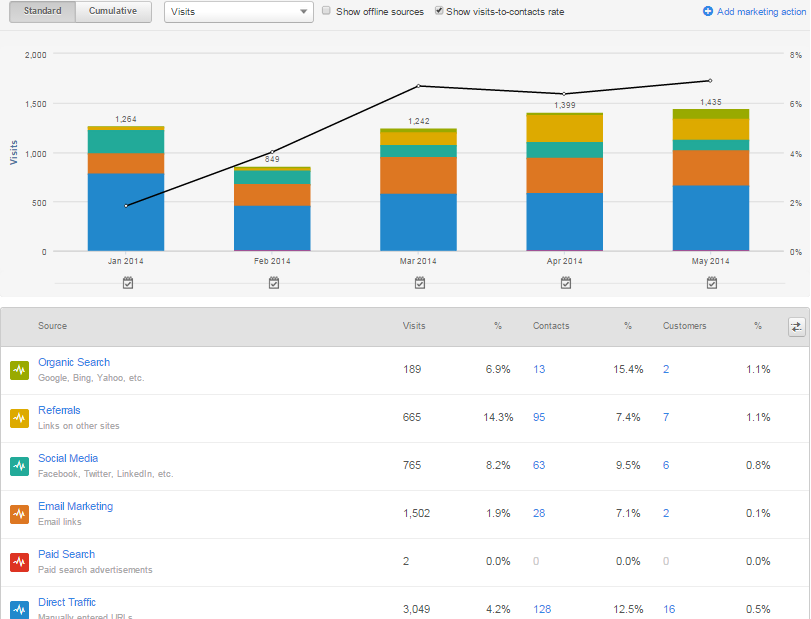 As you can see, it took about 5 months just to get a couple hundred organic website visitors.
So rather than sitting on our hands and waiting for Google to recognize all the great content we were producing, we reached out to a couple industry influencers who were producing content just like us, and we asked them if they wanted to team up on a podcast and webinar in April. They quickly said yes, as content is a commodity all influential people on the Internet appreciate the value of.
In March, the influencers helped us promote the podcast (yellow traffic marked as "referral"), in April we did the webinar and recorded the podcast, and in May we followed up with some blog articles repurposed from the podcast and webinar.
The website visitors coming to our site from this activity were highly qualified and converted at a rate of 14.7 percent (93 leads from one influencer over 3 months!).
These co-op content programs can make or break your website's first couple of months in the wild. But don't worry, even if you don't have the guts to reach out to the most influential people in your industry and ask for help, you can always wait for the organic traffic. If you build the content… it will come. You just have to be patient.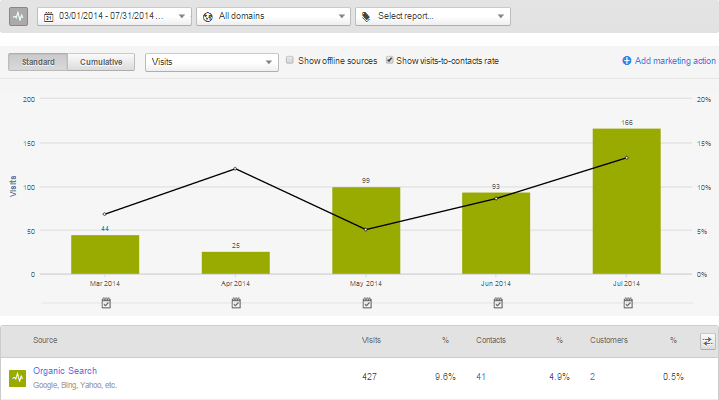 Hah! There it is. The green bars up and to the right! It never gets old for me. A 14 percent conversion rate in July was surprising to me, but you never know.
How important is conversion rate to the bottom line?
A website conversion is only the beginning of your online relationship with a lead (the potential buyer who just downloaded some piece of helpful content on your website).
For Patrick, it is important to understand how that lead needs to be nurtured with helpful information before it can be considered a lead that is ready for sales. Recent studies from the Corporate Executive Board (CEB) find that buyers self-educate themselves 57 percent of the way through the buying process before they speak with a member of the sales team. That's a lot of educating to do for Patrick's marketing team.
CEB post: The end of solution selling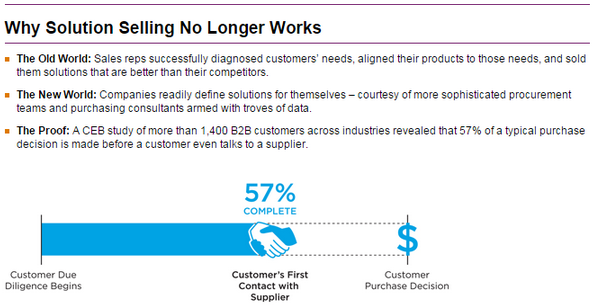 Please help me help Patrick
If this article was helpful to you, you can help us both out by adding some advice and thoughts in the comments below!
Further resouces on launching new B2B