A good content marketing strategy will attract new business opportunities using content. To be successful, you will need to know exactly who you are talking to and how they make purchasing decisions (the buyer persona). You will also need to answer the buyer's questions at each stage of their "buyer's journey" and map your sales process using content (content plan). Finally, identify where the content would most likely reach your target audience (distribution plan). These are the three elements of a content marketing strategy that can grow your business, but creating these strategic plans takes a lot of work. Here are the steps you need to take, and resources you can use to create your own content marketing strategy. All great things take time and effort, so make the time and put in the effort!
Why you should spend more time on strategy.
Plan first, then do.
This simple concept is forgotten by most marketers who are excited to attract new business opportunities with helpful content. Without a plan to convert these new website visitors and leads into qualified opportunities for your sales team, you are at risk of joining the 44% of content marketers who fail. That's right, according to Content Marketing Institutes 2014 content marketing benchmarks study: 44% of B2B content marketers fail because they don't have a documented content marketing strategy. My simple point is: create a plan that shows exactly how content will be used to not only attract buyers, but nurture them through a sales process until they are ready to make a buying decision.
The who, the what and the where
The three elements of a content marketing strategy (buyer personas, content plan, and distribution plan) are most effective when completed one after the other, starting with the research into the buyer persona (the people you want to attract), and ending with the plan to distribute the content that will attract and nurture them.
Part 1: Creating your buyer persona (the who)
Don't waste your time with trivial characteristics of your buyer persona. Remember how you are going to use this information: you are going to map their buying process with content. This means that for each unique buying process your sales team encounters, you need to design another "buyer persona" if you hope to attract and nurture them using inbound marketing. Start with one buyer persona, prove to yourself that you can model their behavior and attract them using inbound, then go back and make investments in the others. Here are the five things you will need to understand in order to move on and build your content plan.
NOTE: I just hosted a webinar about the "5 Rings of Insight" from Adele Revella's "Buyer Persona Institute" last week on my insights blog for inbound agencies. I am currently enrolled and can highly recommend taking her "buyer persona masterclass" if you really want to nail this part of your strategy.
Adele Revella's "5 Rings of Insight"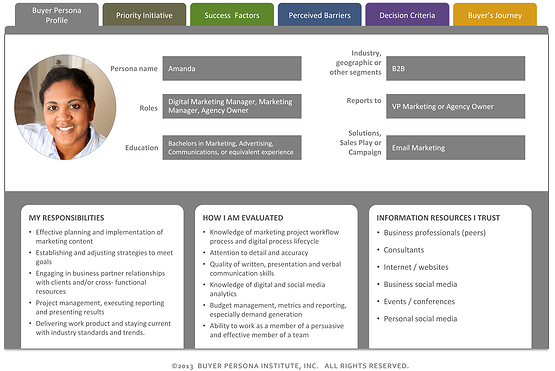 Priority Initiatives
The problems that confront your buyers will cause a need for information that results in an online search. "Why" someone is searching for information, their motivation, is often more valuable than the search itself (think Google's recent updates incorporating "semantic" search).
What you need to do: Identify 3-5 problem areas or initiatives that consume your buyer's time or budget.
Success Factors
For each of the buyer's priority initiatives (related to your product/service) capture the different success factors. How will your buyer measure the success of their initiative? This is very similar to the main goal of a particular search.
What you need to do: Identify 3-5 success factors for each of the buyer persona's priority initiatives.
Barriers
What would cause your buyer to believe that your company cannot help them solve their problem? Identify at least three of these so that when it comes time to model your sales process using content, you know exactly what pushbacks need to be addressed along the way.
What you need to do: Identify 3 reasons your buyer persona would not buy from you.
Buying Process
This is where I think lots of people get held up, believing that every buying process is different. While that is certainly true, there are three basic stages to almost every buying process: (also known as the buyer's journey)
Buyer's Journey
Awareness Stage: the buyer understands that they have a problem, but not how to solve it.
Consideration Stage: the buyer understands their problem and is considering multiple solutions.
Decision Stage: the buyer is ready to make a purchasing decision
Your job as a marketer is to understand how the buyer's need for information changes as they move through this buying process. Try to come up with specific questions the buyer might ask at each stage of the buyer's journey.
What you need to do: Capture up to 8 questions that your buyer persona would ask at each stage of the buyer's journey.
Decision Criteria
Finally, you need to understand what your buyer will take into consideration when making a purchase. These decision criteria are not limited to your product/service features; they include anything that may have influence over a purchase.
What you need to do: Identify at least 3 things your buyer would consider before making a purchase.
Buyer Persona Resource
You can see a completed buyer persona from Adelle's masterclass by clicking here.
Part 2: Creating the content plan: (the what)
Your content plan needs to accomplish three things:
Identify the main elements (subject and desired action of each content piece) that will address the need for information at each stage in the buyer's journey.

Format of content (written, image, video, audio)

How the content will be delivered to buyers at the right time (

this will require automated marketing technology like HubSpot

).
Here are the steps you can take to turn your buyer persona research into an actionable content plan that will model your sales process online.
Identify Content
For each priority initiative, create a 2000 word whitepaper that will help the buyer identify the problems with achieving certain success factors, as well as the potential solutions (both your services, competitive alternatives and substitutes.
Create short, targeted and helpful 600-800 word blog articles that answer the questions you created in the "buyer's Journey" exercise above. At the end of each blog article, include a call to action featuring your 2000 word whitepaper that addresses the related priority initiative.
You need branded content as well. Create content for your website that clearly explains your services and your process for delivering those services. Create a downloadable brochure or a product demo or a short video. Focuson the decision criteria and make sure the reader understands the link between your services and their priority initiative.
To address your buyer's barriers to purchase, you need to create focused case studies, testimonials and real world proof of your value.
Finally, make it clear to the buyer how they can get in contact with sales when they are ready to make a purchase decision. You can be more creative than a free consultation or product demo.
Resource
Sample Content Marketer's Blueprint™
Publish your content online
Automated marketing software programs combine a content management system with CRM, web analytics, social publishing and marketing automation. These are the super tools of real modern marketers, allowing them to design and publish the content, capture leads with web-forms and automate the delivery of your targeted content to the right buyers at the right time.
Part 3: Content Distribution (the where)
The final piece of your content marketing strategy is a distribution plan. This section will name the channels where your buyers consume helpful information related to their target initiatives, and how you can penetrate those channels with your content.
Owned media
Best case scenario, you have some owned media assets like a social following, a blog subscription list, or a list of leads, prospects or target buyers. In this case you can penetrate the channel by simply emailing the group with notifications of new content being published. Penetrating owned media assets are obviously the cheapest way to leverage your content, but the return will be relative to the size of your owned media asset. Because of its long term benefit, you should always focus at least a portion of your resources toward growing your owned media channels.
Paid media
Identify the distribution channels with the highest volume of your target buyer personas consuming helpful information related to their target initiatives (where do they go for helpful information). Pay for your content to be distributed to those engaged audiences, but measure the return on those paid investments regularly. Paid media can easily consume a high amount of your budget before your realize something is wrong.
Relationship Building (Earned Media)
The most valuable channels of distribution will be the current thought leaders who have built social trust with your target buyers. If you are creating truly valuable content, you will be able to develop mutually beneficial relationships with these thought leaders, and social trend setters.
I recently posted a blog and webinar recording talking about leveraging social trend setters for content distribution.
Resource
Using social trends to plan and execute a content marketing strategy
One last thing about content marketing strategy
This is not an initiative, this is a process for growing your business, and the value of a process is that it can be repeated and it can be measured. Those super tools I mentioned earlier, automated marketing technology suites like HubSpot allow you to learn from your inbound marketing process. You have done your homework, you have planned your inbound engine and you know where you will be making investments to distribute your content but you must always strive to measure and improve your content and your distribution model. This means comparing the ROI of individual content pieces and distribution channels, and changing your strategy based on these analysis.
Your turn…
Are you using these three elements to plan your inbound marketing? What else have you found to be necessary as part of your strategy development. Please sound off in the comments below.