A 5-Step Process for Connecting With Modern, Internet-Enabled Buyers
Are you missing sales opportunities? It's happening to businesses everywhere, in every industry. Modern buyers don't want to talk to a salesperson; they want to get information about your products or services themselves, at their own pace, online.
The old sales funnel—driven by pushy salespeople—is dying, but smart marketers are replacing it with an online sales funnel, driven by the helpful content customers want.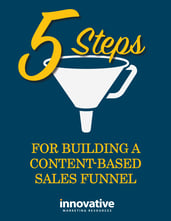 This is an opportunity for your business to attract qualified buyers, build long-lasting customer relationships, and make the most of your sales team with educated leads who are ready to buy.
How do you build a successful online sales funnel?
Based on our experience helping scores of businesses generate thousands of new sales-qualified prospective buyers, we've narrowed it down to 5 essential steps. We share this process with you in our latest free eBook, "5 Steps for Building a Content-Based Sales Funnel."
In this engaging, 15-minute read, you'll learn:
How to structure a content-optimized sales funnel from top to bottom

What kind of content appeals to buyers at every level of the sales funnel

How to nurture your buyers' interest online and move them smoothly down the funnel—without being pushy

Exactly when your buyers will be ready to welcome a call from your sales team.
If you're ready to capture qualified leads online and convert them to satisfied, long-term customers, access your free eBook by completing the form on the right.