Just after Inbound 2015, I joined Brian Halligan, David Meerman Scott, Marcus Sheridan, Bob Ruffolo, Tom DiScipio and others to contribute my prognostications about the trends that will drive marketing ROI in 2016. My agency friends at Impact Branding did an excellent job initiating the content and coordinating everyone's contribution.
If you haven't seen the eBook, Inbound Marketing Predictions for 2016, you can get it here. Special kudos to Ramona Sukhraj @Impact Branding for pulling it all together and making it look great!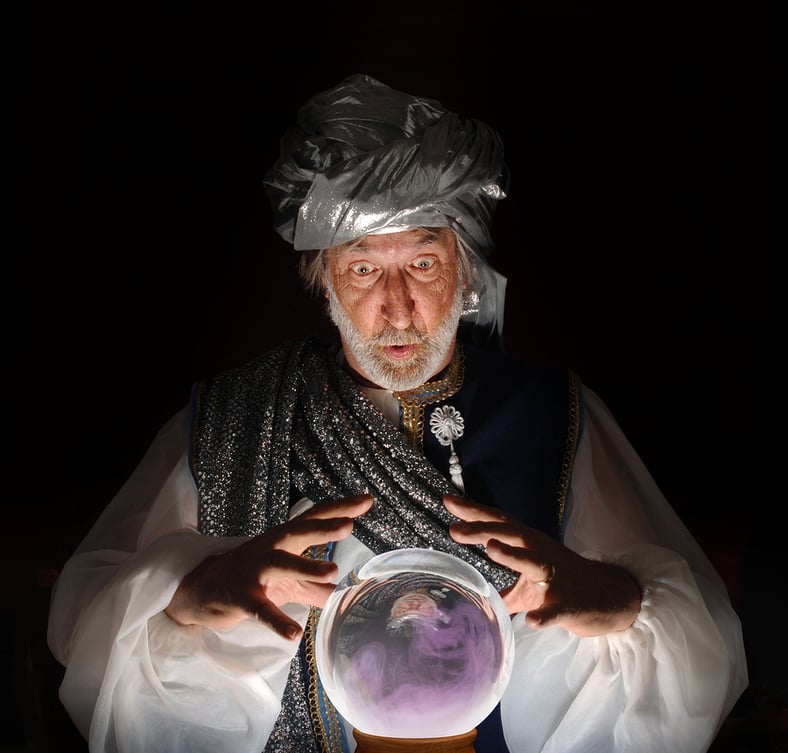 When we looked into our crystal balls, we considered the technologies and business practices most likely to directly impact the marketer and sales professional as they considered where to invest their marketing budgets and time. Everyone's perspective was a little different, which is what makes the content so rich and valuable.
And it goes without saying, there isn't just one right answer. Inbound marketing is an evolving, fast-moving industry so there will always be competing forces driving outcomes. Among the many valuable observations in the book:
Halligan saw 2016 as the year that sales goes inbound.

Sheridan saw cross organizational coordination as the change agent for 2016.

Discipio saw inbound taking back territory that had been lost to paid media, especially in the mobile markets.
For my part, I see marketing strategy as the driver in 2016. Here's why.
HubSpot in the Early Days
Our agency started using HubSpot back in 2008. We didn't understand what inbound was. We liked the orange color. The price was right (those were the days!) and the CMS was a pretty easy way to deploy and maintain a website.
Back then there wasn't even an email tool inside HubSpot. You had to use your Constant Contact account!
Inbound marketing was a cool toy and the more we played with it, the more we began to understand the connection between web content and selling online.
Some Things Stay the Same
When our agency encounters a new prospect, that's often where we find them.
Increasingly, businesses already have HubSpot. They've been playing around with it and like the cool charts, the easy-to-use email marketing automation and the simple blogging tool for deploying new content and, of course, the amazing support at HubSpot to help them when they get stuck.
Some even have seen a lead or two that converted into a paying customer. Woo-Hoo!
But where most inbound marketers get stuck is when they try to think about how to convert blog subscribers into leads, or how to get leads unstuck from the consideration stage, or how to grow from one or two leads into a steady stream of new sales-qualified prospects.
Out of the box, inbound marketing does some really cool things, just like it did when we got started with it. But going past the novelty phase to make inbound marketing the go-to method for growing your business is hard. Harder than it first seems. Hard the same way that it's hard to go from knowing how to cook to being an accomplished chef.
What we learned at our agency is that to move inbound marketing from the nice-to-have column in your marketing budget to the must-have, invest-more column, marketers must have an inbound marketing strategy. Strategy is what takes inbound marketing from toy to tsunami.
Strategy drives tactics. Tactics drive results. Results drive return on investment (ROI).
How to Make Inbound Marketing Work in 2016
So when I look at 2016 and I see that HubSpot now has more than 12,000 customers, I'm pretty sure that at least 10,000 of those customers don't have an inbound marketing strategy. Most are in the honeymoon phase, enamored by analytics, or are struggling to figure out how they can rely on inbound marketing as a business growth methodology.
I also know that one can't enable sales with inbound and one can't communicate the value of inbound across an organization effectively without a strategy for inbound in hand. The most important thing that's going to make more of those HubSpot customers into successful inbound marketing evangelists who consistently generate business-growing sales qualified leads in 2016, is an inbound strategy.
So that's why, for me, and for my agency, Innovative Marketing Resources, and for our clients, the driver for business growth in 2016 is inbound marketing strategy. That's also why our agency has invested years testing and refining its proprietary inbound marketing strategy. That's also why we gave our inbound marketing strategy to over one-hundred HubSpot agency partners and worked with them to implement the strategy at their clients and learn what worked and what didn't in a wide variety of markets, company sizes and business models. Our strategy is the most widely tested inbound marketing strategy, ever.
If you're interested to know more about the core elements of a successful inbound marketing strategy, we've written the book. It's called the Content Marketer's Blueprint and every one of our clients gets their own CMB complete with persona analysis, content titles, optmized blog topics, marketing automation workflows, landing pages, CTAs, emails and a data-driven budget before we start implementing an inbound marketing program. We're serious about ROI.
But just to keep things interesting, we're always on the lookout for new trends that will impact marketing strategy. As you consider your inbound marketing strategy for 2016 here's some food for thought. The folks at Microsoft and Column Five created a cool infographic on the trends they see shaping online buyer behavior. Check it out to learn about the biggest trends for the coming year… You might just change your strategy and drive greater ROI from your inbound marketing investments.