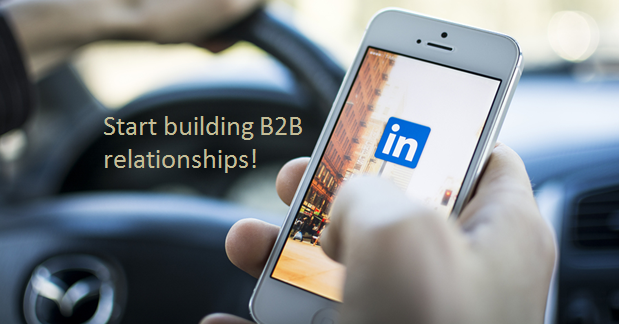 40% of Linkedin's 332M registered business professionals participate in conversations within Linkedin groups. These potential buyers go to Linkedin groups and ask for help with specific business problems because they know that they can get actionable advice from experts and peers before talking to a salesperson who may or may not be honest and forthcoming. This means there is an opportunity for B2B companies to create real relationships with buyers by consistently answering questions and helping their target buyers when they go to Linkedin groups in a time of need. The recorded webinar and highlights below will show you the process and technology we use to become top contributors on targeted Linkedin groups and inject some serious rocket fuel into our content marketing campaigns, sparking relationships and boosting lead generation for the sales team.
In the time it took you to read that introductory paragraph marketers generated 200 conversions from Linkedin groups (200 conversions every minute). Read this article and start building relationships!
Here is the webinar recording walking you through the process and technology you can use to become top contributors in Linkedin groups where you B2B buyers are handing out.
If you have questions about this webinar for myself or Perry you can email them to me: mtraylor@imrcorp.com and don't forget to subscribe to this blog for updates on upcoming webinar topics.
What you need to know about using Linkedin groups for lead generation.
Use Linkedin as an extension of blogging.
Your Linkedin activity will yield the most and best quality leads when used as an extension of your content marketing plan rather than a standalone "social campaign". Why? Real relationships require trust and value. Without content, there is no value and people will have a hard time trusting you if you don't make an effort to help them first. If you are consistently blogging, creating articles that help address the problems your buyers are facing, you can easily spark similar conversations on Linkedin. Put simply: try to start conversations in Linkedin groups that relate to the timely blog articles you are producing.


Identify and join Linkedin groups where your ideal buyers will likely go to ask for help.
Think about the problems and challenges your buyers are having that relate to your product or service. The more specific the better. Obviously you can't join and participate in every Linkedin group out there. Here are a couple things to consider when choosing Linkedin groups to target:
number of members
number of conversations (more people doesn't always mean more engagement)

function

of the group members (in the webinar recording you can see where each Linkedin group shows a breakdown of job roles in the group. Line these up with your target buyers)
make note of the group rules. Most groups will not allow you to post links unless you already have an active conversation going on.
All of this information can be found on Linkedin by looking at group statistics.
Create conversation starters based on your blog articles.
Here is a link to one of our blog articles: What Taylor Swift's break up means for the freemium business model.
And here is the Linkedin group message sparking a conversation on that topic:
Subject: What can businesses learn from Taylor Swift's recent pull from Spotify?
Body: When one of the music industry's biggest stars disagrees with a business model as Spotify's, I can't help but wonder if their model is in fact legitimate. Can SaaS companies make the freemium model work successfully?
Penguine Strategies provides some best practices for social messaging accross Linkedin and other social networds in their guide: What should you be doing on social media.
Notice I don't come across as spammy by posting a link to the article! How do I generate leads if I don't include a link to the article? Remember, this is about starting a relationship with buyers. A link tells the world you are not interested in having a conversation, you just want more website visitors. Because you put the relationship first, the quality of leads coming from Linkedin tends to be higher. Check out the screenshot below - Linkedin is producing some of the highest quality leads compared to other investments.NOTE: Linkedin is the only social network we pay attention to.

Image from one of our ROI reports.
Choose your automation technology
Social posting automation has made it extremely easy to spam, so be careful not to break the rules of the group or blast the same message out to all the groups you are a part of all at once. What I was looking for in a social automation tool was the ability to post using multiple user profiles (members of the sales teams and key subject matter experts) into any group they were a member of and funnel all the responses into one central dashboard where performance could be measured. Lots of tools do this but I landed on Oktopost because it was the easiest to schedule this group activity and measure the results across all profiles. Remember, your process is the important part here, the technology is only used to implement and automate a process.
What does it mean to become a top contributor in a Linkedin group?
Linkedin has a way to reward people who are most helpful and active within Linkedin groups. When you become the most helpful, Linkedin rewards you with a "top contributor" position which means that your posts will get top visitibility in that particular group. My webinar co-host Perry saw his post to click ratio go from 2.5/1 to 20/1 once becoming a group top contributor. This is a big milestone in your Linkedin lead generation efforts.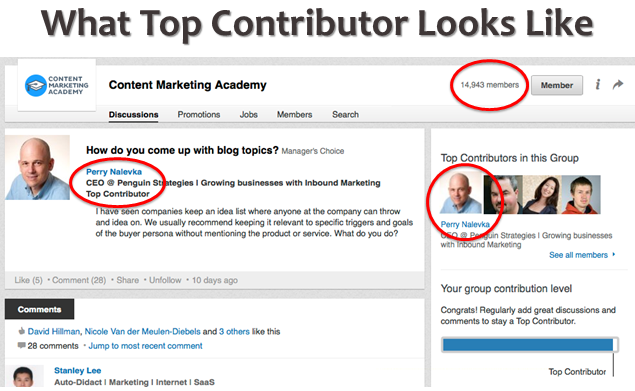 Well that about does it for a wrap up of this webinar on using Linkedin to boost B2B lead generation and engage your buyers. Please subscribe to this blog to get updates on upcoming webinars focused on generating more and higher quality leads for the sales team.