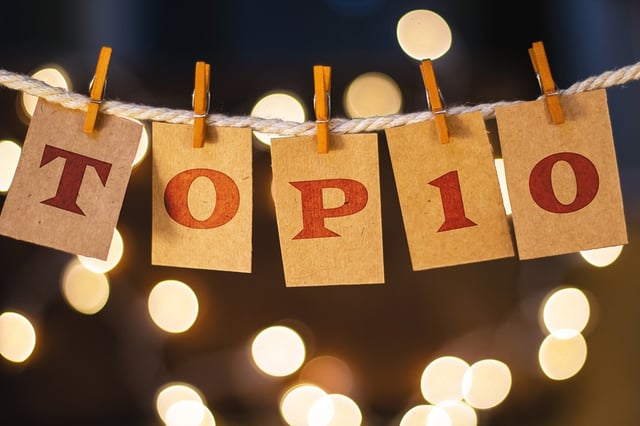 Before we get too far into 2016, we thought it would be interesting to look back one more time at 2015, a year of evolution for the inbound marketing world as a whole and for our agency, Innovative Marketing Resources, in particular.
In 2015, we published 73 articles for B2B marketers and business owners on our Innovative Marketer's Blog. We've tallied up the stats. Here are the 10 articles you were most interested in reading in 2015.
Drawing from a real-life case study, we answer the question, "What conversion rate should you aim for with a brand new website?"
Quote: "As an educated guess, I think you can expect your conversion rate to be around 3 percent within the first 6 months, if you're just starting out with a new B2B website and you are consistently posting helpful information about the challenges your buyers are facing in the market and capturing leads at each stage of the buying process."
Remember "The Dress"? Our social media expert ties the dress color controversy of 2015 to an even weirder story about escaped llamas. Then she explains what inbound marketers can learn from the whole thing.
Quote: "These two events made Thursday one of the most social days of the year and it will be difficult to top in the future. But, the next time a digital event takes place, make sure your brand is ready - just think of all the new traffic, followers, favorites, and retweets that could be waiting for you."
There are over 300 million business professionals participating in conversations on LinkedIn. This article shows you how to reach this vast market of prospects for your business using your inbound marketing content.
Quote: "Your LinkedIn activity will yield the most and best quality leads when used as an extension of your content marketing plan rather than a standalone "social campaign." Why? Real relationships require trust and value. Without content, there is no value and people will have a hard time trusting you if you don't make an effort to help them first. If you are consistently blogging, creating articles that help address the problems your buyers are facing, you can easily spark similar conversations on LinkedIn."
Should you let an app do all the social media posting for your business or do great results require the human touch? Find out by reading this article.
Quote: "Just because it's easy doesn't mean you should post 24/7. Don't just push out content solely to push out content, because … this makes your business less genuine. I've caught on to small businesses who post every hour on the hour – and it's very obvious there's not a true person sitting behind that keyboard. Companies like DiGiorno, Oreo and Old Spice have adopted a specific persona and a personality shines through."
White papers are among the most common content offers used in inbound marketing, but does anyone actually read them? These dual posts take this go-to content format to task and suggest four alternatives that might get better results.
Quote: "Think about how much work you have to do in a given day, how many emails you receive, how many meetings you have scheduled, how many blog articles you have to write. How easy is it for you to find 15 minutes to read a 2,000 word paper? How about an hour for a 5,000 word one? That's one-eighth of your workday."
This is a look at how New England's favorite athlete uses social media to humanize his brand, attracting even more followers in the process — with five lessons B2B marketers can learn from him.
Quote: "Part of what made Brady's Facebook marketing strategy so great was that he took fans from the preseason all the way to the Super Bowl. He posted pump-up photos before and after every game, shared photos celebrating key victories like the AFC Championship game or during the Super Bowl, and randomly throughout the week to feature fan art. So don't just share something in hopes it will garner likes. Have a purpose, give your Facebook followers a reason to check-in with you."
This article looks at why B2C e-commerce sites like Amazon are making trillions (yes, with a "T") while B2B sites are … lagging. It shows you how you can start catching up, connecting your products and services with modern online buyers.
Quote: "To be sure, a better customer buying experience should always be the goal, but there are distinct differences between B2C e-commerce and B2B e-commerce that you ignore at the peril of alienating your customers. What works well for Amazon may not be the best way to sell your pumps, conduits, industrial controllers, software or stepper motors. But there are good. purpose-built solutions available for B2B e-commerce."
According to our writer, "click bait" doesn't have to be bad word. In this article, he explains how to write headlines that are not only catchy, but well worth the click.
Quote: "Catchy titles and eye attention grabbing visuals are important elements for creating irresistible click bait, but you want to make sure that your content isn't full of fluff, otherwise, you risk the reputation of your business. People should arrive at your article because they are having a problem and walk away with a solution."
For better or for worse, people don't always behave they way they should — or how you want them to. In this article, our content writing expert offers ways to deal with sometimes irrational and always unpredictable human readers.
Quote: "The reason someone chooses to consume or ignore your content, visit or leave your website, or buy or pass on your product may have nothing to do with the strength or your arguments, the ingeniousness of your solution, or the quality of your product. Trace that decision back to its root and you may find it had more to do with a grumpy early morning, an overflowing inbox, or simply a deeply-held belief, unshakeable in the face of even the hardest data."
Why would a true believer in inbound marketing leave the center of the inbound marketing world to lead a small inbound agency? Here's why.
Quote: "As I see it, it's the perfect storm. Companies are ready to invest in inbound marketing but more than ever they need to improve ROI. That's where an inbound marketing agency, armed with the right analytics, closed-loop marketing, and marketing automation tools (all found within HubSpot) can make a difference, if it knows what it's doing. That's exactly where I want to be."
More Innovative Inbound Marketing Insights in Your Inbox
Have you read through these top 10 articles already? There's plenty more where that came from.
Stay up to date on the latest insights from our team of inbound marketing experts by subscribing to the Innovative Marketer's Blog.