"I do not like my business's website, because…
It looks outdated with lousy images

It is not mobile optimized

It does not work

It is built on a content management system that no one knows how to use

The marketing department cannot make updates to the content."
Does the above sound like you? Have you started to talk with web design shops about a new website for your business? Are you beginning to figure out how much you should budget for this project?
Here is my advice: PAUSE AND LET'S FOCUS ON THE REAL QUESTIONS THAT SHOULD BE ASKED BEFORE YOU UNDERTAKE ANY MAJOR WEBSITE PROJECT.
As a team member at an inbound marketing agency (Innovative Marketing Resources), I may be biased, but I believe the first question you need to answer is:


"Does my website generate sales qualified leads?"


For many marketers, the answer to this question is "no." Even if it is "yes," most of us would add a condition to the response: "Yes, but not enough." This leads to the next question:


"How do I build a website that generates enough sales qualified leads to reach my company's sales and growth targets?"


Every website should be built to automate your company's sales process. Your website should guide a prospective customer along the buyer's journey, from the awareness stage, to the consideration stage, to the decision stage. Our good friends at Market 8 call this "customer centric web design."
How to Get Started
This entire process starts with a clear positioning statement for your company. Do you know what differentiates your product or service offering from that of your competitors? Can you clearly articulate this differentiation? Do your current customers agree? In other words, do you know why your customers bought from you?
After surveying current and past customers, as well as prospects that did not become customers, you start to build in-depth buyer personas. The Buyer Persona Institute does a good job of describing a buyer persona:
"[A] buyer persona tells you what prospective customers are thinking and doing as they weigh their options to address a problem that your company resolves."
Next, you want to clearly understand your existing sales process. This includes:
What questions does your sales team field from prospects?

What materials do they use to answer these questions?

What "pushbacks" do they receive from prospects?
With this information on hand and a clearly defined go-to-market strategy, you can begin to map out the content that should be on your website.
Each web page should have a purpose (i.e., to educate a prospect, to help them understand how your product/service helps solve their problem, to answer their questions about pricing and competitive alternatives, etc.). That purpose should be to guide a website visitor along the buyer's journey. If the content on a web page does not fit within the defined buyer's journey than it should not be there.
This ensures that your website is doing context marketing: using content, images, and positioning that meet the context of the reader.
Here is a simple representation of how each page of a website should map to a stage in the buyer's journey: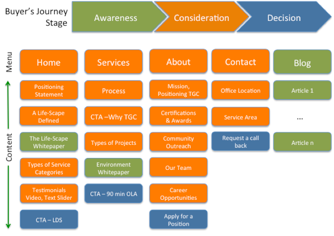 While a website that follows this methodology, and uses a marketing automation tool like HubSpot may not hang in the Guggenheim, it will be a serious lead generation machine. And generating sales qualified leads should be goal #1 for any website.