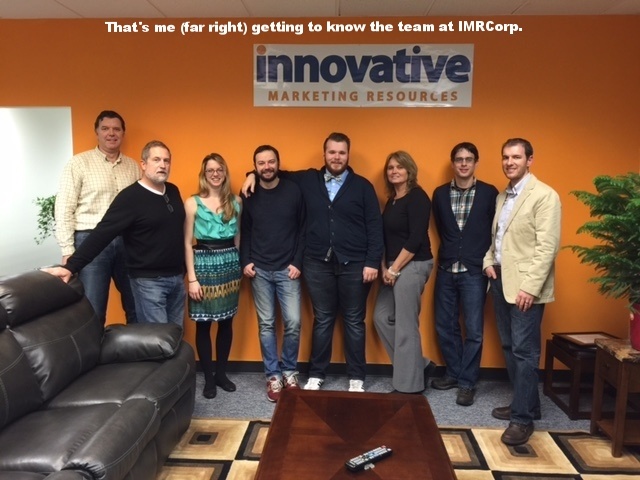 Two months ago, I was reporting for work every day to a job that I loved, with people I admired, at a company I believed in (which, incidentally, was recently named the city's best place to work by the Boston Globe). Who would give all that up to take his chances somewhere else?
I did.
Why would I — a true believer in the power of inbound marketing as the modern way to do marketing — want to leave HubSpot, the biggest and best inbound marketing brand in the world, the company that invented inbound marketing?
I've been getting that question a lot since Nov. 1, the day I started work as a partner and vice president of client services at Innovative Marketing Resources, a HubSpot Platinum partner agency based in the Boston area.
I Left Behind an Inbound Marketer's Dream Job
I love HubSpot; I always will. Just learning the company existed was a dream for me. It was an even bigger dream to work there for nearly five years. The culture is amazing. The talent is top-notch. The website is among the most trafficked on the planet.
HubSpot is the epicenter of inbound marketing, and when I worked there, I was in the middle of it all. Over my time there, I became an integral part of HubSpot's culture and a leader on its Academy team. I was helping teach the whole world how to do inbound marketing and how to do HubSpot, and it was awesome.
And still, I left. And while I'm thrilled to have been part of HubSpot community as an employee (and I'm thrilled to remain part of it as a partner), I'm ecstatic to be moving on to a new phase in my career as an inbound marketer.
I'll tell you why with five reasons.
1. I've Always Wanted to Run My Own Inbound Marketing Agency
Over the last few years I worked at HubSpot — both as an individual consultant helping hundreds of companies get started in inbound marketing and as a trainer at the group level at Academy — I made it no secret I wanted to run my own inbound marketing agency someday.
Ever since I learned about inbound marketing, I've wanted to hand-select a group of awesome companies I think are interesting and that I can get passionate about. I've wanted to help them tell their stories to the world creatively, using the latest and best, most efficient, and scalable tools as possible.
HubSpot is an amazing place, but its sheer scale prevents the kind of all-in approach to helping others with inbound marketing that I craved. I was HubSpot's 250th employee. Now there are over 1,000, with offices on three continents — not to mention 15,000 customers!
When I was a consultant at HubSpot, I gained eight to 12 new accounts per month for 2 ½ years. That's over 200 individual accounts! That wasn't my goal. My goal was, simply, to help people practice inbound marketing. And if you really want to practice inbound marketing now, I mean really dig into every aspect of it, there's no better place to do it than at an inbound marketing agency.
This not to say I'm turning my back on HubSpot by any means. HubSpot is essential to the continued spread of inbound marketing around the world. As long as HubSpot remains a really viable, awesome product, and remains a great company, I will always want to be allied and partnered and involved with HubSpot.
2. It's a Good Time to Be an Inbound Marketing Agency
A few years ago, when I started at HubSpot, it was enough to just talk to people about the fact that social media could be used for business, that search engine marketing could help your business, that writing blog articles was helpful. We were just trying to make that case.
Now, as we approach 2016, every company knows it would be foolish not to create content, not to make their website into a helpful resource and their best salesperson.
For an inbound marketing agency, the question is no longer, are there clients out there for you? The new question is, who are the right clients for you?
If you need data, look no further than HubSpot's State of Inbound 2015 report. Companies are investing more in inbound marketing. They're investing in training and hiring staff to help them create content and manage social media marketing.
This is good news. But the same report tells us companies are still struggling to prove and improve the ROI of their marketing efforts.
As I see it, it's the perfect storm. Companies are ready to invest in inbound marketing but more than ever they need to improve ROI. That's where an inbound marketing agency, armed with the right analytics, closed-loop marketing, and marketing automation tools (all found within HubSpot) can make a difference, if it knows what it's doing.
That's exactly where I want to be.
3. There's a Greater Opportunity to Lead People
Not to toot my own horn, but I feel like I was somewhat of a leader inside HubSpot. I went to many of the social events. I volunteered to assist in a lot of the product marketing videos and efforts. If you call HubSpot's main phone line, you'll hear my voice. These were all great opportunities to lead as an individual contributor. I thank HubSpot for giving me that.
But, it wasn't until the last seven months or so that I was given the opportunity to lead other people directly at the Academy. I understand that. I had some growing to do and I had to wait for the right team with the right opportunity to come along.
Now, I'm ready to lead a larger team.
I could have waited. HubSpot would have given me the opportunity down the road. Mark Kilens, my mentor at HubSpot Academy, certainly saw that potential in me.
But HubSpot is a 1,000-person organization, going on 2,000. Things can get pretty complex there.
I wanted to be able to lead a team, helping it be effective and operate — maybe on the smaller scale — so the whole team can feel the impact. That's the way it was at HubSpot back when I was employee #250.
I guess you can say, at heart, I'm a small business startup guy.
Leading Clients
When I talk about leading, I don't just mean leading the people who work for Innovative Marketing Resources. I'm also talking about helping to lead a community of clients.
At HubSpot, I worked with so many awesome, interesting companies, but I never had the ability to choose them myself. At Innovative Marketing Resources, I can have that chance. I really like being able to say, "We want to work with a certain type of person, at a certain type of business. We have a certain professional standard that we hold ourselves to and we want the freedom and ability to hold our clients accountable, as well."
I like that idea: to be able to lead the client strategy, work with the people who we want to work with, the people who want our help, and who will let us help them, following through and being accountable, just like we pledge to be.
Leading Partners
I'm also talking about helping to lead a community of fellow inbound marketing agencies.
HubSpot has an excellent network of agency partners. I got to know and work with many of them over the years. I saw them at conferences, interviewed them on webinars, and introduced them to potential clients, when I had the opportunity. But, in my position at HubSpot, I couldn't make anything bigger happen.
After a couple years of this, I told myself, "I want to help lead this organization." I want to form a coalition of some of my favorite agency partner professionals and work with them, every day, on deals we can all benefit from.
I'm not sure exactly how we're going to do that, but I know I have a better chance coming up with a business model and business network working with these partners directly, rather than in my advisory role at HubSpot.
This is why I'm carving out time in my new job to help marketing agency professionals I respect team up on a quest to come up with better ways to provide inbound marketing services to our clients. Interested in joining us? Watch this video to learn more and fill out the form if you see anything you like.
4. More Agility and Flexibility
As HubSpot has grown, everyone there has gotten more specialized. This is inevitable at any large company, and not necessarily a bad thing. There started to become specialists who just focused on doing certain aspects of inbound marketing. Eventually, we weren't even allowed to touch HubSpot's own copy of HubSpot. (Again, no judgement here. Imagine hundreds of people clicking around your copy of HubSpot. Imagine the damage they could do by accident!)
In my role at HubSpot Academy, I felt like I was moving farther and farther away from inbound central.
I wanted to have the agility and flexibility to try out and practice inbound marketing. I wanted to touch the product again. I wanted to play with the tools, innovate on them. There are so many cool new tools that HubSpot comes out with all the time; working there, I would never have the time, or even have it in my job description, to play with them.
Now, I can.
An inbound marketing agency, by necessity, has to market and sell and improve its abilities to understand all the latest features of HubSpot. I'm talking about cutting edge, experimental stuff that could get us out in front of marketing trends.
I want to try things that people had never tried before, and then share that with the rest of the inbound marketing world.
5. I Found the Right Agency to Do All These Things
I would not have left HubSpot to join just any agency partner.
Innovative Marketing Resources is a very special organization, one I'm proud to have consulted to when they started using HubSpot. Its partners, Kevin Jorgensen and Joe Pettirossi, have been friends since childhood and they're both very talented and successful businessmen in their own rights.
Kevin and Joe turned this company around, bringing it from a traditional outbound marketing agency to a HubSpot Platinum partner, and they continue to innovate. I love they way they do business. They've developed new business models and ways to sell their services, white labeling their solutions and program to other agency partners.
Sound familiar? Kevin and Joe and former IMRCorp employee Max Traylor (who remains a close friend of the agency), have set the groundwork on which I hope to build as we develop a business network of inbound marketing agencies.
The Timing is Right
Finally, the timing is just right, for Innovative Marketing Resources and for me and my family. IMRCorp was experiencing some growing pains, with some staff and client transitions, and Kevin and Joe were taking a step back and reassessing the path forward.
For my part, it's an interesting time in my life. My wife and I are expecting our first child (who probably will be born by the time you read this) and we recently bought our first home.
I would never have had the courage for either of these life milestones without the growth, support, and the rewards that came from my work at HubSpot. But these things have come and a person like me always likes to keep moving, likes to keep running.
My philosophy is, if you feel for a second that you're slowing down and you're not in a position to give your best, to yourself, or to the organization that you're in, you gotta make some moves.
To me, IMRCorp has the potential to be a bright shining light in the agency partner community and for HubSpot. First, I want to make my business partners, Kevin and Joe, very proud. But then, I want to come back and make two of my initial inbound heroes, Brian Halligan and Dharmesh Shah, very proud of what we can do, in our partnership with them, to help make the world inbound.
Thanks for Reading!
Thanks for sticking with me. I hope that answers some of your questions about why I would leave HubSpot. If you have any more questions, feel free to leave them in the comments and I'll get back to you. Let's continue this conversation and I'll keep you up-to-date in the year ahead.
The best way for you to stay on top of all the goings-on here at IMRCorp, including our latest field-tested inbound marketing tips, is to subscribe to our blog.