Many of the prospective clients of our inbound marketing agency, Innovative Marketing Resources, have asked themselves this question: "Should we hire an inbound marketing agency or should we hire the staff (or redeploy existing staff) internally to do the work?"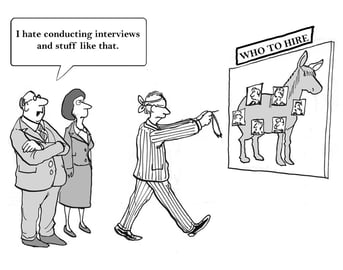 Advantages and Disadvantages of Building an Internal Team
Advantages:
At a high level, there are some very clear benefits to having the resources to do hire new staff to handle your inbound marketing in-house.
Focus. If you are hiring correctly, then you can assume that you are hiring staff that are 100% focused on helping your organizaion achieve it's goals. You have their full attention and weekly capacity.
Subject matter knowledge. While you will obviously need to give new hires some ramp up time to get familiar with your industry and subject matter, their laser focus on your business helps them better understand what they should be writing about, and for whom.
Speed. When you have a team that is running a well-oiled inbound marketing machine, content production and optimization is dynamic and fast. After all, you have 100% of their time and attention, and there are fewer layers to go through to research, produce, and approve content.
Provided that you've built your team correctly, having a full marketing team devoted to your inbound campaigns will almost always be better than any alternative. The content will usually be higher quality, more comprehensive, and completed faster. Plus, you can use that marketing talent to build and optimize every facet of your marketing efforts.


Disadvantages:
If building an internal inbound marketing team was easy, or cheap, every company would do it. Here are some of the disadvantages that stop most companies from going this route.
It requires a lot of skill sets - inbound marketing requires a lot of different skill sets because a full campaign will include many different elements (content, document design, website design, social promotion, coding, and campaign management and strategy) in order to do it right. Here are the skills you will need:

Team Leader – leads strategy discussions and plan development, assists senior management in creating job description and hiring the team members, assigns tasks to team and reports to senior management.

Content Manager – responsible for producing all content including blog articles, videos, webinars, white papers, email newsletters and press releases.

Social Media Marketing Manager – responsible for setting up and using social media accounts, training the team on the correct use of each media channel, promoting content via social media channels, building the brand using social media, and monitoring and engaging social media on a regular basis.

Website/Graphic Designer – creates the website design and helps to integrate the site on the chosen CMS. Creates call-to-action buttons, creates eBook design, assists with email templates and manages the overall look and feel of any content created.
Developer - writes any code required to implement your inbound marketing strategies and build/manage your website. Expect a heavy dose of CSS and HTML, and some Javascript too.

Inbound Marketing Specialist – assists the team in evaluating and implementing marketing automation software, keeps up-to-date with SEO best practices, develops nurturing email campaigns, manages the blog, and uses the reporting functionality of the marketing automation software to track and measure the effectiveness of all marketing campaigns and activities.

It takes a full team - often, you will find a person who possesses multiple skill sets. For example, your designer might be a good social media marketer too, or your content manager might double as your inbound marketing specialist. But it is incredibly unlikely that you find one person that can be all of these roles.
It's not cheap - d

epending on where in the country you are located, the costs for each of these positions can vary. A team leader with the skills, knowledge, and experience to lead your entire marketing team usually doesn't come cheap. For discussion purposes, I will use $75,000 for the team leader and an average of $40,000 for the other positions. The above team represents a salary line item of $235,000 in a marketing budget and this does not include the typical 25% load for taxes and overhead costs. The total all-in cost for this team is about $25,000 per month.

It's complicated - just like with other employees, you have the responsibility of dealing with all the complications that come with an employee. I'm talking about performance reviews, promotions, providing and managing benefits, providing equipment (technology, office/desk space, etc.), and trying to keep things humming along when they take vacation or find employment elsewhere.
It's hard to find the right employees - it's going to take a couple of weeks to find candidates, a few more to interview and select one, a couple more for them to fulfill the duties of their 2-week notice, and then even more to get them ramped up and ready to go. If it all goes smoothly, you're looking at ~10 weeks or more before you have a single team member in place. When it's all said and done, you just hope that you found the right employees that are going to be high performers for your organization. If they're not, it's a lot messier to fire an employee and find their replacement than it is to do that with an agency.
Re-tasking Internal Resources
Realistically, most small to medium-sized businesses cannot justify increasing their marketing budget by the amount necessary to create an internal inbound marketing team. Another option is to redeploy existing marketing staff to cover some of the key areas by doing the following:
If you already have a graphic designer on staff, having him or her go through training to learn the CMS.
Finding a volunteer to become the social media "expert" and manage all the platforms (LinkedIn, Twitter, Facebook).
Developing a content calendar and having your internal team write the blog articles and premium content.
Again, given the current demands on a smaller company's existing marketing resources, this approach may not be realistic. Chances are they do not have sufficient capacity to handle these additional responsibilities. Also there would be a long learning curve for this existing team to become proficient in these new skills.


Hiring an Inbound Marketing Agency
Partnering with an agency means immediate access to all of the skill sets you need. They will have writers, designers, developers, strategists, technologists, and more. It's much easier for your organization to hook into the talent of an agency, rather than trying to build it yourself. As a result, the agency will likely have a 12-month strategic plan completed, and implementation started, before you even complete the recruiting and hiring process for a single employee--much less a full team.
Plus, it's cheaper. You're not hiring 3-7 people and paying them all full-time salaries. Instead, you're paying for their talent and expertise for the exact amount that you need to meet production plans and accomplish marketing goals. Generally you're going to be working directly with a senior account manager at the agency, and then bringing in the rest of the team when needed. As a result, monthly agency fees can range from $5,000 - $12,000 per month depending on the level of services involved. That is much cheaper than the $25,000/month it takes to pay salaries for your own team.
Of course, not every agency will hit a home run for you. They may not understand your business enough, they may not be able to hit your deadlines, or they may simply lack service quality in key areas. Here are some critical questions that should be asked during the agency selection process:
Does the agency have a process that you feel will allow them to understand your business and your unique market position?
Does the agency have a clearly defined process that they use with their client engagements that is transparent and easily measureable by you, the client?
Does the agency use a collaborative approach with the client role(s) clearly articulated?
Is the agency willing to "transfer" its expertise to your internal team, acting as a mentor and educator over the term of the engagement?
Given the various skill sets required to develop and implement inbound marketing, finding the right agency partner is the right path for most companies.