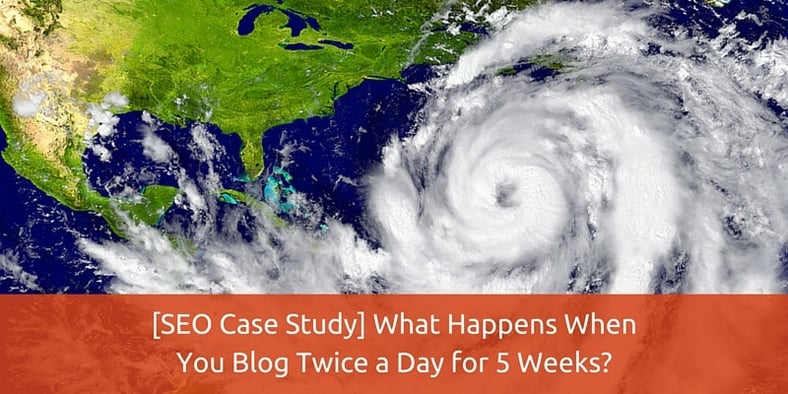 In the Northeast following Hurricane Sandy in 2012, most people were left with catastrophe and businesses were forced to shut down for weeks due to damage, no electricity, phone lines, or heat.
It was a devastating time for the area, no matter how much you may have personally been hit by the storm.
When you work for other businesses, like marketing agencies do, your cashflow disappears really quick in this scenario. And that's what happened to me at the time, as a one-person company trying to grow.
With this forced downtime, there was a silver lining.
That silver lining was time. I now had the time to chug some of that inbound marketing Kool-Aid that I had been serving out to anyone who would listen to me.
I opened up Evernote, and started making a list of every question that I got from prospects, customers, and people at networking events who needed help or advice with their online marketing.
From that list, I got to work and started writing like a madman.


Blogging On Steroids
Over the course of the next 5 weeks, I published 2 blog posts per day. That is a crazy amount of blog posts for one person who has other responsibilities. But I needed to do it to inject some flow of opportunities for my company.
Every day I would jump into online communities of business owners and marketing professionals and join their conversations and comment with whatever help I could lend in a concise way, making notes on what kind of problems they were having and questions they were asking.
When I published a relevant article, I would go in and share the link with the people who were looking for those answers.

The results of persistently publishing and promoting 50 blog posts in 25 days?

Opportunities started flowing from all directions:
People were sharing the articles on social media which was then

driving new visitors to the site.

The online community discussions I was a part of grew into direct opportunities and

a network of referrals

built off the credibility I proved through my content.

Google started quickly ranking my new blog posts

because the site was growing everyday and people searching for the problems I was blogging about (and we offer services to solve) were finding us.

Businesses from all over the country started calling

(or filling out our contact form) to work with us.

Industry leaders took notice of what I was doing and wrote about the story. The impact it had

amplified our reach and authority

because they were linking to my website.
Four years later, those blog posts are still being found on Google and bringing opportunities to us every day.


Invest in Your Content
That investment I made in content for my website and the client work that it attracted (and still attracts) is what helped me grow Tresnic Media from a one person, spare-bedroom business to an agency of 4 people helping other businesses get these same results.
Todd Giannattasio is the Founder and CEO of Tresnic Media, a content marketing agency based in New Jersey that helps companies establish and grow a digital presence in order to attract and convert more customers.