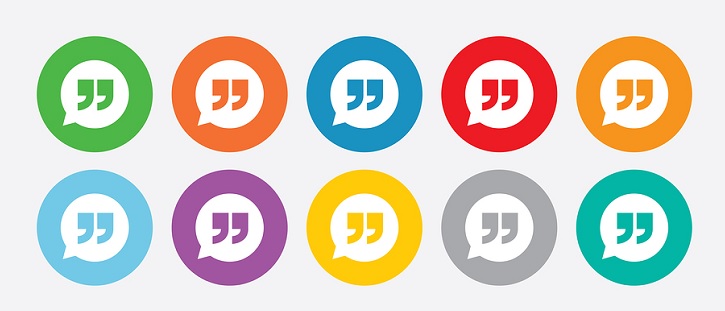 A former boss used to tell me, "If you didn't learn at least one new thing today, consider it a wasted day." I always liked that. Well, today I learned something new about quotes, and wanted to share it with you.

For years, I had been using quotes all wrong
I began digging into quotes when I was putting together a problem/solution piece—basically, a case study—for a client of mine. The piece included some quotes from a very satisfied customer of my client's, and my client felt—rightly—that they were the most convincing aspect of the case study. He wasn't happy with the way the quotes got buried. His background is in graphic design, and he has a keen eye towards making things pop, so I agreed with him and set to work seeing how I could make the quotes stand out more.
Making quotes stand out is critical for a testimonial/case study/problem-solution piece of content. In my research, I learned that there are actually two types of quotes: pull quotes and block quotes. Understanding the difference has really helped me place them correctly, and got me thinking about how I can leverage them strategically.
Josh Byers at StudioPress explains the difference pretty clearly:
"The main purpose of a blockquote is to separate a large section of text — quoted from an outside source — that is relevant to the source material at hand.

A pull quote is a section of the article pulled out of its context and repeated to give either emphasis, or to aid the reader in scanning the article.

The big idea is that pull quotes are not intended to be part of an article's flow. They are a visual aid. If you removed the pull quote from the context of the article, it would read exactly the same. Conversely, if you take the blockquote out of an article, you are missing vital information that the article is depending on."
The above, incidentally, is an example of a block quote.
Using Pull Quotes
In another good article, Sven Lennartz, of Smashing Magainze, notes, "Pull quotes are placed not within, but next to the content."
Here is an example: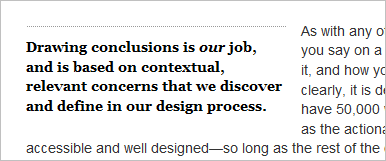 I found more good examples from Jake Rocheleau at Hongkiat.com.
It turns out pull quotes have been in use by print publications for years. I asked my agency's content manager, Matt Cook, a former newspaper editor and reporter, about them. He had this to say:
​​They don't necessarily have to be quotes. They can also be important non-quote lines excerpted from the main text.


You should make an effort to choose pull quotes that make sense on their own. It's often the first thing people read because it really draws the eye. Use brackets [] to fill in the missing details (being careful not to make it look too garish).
So, long story short, when I was looking for a way to make the quotes in my case study really stand out, what I really wanted was a pull quote to emphasize a line that was already in the body of the copy!