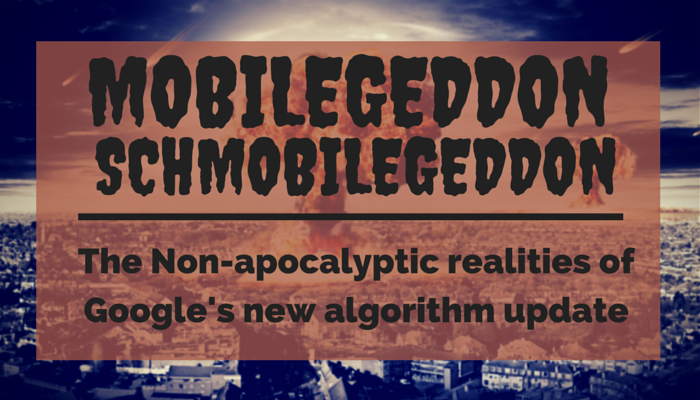 In a move that has already earned the nickname "mobilegeddon", Google released an algorithm update on Tuesday (4/21/2015). Even though they've been discussing this algorithm for months, journalists far and wide took to their keyboard to proclaim it as "mobilegeddon", and if you searched hard enough, you could probably find a post or two titled "the end of SEO as we know it".
As an agency, we intentionally avoided jumping in on the Mobilegeddon bonanza. It's an important update to the Google algorithm, but journalists going into a frenzy was a wee bit over the top.
So…take a step back and breathe. Here's the non-apocalyptic version of things:

What is "Mobilegeddon"?
It's pretty straightforward. You know how when you go to a site on your mobile device, and it looks the same as it looks on your widescreen laptop? And how you have to pinch-zoom all the way in—and then scroll left-right—to read anything? It's pretty annoying; it's just an overall bad reading experience on your phone.
You've probably also encountered sites that were really well-suited to your phone: they reconfigured themselves, resized fonts and images, loaded fast, and you only had to scroll up-down to read. That's a much better experience.
(The team over at TeamSmart did a pretty good video showing the differences so you get the idea.)

Well Google basically said "clearly our mobile searches will want content that is relevant and easy to read." Seems pretty obvious, right? Yeah, they thought so too. So they changed the algorithm to rank mobile-friendly sites above others.

What's so scary about it?
Well, for a lot of businesses, they rely on Google search results for a ton of their revenue. Google users search for terms, which bring them in on their website, which convert them into leads, and ultimately customers. If Google is a key source of your traffic and leads, then losing your placement on those search engine results pages (SERPs) can have a serious impact.
In addition, you might be worried about how difficult it's going to be to become mobile-friendly. What kind of undertaking is that going to be? Do you need to switch out all of your pages? Worse: small- and mid-size business owners probably have plenty of other things to worry about without dealing with a hairy new website project.

Do my visitors really find me through mobile all that much?
Well, probably. Estimates of mobile searches range from 30% of all volume to 60%. Search Engine Watch, which is pretty authoritative, places that number at 46%. If you have a site, I guarantee people are accessing it on mobile. That's about as straightforward as it gets. The best way to check this is to open up your Google Analytics and check how many of your visits come from mobile. If it's around 20%, you have some leeway. If it's closer to 40%, or more, that's going to be a lot more problematic.

So…my great content is going to stop getting action?
Not necessarily. In a lot of industries, there may only be a few companies writing truly exceptional content (I'm looking at you, logistics companies). If you actually have the most useful content, Google isn't going to send their searchers to content that isn't as helpful. This is also all done on a page-by-page basis. So rather than Google hurting your entire site in the rankings, it will only de-emphasize the non mobile-friendly pages.

Okay, so what does it take to have a mobile friendly site?
Well, there are a number of criteria that tells Google's web-crawling robots that your site is mobile-friendly:
Your site avoids using flash media that phones don't like (seriously leave it behind: HTML5 can handle your video needs and SVG/CSS3 effects can handle a lot of your animation needs)
The text on your page is readable without zooming
The elements on the screen dynamically resize so that they don't require horizontal (left-right) scrolling
The links on your site are far enough apart so that a mobile user (even ones with my chubby fingers) can easily click the link they meant to click.
Pages that load slow on mobile (pictures sized for a desktop are a serious offender here)

Is my site mobile-friendly?
Good question! I wish I could answer it. Luckily our friends over at Google created a handy-dandy tool to help you figure it out. A lot of website platforms (like HubSpot, certain themes on Wordpress, and most websites built on the Bootstrap CSS framework) will have mobile responsiveness built in. So your site could be mobile responsive and you don't even know it (high-five!) If you've had a site redesign sometime in the 2-18 months, your development team likely implemented mobile-friendly features.

Oh no! My site isn't mobile-friendly. What do I do?
Well time to make some changes! Don't freak out…the changes can be pretty easy to make. This isn't a tutorial blog post, so I'm just going to provide you with links to some great content I just looked up for you on how to make your site mobile-friendly.

Google tells me my site isn't mobile-friendly, but I know it is! What gives?
Then this should be an even easier fix. Here is what Google has to say on their own blog:
If a page is designed to work well on mobile devices, but it's not passing the Mobile-Friendly Test, the most common reason is that Googlebot for smartphones is blocked from crawling resources, like CSS and JavaScript, that are critical for determining whether the page is legible and usable on a mobile device (i.e., whether it's mobile-friendly). To remedy:
Check if the Mobile-Friendly Test shows blocked resources (often accompanied with a partially rendered image).
Allow Googlebot to crawl the necessary files.
Double-check that your page passes the Mobile-Friendly Test.
Use Fetch as Google with Submit to Index and submit your updated robots.txt to Google to expedite the re-processing of the updated page (or just wait for Google to naturally re-crawl and index).

Is it all or nothing?
No, it's not. As I mentioned above, you can make pages mobile-friendly on a case-by-case basis. That means the web project could be a tiered project, focusing on the home page, blog template, and landing pages first and foremost.
This update is real-time. As soon as you start making those pages mobile-friendly, Google will go ahead and start returning them to their lofty heights. You can either wait for the google bots to crawl, or you can manually request a re-crawl for more immediate effects.

What's the silver lining here?
Well, if your site is mobile-friendly, you stand to benefit from your competitor's mistakes. One of my clients is in an industry that sells products for aging citizens (wheelchairs, stairlifts, stuff like that) and a lot of their competitors have outdated sites that don't look like they get much love. Luckily this client's site is mobile-responsive ;) which means that they're going to supplant themselves at the top of those beautiful SERPs. Huzzah!

Okay this doesn't really sound all that bad. Why was everyone screaming about Mobilegeddon?
Isn't it obvious? They're journalists…clicks=$$$.

Thank you Ross! Can you uh…help us get our site mobile-friendly?
That, and a lot more! Shoot me an email at rsimons@imrcorp.com and we will see how we can work together to help you reach your marketing goals in 2015.