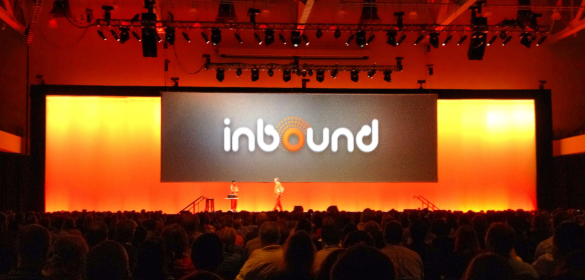 Hey everyone!
Ross here, an Inbound Marketing Consultant at the agency. I'm at the Inbound 2014, the epic inbound marketing conference that Hubspot has been hosting for the past 4 years.
I'm currently in a room of about 10,000 other inbound marketers who are also anxiously awaiting the new product release and keynote.
This is going to be a big one! The agency has already gotten sneak preview of the new products, and we have been playing around with them. We have had to keep our lips sealed though.
For the product release presentation, I'm going to give you some detailed minute-by-minute notes from the presentation to give you the scoop.
00:00 Just waiting for everyone to get seated as Hubspot facts and trivia show on the screens in the interim. I'm expecting that there will be some inspirational video to start things off, which will include a lot of whizbangs, a plethora of snazzy animation and graphics, some "be remarkable" and a "marketing people love" or two.
While I wait, let's just give a quick little overview of what to expect. Sales, sales, sales. This product release is going to be all about aligning marketing and sales. Inbound marketing has always been a form of marketing that's more sales-driven. If you've spent any time on our agency content, you've probably read about how we approach inbound marketing with a methodology that is all about mirroring the sales process through content marketing and automated email campaigns.
But, inbound marketing has always been connected to sales in something closer to the abstract. Maybe your sales people understood that the leads you sent them were more qualified than average, but even that is abstract. If you were lucky enough to have a team of marketers, a developer or two, and a data whiz, you could probably create some semblance of a system that would allow for reporting from the beginning to the end of the sales process for your prospects.
What if there was a system that could do all that, while not complicating your life? Well, now there is. That's what will be revealed today.
00:00 Dan Sally, Husbpot's "Master of Ceremonies" is on the stage. How does someone get that title? I like it. He's talking about selfies, which is going to be an ongoing gag. They say 2014 is the year of the selfie. My Facebook would agree with that sentiment.
01:15 Dharmesh and Halligan are entering the stage. Oops, false alarm. Turns out they're rolling short video instead.
02:11 Apparently Dharmesh screeches like a pterodactyl when he forgets about the inbound conference. Who knew? Also, they have a Doctor Whovian telephone transporter. A funny video, not the inspirational one I expected.
04:30 They're ready to talk now. Classic Dharmesh and Halligan exchange happens. They're bro-ing out and you have to love it.
05:45 Well there's big announcement 1 – they're SEC-compliant, one more step on their way to launch of their inevitable IPO.
07:20 Hubspot Revenue Growth: huge YOY growth. Hubspot customer growth is even more significant.
09:31 Dharmesh is going over how he met Brian Halligan. He had been accepted into MIT, was ready to go to grad school, and MIT emailed him about having a cocktail gathering as an orientation. But, he obviously wasn't into the idea because he's an introvert and networking and cocktail parties are not his schtick. His wife was with him at this orientation and knew he would want to be a wall-hugger. She went on a "reconnaissance" mission to find people that she thinks he would mesh with. She meets Brian Halligan, says she doesn't think he will mesh with him because:
He's a sales pro
He's an extrovert
He's a sports fan and will won't to chat about it
He takes this as a personal affront. He meets Brian, nothing really immediately comes out of it. But classes proceed and he realizes Brian is one of the most non-sales-y people he's ever met. He's also not an extrovert. They end up spending a lot of time together.
In 2005, Brian graduates and Dharmesh still has one year to go. Brian joins a VC firm. Dharmesh is writing his thesis. Dharmesh starts a blog on startups, and they meet weekly. Brian is complaining that marketing for startups simply isn't working…their startups simply can't get any traction. Meanwhile, Dharmesh's blog is gaining serious traction. Brian is shocked that it's working.
Ding! Lightbulb. Brian realizes that old school marketing isn't working, and they start brainstorming about why Dharmesh's efforts are working. Inbound marketing is born.
So, that's the story of how inbound marketing started, if any of you were wondering.
18:00 If you want serious growth, it's not about having serious scale (i.e. a massive budget for paid advertising or mailers). It's about having leverage – which is simply doing way more with less. For example, writing an exceptional blog article that is shared in social media and gains multi-year value from people visiting. One-time investment, multi-time results. That's leverage. He's preaching to the choir here, but it's a new way of saying it and it's a good way.
20:30 Other than sales and marketing alignment, data has been the theme of this year's conference. He seems to show this by saying marketing needs to be data-driven.
23:00 Modern marketing is awesome because it creates leverage. Spend an afternoon building a blog post or a video, and benefit from the long-term sustainable results. He apparently thinks marketing salaries will double as a result...I'm in favor of that.
25:00 This is a section of the presentation dealing with talent, corporate culture, recruiting and more. The core message is that long-term marketing performance starts with good recruiting which starts with a great culture. Note: he doesn't think culture solely resides in Beer Cart Fridays, but in peers. That's the core message, so not going to spend much time on it.
30:00 Wooooo! We're getting into the "platform" portion of the presentation, which should be where we get those product updates you're looking for.
31:00 They're going into how you had to implement inbound marketing in 2005, talking about how you really need to find a way to use separate tools for your website, your content, your emails, your SEO, your analytics, etc. He calls it a frankensystem, a term we've used here before. Hubspot set out to change that by integrating most of that into a single application. AKA: Hubspot's "All-in-One Marketing Platform". This idea of integrating different technology systems into one ecosystem is key for their new product release, just FYI.
35:30 The first new major product change. A campaigns tool. Within the platform, the different tools have some degree of separation. For people just getting involved with marketing, or the software, it's easy to accidentally implement an incomplete inbound marketing strategy. The new campaigns tool pulls all of those features of their software into a single, helping to show you all of the things that you need to do for any given campaign. For example, if you are releasing a new campaign around HIPAA compliance, this will help you check all the boxes and see who has responsibility for what.
38:00 A new calendar app. So basic, but awesome! It lets you know when all of the tweets, blogs, email campaigns, etc. are happening in the future. You can also do tasks, so it has some of the features of a tool like Basecamp (which our agency uses). Hopefully it's strong enough to replace Basecamp! Would be awesome to integrate our task management system right into the system we publish most of our tasks through.
40:00 They are promoting inbound.org, which is a Reddit/Digg-like platform for marketing, specifically. It's also a marketing professional database, that you can search via badges, geolocation, experience, their submission history (which allows you to gauge their level of expertise), and more. It's an older platform.
42:00 New updates to their social media tool, which is called "Social Inbox". The new mission statement for the tool: "helping you tame the social media beast in just 20 minutes a day". Didn't give too much detail about the changes, but could just be some reorganization and new user interface
44:00 Reporting – they've created better dashboards that give you more insight into stuff like email performance. It also has new attribution reporting, which is a tool that we will talk further about in an update blog post because it is deserving of its own post. Stay tuned.
45:00 Big update! Revenue reporting in Hubspot! People cheering. Girl beside me saying "FINALLY! Oh, my life just got so much easier!" I agree with her. Previously, trying to coax revenue and ROI out of Hubspot has been incredibly difficult. Even if you put a lot of hours into working out the reporting, it was still incredibly imperfect. The new revenue reporting should help better display ROI.
47:50 They're talking about the Hubspot COS, and how its speed was a core feature. For those of you that don't know, page load time is HUGE for conversion. Something like a 1% increase in speed can result in a 7% increase in conversion. They've been working hard to make the COS even faster, and it's apparently now 2x faster!
48:00 More personalization! Hubspot had some personalization previously, but they had to be a lead in order to personalize. Now, you will be able to personalize with "anonymous" visitors. For example, if the tool recognizes they came from a PR piece about your company, you can account for that and personalize your pages accordingly. Perhaps by calling them out and offering something special.
50:00 IMPORTANT workflow update! Branching logic. Previously workflows were static and linear. You had to go from step 1, to step 2, to step 3. Now, you can send them to step 2a, 2b, 2c, etc. based on their previous activity. For example, if they didn't download the content piece you promoted in step 1, you can promote it once again in step 2a. If they did download it, you can promote a new piece of content in step 2b. A "small" change that will be incredibly powerful, particularly for those of us in the trenches (hey, that's me) using Hubspot every single day. This will make your workflows more intelligent, comprehensive, and effective. I'm excited!
53:00 Dharmesh signing off, bowing, and inviting Brian Halligan (CEO of Hubspot) back on stage.
54:00 Brian is starting off his presentation by talking about sumo wrestling. The first match he saw pitted a 600-pound guy against a 200-pound guy. The big guy is squaring off by being imposing and showing how large he is. The smaller guy is squaring off by showing how flexible and limber he is. Obviously, the small guy is the underdog or how would this analogy work? The small guy predictably beats the large guy with a nice judo-move. Classic analogy that's all about being the small flexible guy taking on the big, heavy, established guy in the room.
58:00 He's talking about growth, as it relates to the Fortune 1000 companies. Of the F1000 companies from 1973-1983, 350 new companies were in the f1000. From 2003-2013, 712 new companies were in the F1000. Crazy stat! But not shocking. Online commerce and marketing has allowed us to branch out of the brick-and-mortar system (which benefitted from being big).
1:00:00 So it starts…Brian Halligan talking about sales. Sales is broken, and the new sales process is different.
1:02:00 Key point: information asymmetry. In old school sales, the sales rep held all the information – pricing, product specs, contact information, etc. Now, that stuff is all online. And if you're not openly sharing that information, your competitors are. In a world of information parity, a new sales process is required.
1:04:00 If you haven't noticed, there are literally Yelp reviews for everything. There are Yelp reviews for San Quentin State Prison. "Even prisoners have the power now, of course the prospects do!"
1:06:00 "Given that the buyer has changed so dramatically…who thinks the seller needs to also change?" Sales used to be about ABC (Always Be Closing). Now, it needs to be ABH (Always Be Helping). Sales reps should be smart, helpful, ambiverted, and transparent.
1:09:00 Your sales reps should be SMAHT (Sharp, Motivated, Ambiverted, Helpful, Transparent)
1:10:00 "Given that the buyer has changed, and the seller needs to change…who thinks the sales platform needs to change?" Cats out of the bag! Hubspot is releasing some new key sales tools.
1:11:00 Current sales tools require a lot of work and writing to maintain records. His Hubspot sales reps spend 1.5 hours every single day simply filling out forms and putting in notes. CRM tools also don't really help with prospecting, either. So, what happens? The sales rep simply stops using it and the sales system self-destructs.
1:15:00 SIDEKICK. It's a tool that integrates with Salesforce and reduces some of the annoying aspects. It brings anything you could possibly know about contacts and brings it in, giving the sales rep context. As you email your contacts, your CRM will automatically pull in all relevant information to your email platform. You can see what pages they are looking at, what things they have converted on, the entire history of that deal. Then, you can also see 5 more prospects that fit their profile, as well. "Sidekick allows you to use your CRM without needing to actually use your CRM" (since it pulls in all that great CRM info into your emails without you needing to load up your CRM.
1:18:00 Did I mention that it's free? Because it is. Enjoy your new toy!
1:19:00 Polling the room on who is a Salesforce.com user, and who isn't. There are arguably more non-Salesforce users in the room. "The argument we've been having internally is if we should build all of you non-Salesforce users your own CRM platform". The crowd goes wild, I'm betting Brian feels like a rockstar right now. Hubspot now has a CRM! Girl beside me saying "Are you serious! Wow! I'm so excited!"
1:21:00 "This is a special CRM, it's not like any other CRM. It works for you."
1:22:00 Walkthrough. Let's say you have a prospect who is perfect for your product/service. They fit the profile of the perfect company that could benefit. So you want to start marketing to them. You have Jay's email (a contact at the company), and you're getting ready to email him. You don't want it to be a crappy email, you want it to be detailed. You could go into Hubspot, and Insightly, and etc. and take some notes about him. But, that might take you 15-20 minutes.
Instead, you start emailing him and Sidekick automatically pops up and starts providing you all the information you need. Everything he's done, what he's been saying on Twitter, etc. You can even really quickly retweet him before you send the email for another touch point. Boom, within a minute or two, you have a great email put together.
1:25:00 Now, Hubspot detects that you've sent him an email and automatically starts pulling in a timeline of your entire history with that lead. It shows all action. It will cut and paste your email correspondence right into their contact record. It automatically does all of that monotonous "note-taking" work for you. No more being Sir Paste-A-Lot!
1:26:30 Now it's time for Hubspot to create a company record. Hubspot takes Jay's company and automatically fills in all the great company profile information. Not only does it do that, but it also starts sifting through the company contacts it detects, researches everything they've done. For example, maybe they recently wrote on Quora asking "hey what exactly is the pricing for Company X?" It detects that, and pulls it in.
01:29:00 Now it's time to research the company as you move to the next stage in the funnel. You go to their site, and Sidekick automatically pops up and pulls in all of the executives and employees in your prospect's company, organized by department. Not only that, but it also explains who in your company has relationships with those key contacts. No need to go to LinkedIn and try to find those contacts, then sync try and find out if anyone has chatted with them previously.
1:30:00 it will also show you related companies. When you click on one of those, you will get the same thing. A pop up area that will explain key contacts, if they're in your territory (as a rep), if another sales rep is in touch with them. 2 clicks later, they're added into your CRM and all information is included.
1:32:00 Now, it's a couple of days later and Hubspot/CRM has been working in the background and capturing activity. It's displaying that Jay has opened your email, and he then proceeded to click around and check things out. You can email him directly in the browser. Now, it's time to call him.
1:33:00 But, what happens if you call him? Another copy and paste job? Nope. You can call directly from the Hubspot CRM using VOIP (wow, so cool!). Now, it's time to write up those notes and send them to your boss, right? Nope. That phone call is recorded and added right to the timeline. Your boss/sales manager can review the call in all of its glory (you sly devil, you).
1:36:30 So now, you have all this crazy information: contact information, company records, lead history, call history, email communication, activity, etc. And, you didn't have to fill out a single form, anywhere. Hubspot did it all for you, in the background.
1:37:00 Deal tracking. You can see all of your deals, where they are in the sales funnel. You can also see a forecast view that will project closed customers and revenue. This then feeds directly into revenue reporting for marketing. I believe this is what businesspeople talk about when they talk about "synergy".
1:38:00 iPhone CRM app for outside sales people!
1:40:00 Key point. Your sales team will use this, because the Hubspot CRM works for you. You don't need to spend hours manually doing data entry. You work, you prospect, and it sits there in the background recording everything. And when it can provide you benefits with extra information, it enters the foreground.
1:44:00 If you're like me, and the other 9,999 people in this room, you're thinking "wow…this is life changing! Let me guess…I'm going to need to pay Hubspot $1,000 a month for this, right?"
Nope. It's free(mium). It's free to basic users, with some charges for power users. Customers and partners get first crack at it. Then, it will be opened up to non-Hubspot customers.
So…if you're a Hubspot customer, go download it and get you some sales! Huzzah!
So there you have it. Hubspot has released new workflow tools, new reporting tools, increased load speed for COS websites, a campaigns tool, a task management tool, a calendar tool, updates to the Social Inbox tool, new personalization capabilities, revenue reporting, and some potentially groundbreaking sales tools: Sidekick and a truly unique CRM. Not bad for a year's work!
Stay tuned for some more in-depth blogs from us on these new tools and how they can increase the effectiveness of your marketing and sales.
Signing off,
Ross Andrew Simons