On average, around 6,000 tweets are sent on Twitter every second. That is 350,000 per minute and 500 million per day. And these tweets are coming from 248 million different users; young or old, American or European, professional use or a personal diary, everyone is tweeting these days.
So how does a business, large or small, make themselves stand out in such a crowded space? There has long since been skepticism over the effectiveness of B2B social media marketing, and I'm here to tell you that if you do it correctly social media can be a powerful way of engaging with potential customers.
In my three years time spent on the popular networking site, there's one business that stands out in my head as being a complete mastermind, nailing every single post with social media best practices and engaging with other users in ways companies never thought they could.
Just as DiGiorno claims not to be just another normal pizza, their Twitter account is no regular timeline. Sure, they offer coupons and promote their product with the usual B2B strategies, but there are three things that make DiGiorno's tweets stand out from the rest.
1. Hysterically Cheesy
While DiGiorno's Twitter account may have a weakness for the caps lock button and puns (which has been found to be the reason some users hit the unfollow button) they make up for it in pure wit.
Top 5 Tweets
Here's a sample of the best DiGiorno tweets, which took countless hours to whittle down to only the top five.
KNOCK KNOCK who's there DELIVERY PIZZA delivery pizza who HAHAHA JK DELIVERY PIZZA WON'T BE HERE FOR HOURS

— DiGiorno Pizza (@DiGiornoPizza) August 16, 2014
"I've got too much on my plate," said no one ever with pizza on their plate.

— DiGiorno Pizza (@DiGiornoPizza) November 18, 2014
Keep Calm and Pizza O–WAIT WHAT THERE'S PIZZA OMG I'M SO FREAKING OUT ABOUT THIS

— DiGiorno Pizza (@DiGiornoPizza) April 3, 2014
March madness was named after a guy who didn't eat pizza once in the month of march one time. true story

— DiGiorno Pizza (@DiGiornoPizza) March 18, 2014
#throwbackthursday pic.twitter.com/z7FlnwcLBS

— DiGiorno Pizza (@DiGiornoPizza) April 24, 2014


Notice how these tweets are about completely random topics but yet they all relate back to pizza, cheese, delivery pizza, etc. in some way. I love this strategy because it's true content marketing. Every time I read a tweet sent by DiGiorno, I read it as just another joke not an advertisement, and if I like it, I retweet it and that "joke" gets spread out further to more and more audiences.
While it's difficult to draw ROI straight from social media marketing, Lora Schaeffer, VP of Social at Resource, the creative agency behind the Twitter account, says that they are "seeing purchase intent go up. We see people post pictures of DiGiornos in their shopping carts to Twitter and Instagram saying they're buying it because they follow us on Twitter" so the tie is definitely there.
2. Everyone Wants a Slice
I can go on and on and on about how DiGiorno constantly is tweeting at other users, replying to celebrities or large publications, or making whimsical comments about live events. Schaeffer claims that the goal here is to be "the commentary, the snarky guy who is the running commentary of all live events." And they do so very, very well.

What's the link between the Sound of Music & oven-baked pizza?
Trick question – there isn't one. But that didn't stop DiGiorno. Last December, whoever was sitting behind that keyboard saw that #SoundOfMusicLive was trending and capitalized on the 18 million people watching the event by sending out tweets with the hashtag. This is newsjacking in its purest form and the stunt earned DiGiorno 2,000 new followers by the time the two-hour special was over.
DOUGH a crust an unbaked crust RAY, a guy that likes pizza ME a pizza liked by a guy named ray FAH no idea what fah is SO so LA a city T tee

— DiGiorno Pizza (@DiGiornoPizza) December 6, 2013
#TheSoundOfMusicLive Can't believe pizza isn't one of her favorite things smh

— DiGiorno Pizza (@DiGiornoPizza) December 6, 2013
THE KITCHEN IS ALIVE, WITH THE SMELL OF FRESH-BAKED PIZZA #TheSoundOfMusicLive

— DiGiorno Pizza (@DiGiornoPizza) December 6, 2013
*** Bonus content: DiGiorno live-tweeted Peter Pan Live last Thursday, and guess what? – other huge brand names copied their strategy. ***

What do you say when the entire Twitter-sphere is watching you?
So they successfully live-tweeted a show and gained a bunch of attention and great marketing results. Now what? The pressure is on. They applied the exact same strategy to sporting events and they even spiced it up a little.
First, DiGiorno started commentating on WWE events, using the worldwide trending hashtags #RAW and #MITB.
DO THEY CALL HIM BAD NEWS BARRETT CUZ HE ALWAYS ANNOUNCES WHEN THERE'S NO MORE PIZZA? #RAW #legitimatequestion

— DiGiorno Pizza (@DiGiornoPizza) June 3, 2014
the only "Jack" I know with "Swagger" is a little fella named MONTEREY hahahahahahaha omg that was cheesy HAHAHA i need help #MITB

— DiGiorno Pizza (@DiGiornoPizza) June 30, 2014
ROLLINS STEALING THAT CASE FROM AMBROSE MAY BE WORSE THAN THAT GUY WHO ALWAYS THROWS AWAY HIS PIZZA CRUSTS well not that bad but close #MITB

— DiGiorno Pizza (@DiGiornoPizza) June 30, 2014

Then, they moved over to college football and kicked their strategy up a notch. As opposed to using a hashtag created by the TV network, DiGiorno felt they had gained enough momentum to create their own hashtag for the event, and they were right. #DiGiorNOYOUDIDNT took off immediately, as they used it to make harmless, yet witty and entertaining digs at teams.
IS YOUR DEFENSE A DELIVERY PIZZA? BECAUSE IT LOOKS LIKE THEY'RE NOT SHOWING UP TONIGHT #DiGiorNOYOUDIDNT

— DiGiorno Pizza (@DiGiornoPizza) September 5, 2014
YO, THIS GAME IS LIKE A DIGIORNO PIZZA BECAUSE IT WAS DONE AFTER TWENTY MINUTES #SuperBowI #SuperSmack #DiGiorNOYOUDIDNT

— DiGiorno Pizza (@DiGiornoPizza) February 3, 2014
YO, ONE MORE CHARITABLE GIVEAWAY AND YOU CAN DEDUCT YOUR QUARTERBACK ON YOUR TAXES #DiGiorNOYOUDIDNT

— DiGiorno Pizza (@DiGiornoPizza) September 8, 2014

The results from this type of engagement are astounding. The hashtags trend instantly and people tweet at them by the thousands, seeking to be retweeted by the popular account because it has become something they can be proud of and brag about. DiGiorno is essentially giving their followers 15 minutes of fame and spreading its name by word-of-mouth advertising, which traditionally has been the most popular tactic.


3. Burned Pizza
Everything was going great for DiGiorno, until their hashtag strategy led them astray and they left the pizza in the oven for too long, so to speak.
Video evidence had just been released of Ray Rice knocking out his fiancé and #WhyIStayed and #WhyILeft started trending on Twitter, to lend a voice to victims of domestic abuse. Meanwhile, DiGiorno was on one of its classic hashtag-jacking sprees and tweeted this ill-timed tweet, since deleted: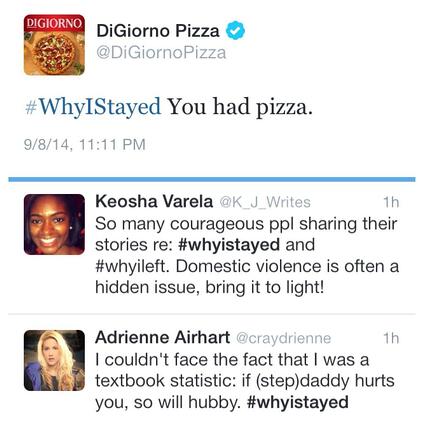 DiGiorno forgot to look before they Tweeted. They immediately issued two apologies for the offensive tweet, and from there on out did exactly what all companies should do in the event of a social media mishap.

Disaster Management & Crisis Communication
Apologizing, and apologizing sinercely: The two tweets and an explanation were sent four minutes after the #WhyIStayed tweet was sent out. The company took responsibility and was empathetic about it - showing the tweet came from a person, not a faceless PR team. They recognized the power of Twitter hashtags and knew that word spreads within seconds, so their quick reaction helped stop the problem before it really got out of hand.
Engage – as they always had: We've seen that DiGiorno is a brand that actively engages with its followers, and they didn't stop here. They proved they were listening to all the complaints about the tweet and reached out to every single person who felt the tweet went too far. And people appreciated the effort. One user noted how it was a "sincere apology instead of a backhanded non-pology."
Regroup and restrategize: After making every effort possible to apologize, DiGiorno's Twitter account went silent from September 9th until October 1st. Instead of diving head first back into marketing and pretending like noting serious occurred, DiGiorno took the serious route, and came back in time to celebrate National Pizza Month in October.

Avoiding Delivery Social Media Marketing
You're probably thinking that DiGiorno is a multi-million dollar company who has tons of resources at their finger tips, so how can a small B2B company copy their strategy?
Nail down your target and how you are going to target them. DiGiorno's Twitter persona is clearly the snarky, sarcastically funny "bro" friend who sits next to you on the couch on a Tuesday night and comments on everything he sees pop up on the TV.
Take advantage of opportunistic, real-time marketing. Much like Oreo's viral Super Bowl tweet, DiGiorno claims to have stumbled upon their live-tweeting strategy. They were "watching what was going on and figuring out ways to insert our brand." Watch what is unfolding in the world, be creative, and see how your company can capitalize on it.
Be patient and double check your facts. DiGiorno states that their Twitter strategy took a full year to develop and really take off so don't immediately dismiss the social site if after one month you only have 100 new followers.
So while social media marketing may seem like a huge challenge with little reward, DiGiorno proves it can be quite a simple process if you stick to it and understand what you're doing. Know any other awesome company Twitter accounts? Leave a comment below!