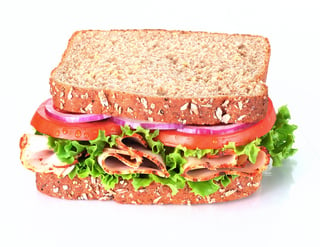 About a week from now, most of us in the United States will be sitting down to Thanksgiving dinner, gathering with our families and loved ones as our dining room tables creak under the weight of roided-up turkeys, cauldrons of stuffing, and dizzying mountains of mashed potatoes tall enough to induce altitude sickness.
I don't know about you, but personally, my mouth has been watering since Halloween. But while Thanksgiving dinner is great, what I'm really excited for is what comes the day after. No, not the Black Friday doorbusters. Leftovers!
You know what I'm talking about: those delectable sandwiches, built from homemade bread, piled high with white and dark meat, soggy with a savory-sweet mix of gravy and cranberry sauce. Maybe go for broke--throw in a little mayo. Why not? It's the holidays.
The sandwich is among mankind's crowning achievements. The perfect culinary vehicle for transporting any number of dietary delights from your plate to your belly, from turkey and gravy to peanut butter and bananas.
What Do Delicious Sandwiches Have to Do With Marketing?
The sandwich is also (and thanks for sticking with me, here) my favorite food-based analogy for illustrating the scientific approach to online marketing for which I continually advocate with my clients and here on the Innovative Marketing Blog.
A couple days ago, a prospective client griped to me about his prior experiences with Jell-O marketing; in other words, online marketing that is spineless, structurally unsound, and all empty calories.
I sympathized with my prospect. I told him I prefer to stay away from marketing that is anything like the spineless Jell-O and stick with a marketing approach that is well-structured, intelligently put together, and self-reinforcing.
To drive my point home, I whipped out my sandwich analogy, and I'd like to share it with you, as well.
Effective online marketing is like a sandwich, the kind you might get at your local sub shop:
​

Bread

. The bread is the strategy and analytics that holds it all together.

Tomato

. The tomato is your willingness to be bold, to take risks, from the projects you execute to the copy you write.

Lettuce

.

The lettuce represents bringing fresh (everybody hates wilted lettuce) ideas and initiatives, ensuring that you stay on the cutting edge of activities and results.

Cheese.

This is the good stuff, the proven advanced strategies that can help you take your marketing to the next level.

Meat

. This is the stuff you do day in, day out that helps you reach every single one of your goals. Sorry vegans, but you've got to have meat. (If it helps set your mind at ease, think of it as Tofurky.)

Secret sauce.

This is what makes you, you. Your company differentiators. Your brand. Your voice.
Still don't see it? Luckily for you, I majored in MS Paint. Consider this rudimentary, barely-above-cave-painting sketch my offering for your Thanksgiving table: