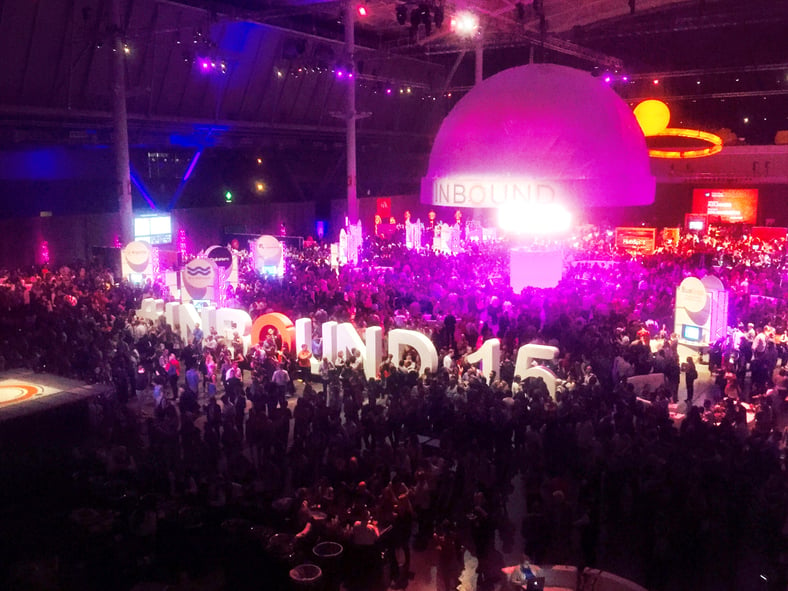 Ross here, and I'm writing from the yearly conference (The Inbound Conference) put on by HubSpot. First of all, it's incredible! 14,000 people, over 200 breakout sessions, keynotes from Seth Godin and Aziz Anzari, and a release of a whole batch of new products and features! It's the final day, so I figure all of you would love to get the scoop.
While you may want the rundown on Aziz and his comedy bits, you're just going to have to make do with a rundown of the top product releases. For this post, I'm going to focus on some of the most important ones (in my opinion). So let's get started.
---
1. Reporting Add-On
If you've spent any time doing inbound marketing, you know one of the most valuable things you can do is active reporting. Regularly reviewing your performance of your campaigns allows you to do more of what works, and less of what doesn't.
The problem?
Building these reports is exhausting. A good monthly summary report might take you 5+ hours to build. And honestly, a lot of it is simply slicing the data how you want to see it, screenshotting it, and putting it into your analytics report slide deck. It takes tons of time to grab screenshots for organic traffic growth, social media, referral sources, keyword performance, blah, blah, blah; by time you're done, your brain is mush and you have less time to fully analyze and understand what all the data means to your inbound marketing.
The solution: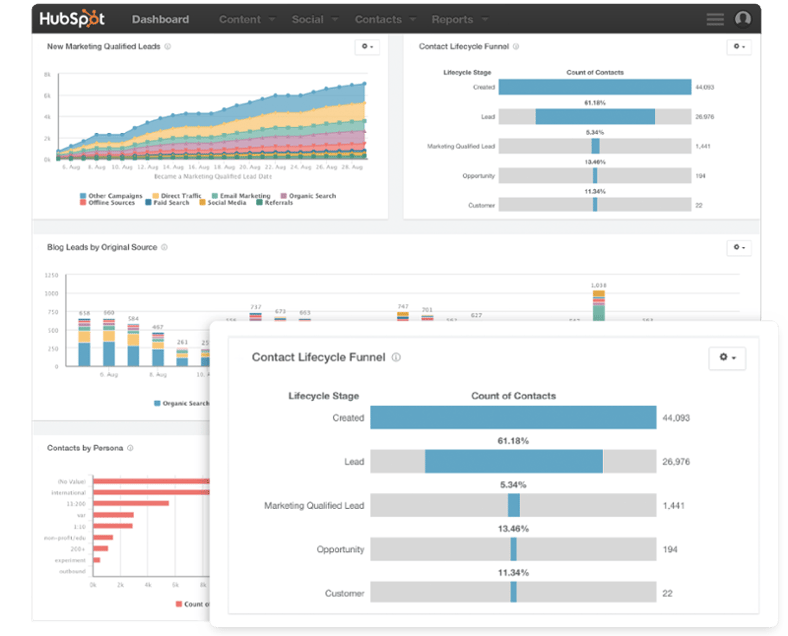 Hubspot has solved that. Screw decks…use dashboards. They've built an incredible new Reporting tool ($200 add-on and worth every penny) that will simplify this process. What can you measure? In short, most stuff you probably want to. But to be more specific:
Hubspot has talked to their customer base and created 20+ "stock" reports that are the most requested. Adding these to your dashboard is as simple as point-and-click.
You can also build custom reports and add those to your dashboard. For example, you might want to graphically display how many Information Qualified Leads (IQLs), Marketing Qualified Leads (MQLs) and Sales Qualified Leads (SQLs) can be attributed to the blog post. This tool will let you add that.
The result of this all is a beautiful dashboard. When it's time to report weekly or monthly, pull up the dashboard, take some notes, and walk your boss/client through it.
> Spend less time building reports, and more time analyzing performance and revising improving your marketing.
---

2. Predictive Lead Scoring
Alright, so lead scoring is awesome. We can all agree on that, right? Lead scoring allows you to prioritize your leads, going after the most important ones first (with the best offers), before moving down to lower-ranked leads.
The problem?
A lead-scoring algorithm is predicated on assumptions. We think downloading two pieces of content makes them more likely to buy; we think listing "I have a budget of $xxx" makes them likely to be a more profitable customer; we think that opening a bunch of emails means we can start talking about our specific product or service. So we take these assumptions (which are grounded in some data that we're able to piece together), and we build our lead scoring equation. Downloading at least two pieces of content gives you 10 points to you score; having a budget of $10,000 gives you 20 points; opening 8+ emails gives you 12 points.
But what if our assumptions aren't right? What if we're overestimating some factors and underestimating others? As you can guess, that would limit the effectiveness of our lead scoring efforts.
The solution: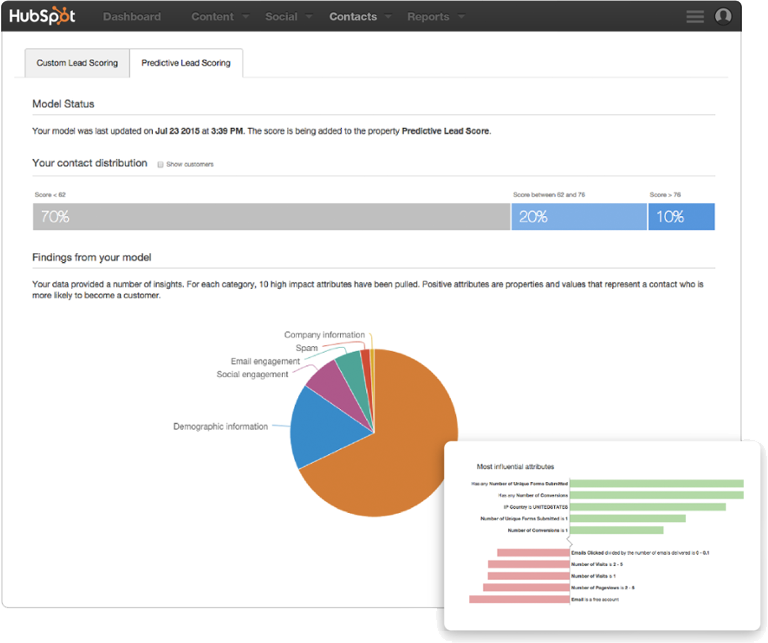 HubSpot has solved that using a new release they're calling "predictive lead scoring". It's exactly what it sounds like: Hubspot pores through your data and finds the actual factors that matter to driving conversions and customers. Then, it builds your equation.
> Stop guessing. Start understand the behaviors and traits that actually unite your best customers.
---
3. The Hubspot Website Platform [Update] - Including SSL!
I love web design, and it's one of my specialties. So any time I hear about updates to their website platform, my ears perk up.
The problem?
The problems are three-fold:
It can be annoying to build your pages in a website editor and constantly have to preview the page to make sure it's coming along nicely.
Doing things like SEO optimization is an additional step you sometimes forget to do, that requires separate tools, or demands that you remember every best practice and realize how it applies to the current page you're building.
No SSL! Which means that you had to be careful about the data you can capture as the connection could not be guaranteed to be secure; this was especially important for those of you in regulated industries such as retail and healthcare. Likewise, you couldn't create custom members-only areas (with username and password) because you can't insure a secure login. And finally, Google has increasingy pushed for all websites having SSL...going so far as utilizing SSL as a ranking factor.
As great as their platform is (it's seriously one of the best around, I love the COS), these were some of it's flaws.
The solution: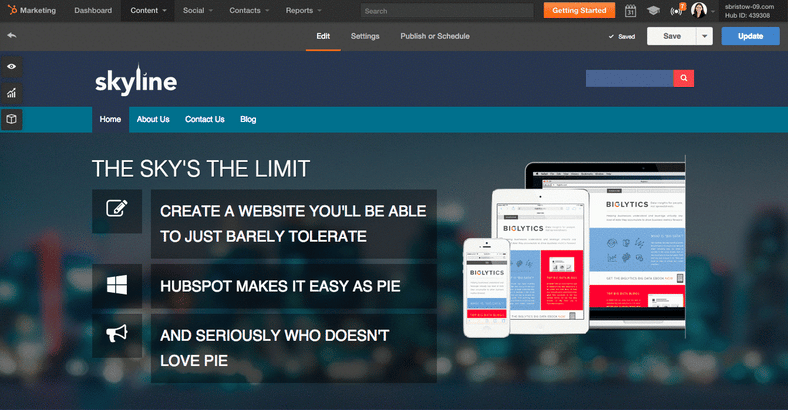 They released a slew of updates that address the above problems. Great! Right? Here's the bullet points:
They released an inline editor (see the screenshot? It's a gif.) This allows you to see exactly what the page looks like, as you make the edits. No more back and forth between preview and build views.
They added a nice optimization sidebar in your new inline editor that makes suggestions as you go. No extra tools needed, and no SEO best practices written on sticky notes that are stuck to your computer monitor.
They released SSL! And it's super easy to implement (compared to how complicated SSL typically is to implement). Here's a tutorial on how to do it. But basically:

Log into Hubspot
Click Content at the top and then Content Settings.
On the left sidebar, click Domain Manager.
Click on each of your live domains and edit them.
Click the enable SSL checkbox and confirm.
Wait 5-15 days for things to process, at which point you will receive an email confirming that you now have SSL.
Come back to domain manager,
Get your new CNAME records and then update those CNAMEs in your domain tool (like GoDaddy).
This post by HubSpot has all the details, with screenshots. Easy to do.
A bunch of small updates that add up to a big impact. They make your job easier, and secure your website. That's awesome!
Other Updates
There were a lot of other updates as well, but i'm not going to take up all of your time running through everything. Besides, you should be demoing these new things anyways :) Here are some quick ones though:
Sidekick, one of the best parts of the CRM, now works with Salesforce as well. Lots of cool functionality for all you Salesforce users who want to help your sales people sell better, align more with marketing, and create relationships with your leads that have context.
They also added some new functionality to Sidekick and the CRM, including powerful new prospecting and sales automation features
They started "The Easy Initiative" which is a series of updates that seek to make their tools even easier to use.
They released Hubspot Connect, which builds upon their powerful integrations: it adds more partners, and pulls them all into one dashboard for you.
They released a platform for posting PPC ads and LinkedIn sponsored posts. For those of you who do PPC or used LinkedIn sponsored ads, gone are the days where you need to use multiple tools. You can use it from within the Hubspot Ads platform. Accordingly, this also makes measurement even easier and better-integrated with Hubspot.
Hubspot has gone multilingual. For those of you who are global, you can now use Hubspot tools in

Japanese, French, German, Spanish, Portuguese, and English.
Conclusion
So that's it! Nothing truly huge, like the CRM last year, or the COS the previous year. Just a lot of welcome updates that make all of our marketing easier and more effective. I, for one, welcome them all!