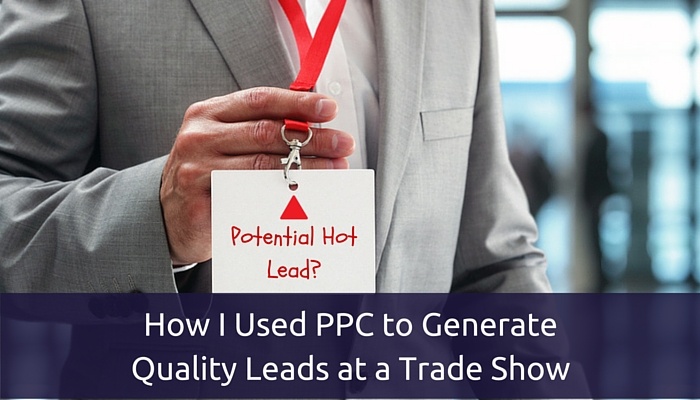 If your company is like most companies, you attend a trade show or industry event at least a few times every year. Wouldn't it be great to come home from every trade show with dozens or even hundreds of great leads ready to become brand new customers?
I've had great results using pay-per-click advertising (PPC) to attract quality leads in connection to trade shows and other big industry events.
Think about it. As a trade show approaches, tons of industry professionals — aka, your target market — will be Googling the event to find out details.I've found that you can make much better use of your budget with PPC ads that promote your company as being part of an industry event or product release rather than the standard "contact us" or "free quote" ad. As a bonus, there's a decent chance it will be a cheaper bid than your general industry keywords, due to less competition.


How I Used PPC to Promote a Trade Show Contest
For example, I advised a logistics client of mine to purchase ad space around a major organic products expo they would be attending. We wrote PPC ad copy that told the professionals and vendors searching for that event my client would be there, and asked them to come by their booth for a surprise.
What was that surprise? It was an Apple Watch giveaway.


When I Heard the Word "Fishbowl," I Knew I Had to Do Better
My goal for this event was to promote my client as a big player in the organic industry, nurture any event leads, and capture data and quantify ROI. So, I decided to create a whole campaign around it, based off a custom landing page filled with the types of content prospects in that industry would find helpful and interesting.
We created special organic/natural product focused blog posts, eBooks, frequently asked questions, and industry client testimonials. We even made custom business cards, with bit.ly shortened url's on the back driving prospects to that page.
To ensure people actually visited this page, in lieu of the fishbowl, we required contest hopefuls to actually go to the site and submit their name and email for entry. This meant their contact info was in the system, and to get them to come back and stay top of mind, we said we would announce the winner one week from the event on that very same landing page. So if you wanted to find out if you won, you'd have to head back to the site and wait for that countdown timer to hit zero!
Of course, with all those new contacts, we also had emails queued up to send them, reintroducing the sales team, thanking them for taking the time to meet and sign up, and providing further details about the giveaway, along with a reminder about the giveaway the day before.
How's that for standing out from the crowd?
Coincidentally, none of this would have been possible if we hadn't created some buzz first by driving awareness and top-of-mind branding through the PPC ads. So remember, it never hurts to get creative when it comes to PPC ads and placement.