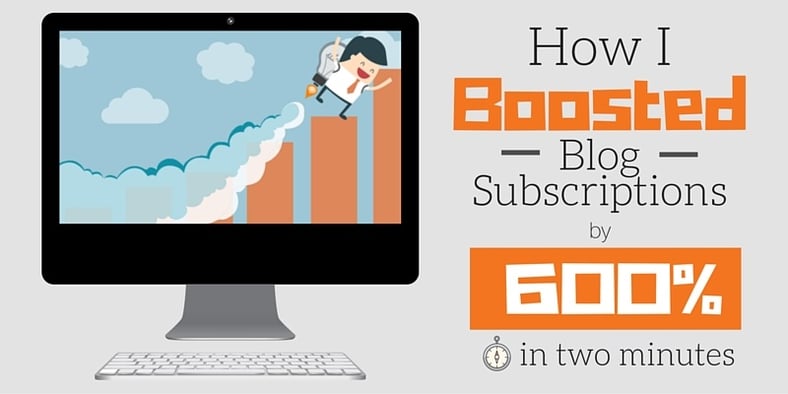 It happened. One of my clients, The Wellness Institute, had 105 blog subscribers in November of 2014. Now they have 727—and it only took me two minutes of work to make that happen. I'm going to show you how.
Now, this doesn't mean that you will definitely increase your subscribers by 600%, but this super-simple tactic takes less than two minutes; it's totally worth it if you gain even 6%. Every little bit counts.
Add a 'Subscribe to Blog' Checkbox to Your Forms
Blog subscribers are extremely valuable for inbound marketing because they've given you an excuse to be in their email inbox multiple times a week. This is great because sometimes people just aren't ready to enlist your services…but as long as you keep sending them new content, maybe you can catch them at the right time later on.
You probably are already getting form submissions from people downloading your white papers, accessing your checklists, or watching your gated videos. Anyone interested in premium content like this might be interested in a blog subscription, as well. But, in many cases, they either don't know how to subscribe, or they don't think to subscribe, since it wasn't suggested to them.
So suggest it to them. By adding a "subscribe to the blog" checkbox to your forms, you can make sure that every contact:
Is exposed to the option of subscribing to the blog;
Can easily subscribe simply by checking the box.
Easy, right?
How to Add a 'Subscribe to Blog' Checkbox to Your Forms
These are instructions for HubSpot, specifically, but you non-HubSpot users should be able to do something similar with your own tools.
HubSpot has a built-in "blog subscription" form field. You just need to add that to any form you want to use. Just go into the form editor, click on the "fields" section, and search for "blog." When you find it, go ahead and drag it over to the bottom of your form fields.
Now, it's on the form, but it doesn't look right. It probably says "blog subscription" and then lists four checkboxes (instant, daily, weekly, monthly) below that. Not the best experience, so let's change that.
Click the pencil icon that activates the "edit" feature.
Change the label. This is the text that displays on the form. Sell the value. Say something like, "Subscribe to the blog and become the best marketer you know."
This blog subscription property is a radio select, where people can choose their frequency (instant, daily, weekly, monthly). We want to simplify it. Choose one option of the four. Unless you're posting multiple times a day, stick with "instant." To delete options, simply click the "x" icons in the form field editor.
Save the form.
That's it! Easy, right? I hope this small change brings you as much success as it brought for The Wellness Institute. It's honestly a total no-brainer.
Conversation Starter
Let's get the conversation going down in the comments. Do you have any other small little "hacks" like this, that are easy to set up, but have really improved results in a meaningful way? Share in the comments! I have too many high-fives to give, and not enough whip-smart marketers to give them to.