In many ways, I'm an inbound marketer's worst nightmare. A skeptic by nature, I'm deeply suspicious of any information with a brand attached to it. I'm a serial unsubscriber, a vigilant spam filterer. When I encounter a landing page with a web form, I turn the other way. I'm not ashamed to enter fake contact information.
In short, I don't respond well to being marketed to.
So why is a marketing-averse person like me working in inbound marketing? Because I believe it is possible to create—as HubSpot calls it—"marketing people love," even grumpy, suspicious people like me. If you give people what they want, what they're actually looking for, they won't feel marketed to. This is how I want the world to work. All it takes is the right product, the right offer, and an understanding of what your customers are actually looking for.
Allow me to illustrate with an example from my own life. As this example will show, with the right high-quality content offer, you can reach even the most curmudgeonly customers and achieve your marketing goals.
An Offer Too Good to Pass Up
Since the early 2000s, I have been a loyal fan of the band Wilco, purchasing all their releases and catching them in concert when they stopped in my area. At some point along the way, I liked them on Facebook. That like paid off about two weeks ago when an item arrived in my Facebook feed announcing that the band had released a brand new surprise album and, best of all, was making it available for download for free.
Of course, I immediately followed the link to Wilco's website and was taken to what was, unmistakably, a landing page.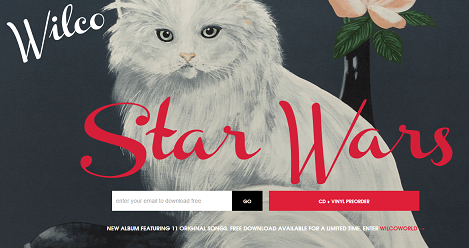 I was now officially in an inbound marketing funnel and I was happy to be there. I turned over my email address—my real email address—and in return received a .zip file of the new album. A brand new album from one of my favorite bands, free—now that's what I call a high-quality content offer.
During the following week, I listened to the album—called "Star Wars"—several times, coming to the conclusion that it was Wilco's most interesting work in years. In marketing terms, Wilco's high-quality offer had increased my trust in their "brand."
Why did that matter? I found out when I received an email from the band last Wednesday: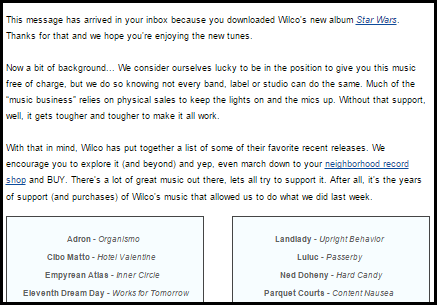 Ah ha! So that's their game!
Most of the clients we work with in our agency are either trying to gain customers (businesses) or applicants (schools), but inbound marketing can work for other goals, as well. In this case, Wilco used inbound marketing techniques to get their fans to support the bands they love—and it's working! Because I love and trust Wilco, and because I appreciated their offer of a free album of new music, I've checked out several of the releases they featured in their email, and I might even buy some of it.
The Whole Love
How was a rock band able to break through to a hardened, "marketing-proof" customer like me? Because they understood me; they knew what I wanted and what it would take to get my attention. They knew:
As a longtime Wilco fan, I would be thrilled to receive a new album.
As a longtime Wilco fan, I would probably be old enough to still appreciate the idea of "possessing" music for myself, if even in digital form, and I would happily turn over my email address for the privilege.
As someone old enough to still appreciate the idea of "possessing" music, I might not seek out new music the way I used to.
But I might check out some new music if it was recommended to me by a trusted source, such as my favorite band Wilco.
The Moral of the Story
The moral of the story is "know thy buyers (or applicants, or whatever)." If you know enough about the people you're targeting, understand what they're looking for, your inbound marketing efforts will be successful, provided, of course, your content offers are of a high enough quality.
Wilco gave me an entire album of new music for free. Whatever you offer your prospects, it must be something they value. So many businesses fail at inbound marketing because, frankly, their offers are crap. Give away the good stuff, seriously. Build your prospect's trust in your brand and they'll willingly go along with you to the next step.
And now, "Star Wars":