If you want your inbound marketing efforts to pay off, who should write your content, freelance writers or your own company's staff?
Here's something you won't see me write very often; let's look at the numbers.
Buried on page 29 of HubSpot's exhaustive State of Inbound 2015 Report (get your copy now) is this fact: Among the 4,000 organizations HubSpot polled, of those that achieved greater return on their inbound marketing investment this year than in 2014, 79 percent had staff members writing online content. Of the organizations with lower inbound ROI in 2015, only 62 percent used staff writers for blogging.
Forget the numbers. What does this mean? It means that most companies that are really good at inbound marketing write at least some of their own content.
How Much of Their Own Content?
In the same graph, HubSpot reports that only 27 percent of the successful inbound marketers used freelance writers for their content.
Using HubSpot's numbers, we can't know for sure how much overlap there is between the successful inbound marketers using staff writers and those using freelancers. But, if we assume that all of the 27 percent of companies using freelancers also use staff writers, we find that at least half of the best companies at inbound marketing in the world never use freelancers to write content.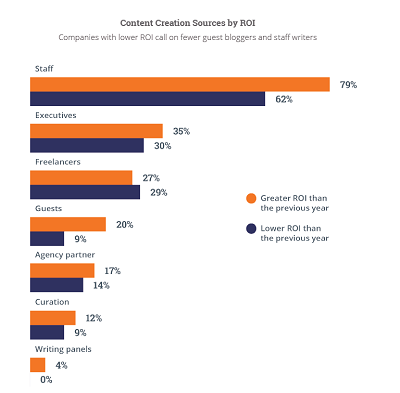 In its report, HubSpot declines to speculate on why most of the best inbound marketers in the world write their own content, but I will. Staff members write better content than freelancers. Staff-written content performs better; that is, it ranks higher on Google, it attracts more website visitors, and more website visitors become paying customers after reading it.
According to the State of Inbound 2015, another habit of highly successful inbound marketers is scrupulously tracking ROI. Given that, I think it's safe to say that 52 percent or more of the world's greatest inbound marketers reject freelance writers because they have found their investment in staff-written content—the time put toward writing by their team members—goes farther than the money they would spend on freelance writers.
For better ROI from inbound marketing, write at least some of your own content.
Why Your Staff Can Write Better Content Than Freelancers
A freelance writer might have a better command of grammar than your top salesperson, but your top salesperson will easily trump any hired gun in two of the main requirements for great online content: a passion for the subject and firsthand knowledge.
The depth and quality of written content doesn't come from proper sentence structure or the appropriate use of apostrophes. It comes from the quality of ideas and the depth of the experience behind them. Freelance writers—even the best among them—are always playing catch up, trying in vain to absorb the language even the most junior members of your staff learn just from doing their jobs.
More often than not, freelance writers are forced to parrot what they hear in their brief interviews with clients (if they get to do interviews at all) rather than develop a complete comprehension of the subject. Readers pick up on this shallowness.
Your Team vs. Freelance Writers
Let's compare freelance content writers to the members of your staff:
Your staff works with customers for hours every day, helping them solve the very same problems your website visitors are having.
Freelance writers learn about your business and your customers from a half-hour of interviewing you and another hour or so of Googling.
Your staff members share a genuine interest in your industry and have invested their careers in the success of your company.
Freelance writers are trying to cram as many different content clients into their work schedules as possible.
Your staff has a full view of your company's goals and inbound marketing strategy and how each content piece fits into it.
Freelance writers see only one assignment at a time.
Your staff could stand to brush up a bit on grammar, style, and word choice.
Freelance writers (to be honest) usually aren't much better.
This is why organizations that do inbound marketing well are choosing to invest in their own writing rather than outsourcing. The content is that much better.
What if You Staff Stinks at Writing?
Look, if an arithmetic-averse English major like me can do math like I did in this article (and feel free to skip down to the comments section if you feel you need to correct any of my computations) your team can write.
As for those writing skills your staff members lack, those will come with experience. And if you really want ROI from your inbound marketing investment, take the money you would spend on freelance writers and spend it on an editor, instead. Grammatical mistakes are so much easier to fix in a blog article than lack of depth and a misunderstanding of the needs of your customers.
Ultimately, a good editor may coach himself out of a job as the members of your staff learn from him how to improve their writing. A team of double-threat crack writers with insider knowledge—now that's worth investing in.