Social media—a requirement for inbound marketing success—holds real influence that continues to rise. A captivating social media presence is essential in the current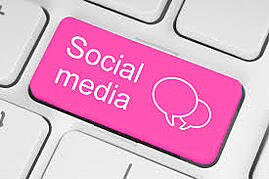 business environment. Neglect social media, and your business will suffer. You will not be able to optimize your content marketing, website traffic, or lead generation and conversion without social media best practices.
Provide Real Value
Winning social media marketing requires active listening and genuine participation. Learn what your followers and fans care about and then speak to their needs and provide helpful, information-rich and highly shareable content. Many prospects rely on social media to research buying decisions and find solutions, so make sure you meet your prospects in their preferred social spaces—whether that means Facebook, Twitter, LinkedIn or Google+—for real-time communication and engagement.
Social media marketing should not be done on the fly; doing it well requires strategy. To create the best social media strategy for your brand, you need to think critically about your buyer personas and then deliver content that is helpful, relevant and yet entertaining at the same time.
Do Not Be Self-Centered
Content curation—the act of finding, collecting and sharing relevant, valuable content across your social media channels—can help you expand your social influence and following. Being overly "salesy" and only talking about yourself and sharing your own content is a common social media faux pas; avoid it by curating six pieces of content for Twitter and two for Facebook, LinkedIn and Google+.
Make sure to give credit where credit is due—citing the authors' names and their Twitter handles or links to their Facebook, LinkedIn or Google+ profiles. Stagger your content curation throughout the day between 9 am and 6 pm. Social media management dashboards, such as HootSuite, allow you to schedule your posts ahead of time, once each day. Share content at least Monday through Friday. Authentic engagement and clever content curation can amplify your social following and boost social lead generation and conversion.
Be Authentically Engaged with Your Social Audience
Successful social media marketing requires you to actually engage your audience and be social—listening and engaging as well as promoting your own content and offers. Have real conversations with your followers and offer valuable knowledge and thought leadership, and kindly direct them to your website to learn more via inbound links and original content. Keep things interesting by hosting chats and contests, taking surveys, and sharing the results.
Frequently and consistently interact with your followers. When there are questions, always reply in a quick and friendly way. Amplify your social following by promoting a conversational and genuine report. The more your following communicates publicly about your company and shares your content, the more your reach and exposure will be magnified. High activity in response to your social updates can help them reach a larger captive audience, including prime Facebook Newsfeed exposure and top tweets on Twitter.
Social media engagement is an effective way to build relationships with your social prospects. Also engage prospects who do not yet follow or "like" you. Introductions happen naturally through authentic engagement, including tweeting content, sharing Facebook updates or having discussions within LinkedIn groups with the people and brands you want to connect with.
Social media is highly influential and can trigger dramatic changes in terms of reach, brand recognition, website traffic, and lead generation and conversion. However, excellent social media marketing results from top-notch inbound marketing, including content creation, website design, CTAs, landing pages and email marketing. The social media landscape is always in flux. Stay informed; do not let your business fall behind. Leverage the power of social media as part of a complete inbound marketing plan to reach and surpass your business objectives.