Social media can and will impact your business in 2014. Going social is no longer optional; rather, social media is an integral part of attaining inbound marketing success. The digital landscape is constantly evolving,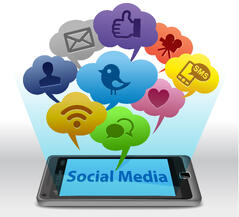 so your marketing efforts—including social media—need to change and mature as well. Stay informed about marketing trends and best practices by committing yourself and your company to continual learning. Let us dive into how you can leverage social media to advance your business this year.
Integrate Social Media with Your Other Marketing Channels
Social media will not advance your business without high-quality, original content, which is what should attract prospects to your website and incite lead generation. You need a top-notch company blog, which is both captivating and informative. Speak to the needs of your readers by answering important questions, solving problems, resolving issues and inspiring change with thought leadership. Content creation is central to winning marketing of any kind.
Social media, content and email marketing can work together to create a powerful synergy, which is the essence of inbound marketing. Social media can be used to acquire new addresses for your opt-in email list; social icons and social sharing buttons embedded on your blog can generate more content curation. Social sharing prompts sent via your email marketing can amplify the reach of your content, magnify engagement and increase lead generation. The ways that inbound marketing can optimize all your marketing channels, including social media, are abundant and powerful.
Your Social Media Activity Should Not Be All About You
Social media success is fueled by great content and genuine engagement. Never forget that social media is community-based; your fans and followers do not like being talked at. While promoting your brand is acceptable to a certain degree, you must keep the conversation going—listening as well as talking. When contacted, always supply a prompt and friendly response. Actually engage and talk with your social audience. Provide relevant, valuable answers and direction to where your social prospects can learn more: your website.
Being overly "salesy" on social media is a big faux pas; aim to be a likeable brand. You should not only publicize your own company content, as content curation can amplify your social media marketing. Find, select and share relevant, industry-leading content across all your social networks—at least Facebook, Twitter, Google+ and LinkedIn. High-quality content curation is valuable to others, can expand your social reach and boost lead generation. Only talking about yourself and sharing only your own content is not social. Always adding value is critical to social media success. If you are not delivering value, you are not doing social media right.
Appeal to the Unique Interests and Concerns of Your Social Followings
Create accurate buyer personas for each of your social media channels. Put yourself in the place of your social fans and followers—considering whether or not what you are sharing would be both valuable and entertaining to them. As social media matures, and more and more brands get on board, rising above the noise and being seen and heard is becoming more challenging. Breaking through and gaining the spotlight absolutely requires great content, in-depth thought leadership, authentic social media engagement, and content promotion through distribution channels—to reach a wide captive audience.
CTAs Are Vital to Your Social Media Success
You need strong CTAs, which are just as important for social media as they are everywhere else. Be clear about what you would like your social audience to do after taking one of your offers or engaging with your brand. Social media marketing can generate powerful results.
However, real social media success can only occur, when your social presence works in concert with your inbound marketing, including high-quality content creation, strategic CTAs, compelling email marketing, and beautiful, user-friendly website design. A complete inbound marketing strategy can address all your marketing needs—advancing your business in the age of social media.