Content curation is invaluable to winning social media marketing. To leverage the power of content curation, you must explore, discover, curate and share relevant, industry-leading content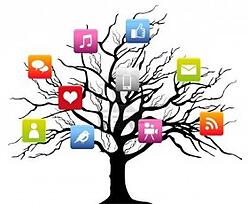 across at least the big four social networks—Facebook, Twitter, Google+ and LinkedIn. If you have committed to going social, a company presence on at least these major social networks is required. However, it is important to note that just having social media profiles does not amount to effective social media marketing. High-quality content curation provides value to others, will expand your social audience, and increases social lead generation.
How Much Content Should You Curate?
Curate and share at least six pieces of content on Twitter daily. For Facebook, LinkedIn and Google+, two is enough, since over-sharing on these social networks could cause your shared content to be flagged as spam. Ensure that you always include the content creator's name—using his or her Twitter handle or a link to the author's page on Facebook, LinkedIn or Google+. Your content curation should be spaced out throughout the day between 9 am and 6 pm. Using a social media management dashboard like HootSuite lets you schedule your posts ahead of time once a day, which greatly streamlines the posting of your curated content. Share curated content across all your social networks Monday through Friday at minimum.
8 Content Curation Tools
Topsy is an analytic tool that identifies industry thought leaders and trending content. Being recognized as a thought leader requires deep industry knowledge and genuine engagement in industry discourse. Topsy finds influencers by keyword, company name, person or category and helps you discover the trending content topics for your industry. You are even able to analyze the degree of influence content creators have on certain keywords, see what else they have written and shared on social networks, and what others have published about them.
Klout is known as "the most influential metric for online influence. To determine if someone is truly influential, check out his or her network influence and Klout scores. A network influence score analyzes the influence of one's engaged audience—how much influence the audience wields and to what degree it listens to and engages with a particular thought leader and his or her shared, original content. The more social engagement and discussion you generate, the more your Klout score will rise. Klout scores range from 1 to 100. The revamped Klout even offers content curation suggestions sorted by relevant topics and the ability to share or schedule posting of the content directly.
Social Media Today hosts content from "the world's best thinkers on social media." SMT is highly selective about what it publishes; the website is a top-notch destination for finding relevant content to fulfill your content curation needs.
SocialEars uses contextual analytics in its search for content. The search results rank content by its real-time share factor and by the influence of content creators, so the content SocialEars delivers is likely to be both credible and authoritative.
Bottlenose combines your Twitter and LinkedIn activity preferences and continually scans trending topics to deliver custom-tailored results in real time. Bottlenose also offers solid social search capability.
Scoop.it allows you to easily curate engaging online magazines, which effectively feed your social presence. Scoop.it is wildly popular, because it is user-friendly, customizable and delivers a constant stream of content.
ContentGems analyzes 200,000 RSS feeds and social media accounts to locate content that matches your custom keywords. ContentGems also continually scans the Internet for new content, which is a great help in performing real-time content curation. Free and premium options are available.
Trap.it bills itself as a smart content curation tool, which increases in intelligence and relevance as you use it more. It features more than 100,000 vetted content sources and includes "hidden gems," which can help your social presence get noticed.
Content curation can greatly expand your social audience, increase your reach, and boost social lead generation and conversion. Without social content curation, you will fall behind the social curve and be forced to face the consequences. Do not fall behind; curate highly shareable content to achieve recognition as an industry thought leader, grow your website traffic and attain more new business.