There has been a lot of talk over the past few days regarding a potential military strike against Syria for its use of chemical weapons. President Obama has made his case (here is his official statement) and now it is in the hands of Congress. The President is using his words and position to make a compelling case to get Congress to take action.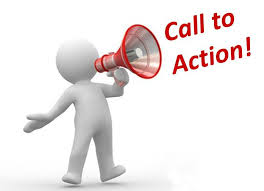 Most of us in the marketing profession do not have the benefit of a such a powerful position (Office of the President of the United States) to leverage in order to get someone to take action. Rather, we must rely on an image and a few words (90-125 characters) to prompt a visitor to our website to take a specific action. The action we are trying to get someone to take is much more mundane than getting authorization to attack another country. Marketers use calls-to-action (CTAs) in the hope of persuading someone to download a whitepaper, subscribe to a newsletter, register for a webinar, etc.
Here is an example of two CTAs that can be found on the home page of LogicBay, one of IMR's clients.

Unlike the President who can use a press conference to convey his message, marketers only have a few seconds to get someone seeing their CTA to take the desired action. Here are the essential elements of an effective CTA:
Location, Location, Location – a visitor must be able to easily find the CTA. General rule is that the CTA should be placed above the fold on a web page. In a blog post, the highest click to submission rate CTAs are those that are found below the blog post, compared to sidebar or banner CTAs.
Attention Grabbing Design – color and size are critical. Too large and the CTA will overwhelm the content around it, too small and the CTA will be overlooked. Color should be used to set the CTA button apart, but without clashing with the overall design of the website.
Action Orientated Copy – using action verbs is a must (learn, download, explore, click). You have seconds to capture someone's attention and you want her to take an action - so prominently highlight that action.
Alignment – you want to make sure that when someone clicks on the CTA they will know exactly what will happen. You want to make sure that the person is taken to a dedicated landing page. The copy on the landing page needs to align with the copy on the CTA.
Test – you can spend a great deal of time debating with yourself, or your team, trying to decide the best action phrase to have on the CTA (Learn More, Download Now, etc.) Experts can provide us with guidelines, but the ultimate arbiter is the website visitor. Your visitors will tell you which CTA resonates with them so you will want to A/B test CTAs on your website.
Remember, calls-to-action should be placed in as many places as possible: in all your content (ebooks, whitepapers), in your marketing emails, on your website and in your social media posts. Effective design, messaging and page placement will positively impact your click through rates and drive more lead traffic.