LinkedIn is the world's largest professional network with over 200 million users. The social network is great for making new connections, staying up-to-date on relevant industry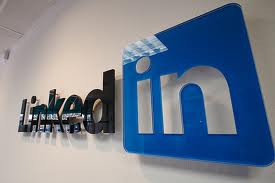 news and trends, sharing your original content, building a following and boosting visibility. LinkedIn is the best social medium for B2B companies. The social network has a visitor-to-lead conversion ratio of 2.74%, which is outstanding and greatly outranks the conversion rates of Facebook and Twitter. Although the high conversion rate is very appealing, refrain from engaging in overly "salesy" marketing on LinkedIn. After all, it is a social network, so be social, focus on being an informational resource and provide links to highly shareable content full of relevant, valuable solutions and insight. LinkedIn is a rich opportunity to increase engagement, promote your company, gain influence, attract leads and win new business.
5 Ways to Amplify B2B Lead Generation on LinkedIn
1. Add Custom Banners to Your Company Profile
Adding banners is free, and each banner can link back to your website. You can add up to three distinct linkable banners to the Products & Services section of your company page, which is a great way to funnel LinkedIn traffic to your blog, premium content, webinars and targeted landing pages. Many companies on LinkedIn fail to take advantage of this great feature. When prospects visit your Products & Services section, ensure that there is a fast and easy way for them to contact you by linking your URL, your blog or a targeted landing page to your banners.
2. Use the LinkedIn Lead Collection Widget
The widget is a highly useful tool for testing a LinkedIn ad campaign budget, which you should add to your company page. A little box sits at the top of your page—allowing people to easily submit their email address to you with just one click. The widget helps you generate more leads faster; it is especially effective with mobile users who are likely to opt out of typing all their information into landing your pages.
3. Share Customized Content and CTAs
LinkedIn company pages can offer different content based on the profile of the visiting LinkedIn member. This optimization allows you to employ the most appealing language according to industry, geographic location, job function, company size, etc. Creating custom content for specific LinkedIn members helps you drive them to highly relevant landing pages and offers, and the set-up is relatively quick and painless. Here is the dashboard for creating multiple versions of LinkedIn company pages based on audience type: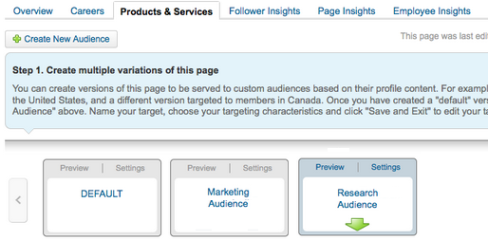 4. Optimize the Timing of Company Status Updates
You should post status updates during the times of day when you get the most impressions on LinkedIn. Most companies see more engagement in the morning. However, mobile use, which is rising, spikes in the evening. Experiment by posting at different times of day to determine what works best for your industry and target market. Engagement metrics, including impressions, clicks and shares, can be accessed by administrators of company pages. Your metrics should be analyzed to figure out what types of posts are driving the most relevant traffic and leads to your website. Pay close attention to what content generates the most social shares, since high numbers of shares translates into increased visibility in LinkedIn streams and more reach for your business.
5. Send Customized Messages to Your Prospects
LinkedIn Sponsored Inmail is an amazing marketing tool. Linked will help you identify exactly who you should be contacting to advance your business. Just create your message, add your URLs, and then let LinkedIn do the rest. Think of these messages as highly targeted sales pitches. Although this option is not free, it is well worth the cost for its ability to reach the right people, create leads and send targeted traffic to your website. A Sponsored Inmail campaign may be exactly what your company needs in order to fully optimize LinkedIn lead generation.
Experiment with various ways to distinguish yourself and your company, and LinkedIn can become an invaluable part of your social media marketing and overall inbound strategy. If you do not have the time to manage an engaging presence on LinkedIn, contact Innovative Marketing Resources for strategic social media service and solutions.