With all the hullabaloo surrounding social media, business blogging is not getting the attention it rightfully deserves. There are so many benefits of maintaining an effective company blog, and companies who do not risk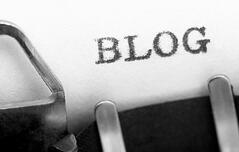 missing out on opportunities for increased lead generation, more new business and amplified brand recognition—to name only a few. According to HubSpot, companies that maintain blogs attract 55% more website visitors, get 97% more inbound links and have 434% more indexed web pages than companies without blogs. The more often a company blogs, the more traffic and leads it will be able to produce. Businesses that produce at least 20 blog posts per month generate over five times more traffic than those that produce less than four per month. Additionally, companies that blog at least 20 times per month generate four times more leads than those without a blog. Clearly, high-quality business blogging has real value. Learn how to take your content marketing to the next level.
Who Should Blog?
Effective blogging requires dedication and a significant investment of time for brainstorming, research and the actual writing. CEOs who blog are rare; their hectic schedules and vast array of duties and responsibilities usually preclude them from engaging in content creation. So, the first hurdle is finding a content creator within your organization. This person should be passionate about your business, creative, committed and have serious skills as a writer and researcher. If you do not have such an individual within your company, you can always hire an inbound marketing agency to create the blog content for you.
What Topics Should Your Blog Cover?
It is vital to think about your target audience and create buyer personas for prospective clients. Ask yourself:
What are their goals?
What issues and challenges do they struggle with?
Where else do they seek industry-related content?
The answers should inform your buyer personas and help your company create content that speaks to the needs of your prospective clients. If you are at a loss about what to cover on your blog, here are some fresh content types: case studies, statistical content, industry commentary, trends, best practices and how-to guides. Not all blog content has to be in text form. To keep things exciting, consider adding video content, SlideShare presentations and infographics. Check out this engaging infographic from Online Colleges about how to create an effective social resume. You have a wealth of experience and expertise at your disposal, so tap your key resources:
Employees who are knowledgeable and able to write or speak on camera about industry-related topics
A list of questions your clients often ask, which could each be turned into their own blog post, webinar or even a section of an ebook
Insider resources relating to your product or service—whatever industry expertise you can bring to the table
A network of industry contacts who would grant you interviews
Compelling advice from conference keynote speakers
Your sales team or account managers, who deal with clients and prospects all the time and will likely be able to identify their hot-button issues and what they would find helpful in terms of blog content
What Are Your Blogging Goals?
It is important to consider the goals for your blog. You may want to increase sales, demonstrate company expertise and amplify brand recognition, and doing so is certainly doable. You should carefully consider what you hope to achieve with your company blog, as it will influence how often you create new content. It is critical that your blogging not come off too "salesy"—only covering your own product or services in an effort to spur selling. A much more engaging and palatable strategy is providing solutions for common issues and challenges experienced by your readers. Learn from the blogs of industry thought leaders, and follow their lead. See what your competitors are doing with their blogs to evaluate what works and what does not.
Overall, aim to create engaging, informative blog content that really speaks to your audience, so readers will be compelled to share it via social media, and prospects will be more likely to convert to clients. Achieving high rates of social content curation—social sharing—is what your content must do in order to enhance SEO and boost website traffic. Creating highly shareable content is the real hurdle. Although content marketing is critical, it really is only one facet of a complete inbound marketing strategy, which is required to attain all your marketing goals.