When you meet with your SEO guru does he come with a calculator and spreadsheet or a pencil and paper? Odd question, but it matters… in fact, it's the only question that matters if you want to generate more business, admissions or non-profit leads with your website.
Be An SEO Contrarian
Traditional thinking in SEO maintains that SEO success requires ranking a website as highly as possible for certain keywords and keyword phrases. Spreadsheet-wielding SEO experts charge a lot of money every month to optimize your pages to stack the deck with Google search and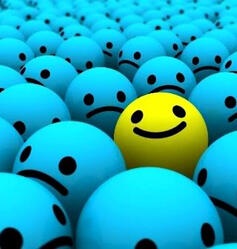 outflank your competition in hopes of a first page rank. To suggest anything other than a strategy for beating Google's latest algorithm can get you fired if your job is SEO and can make less thoughtful clients run into the waiting arms of the guy with the calculator and spreadsheet if you're an inbound marketing agency. But bear with me and I may persuade you that being No. 1 on Google is not the only way to have a successful search engine optimization campaign – and for many organizations may not be the best way.
We're #2. We Generate More Leads.
Let's start with the fundamentals… SEO is the process of making your website more visible. Ask anyone what that means and you're likely to hear that you must get on the first page of Google's search results… because we all know that no one looks beyond the first page, right?
Avis made a brand out of being #2 in car rentals with the slogan: We're #2. We try harder. The analog in content SEO-speak might be: We're #2, 5, 7, 9 and 11. We've got you covered. But is coverage more powerful than a single uber-powerful, ranking page and if so, how do you get that kind of coverage?

The 70/30 Phenomena
Douglas Karr addresses the question about prospects looking beyond #1 in his blog post "Does Your Organic Rank Matter?" In the post Doug shows that even though his blog ranks highly for many keyword phrases, over 70% of all of his organic traffic (those looking for content that Doug writes about) comes from words not ranked on the first page. Less than 30% of his traffic came from the first page of a search engine.
Sure, some people may look beyond the first page but there's more wisdom here than simply appealing to a few curious prospects. Your high ranking pages may not show in the same place for every Google user. Factors like geography, mobile, Search Plus Your World, Google product login status, search history and other factors all have an effect on search results and SERPs.
So if you have one mathematically, hyper-optimized page in the top ten, is that better than having 5 solid content pages in the top 20 when it comes to visibility and lead generation? There is something very attractive and reassuring to a prospect who finds 5 solid pieces of your content on the 1st and 2nd Google results pages. The take away here is that more great content can beat out one piece of SEO hyper-optimized content.
In a previous blog, I considered the relevance of the home page in modern lead generation strategies. In that instance my conclusion was that effective websites have become non-linear catalogs of great content about your product, service or cause. As we think here about SEO, content once again takes center stage when it comes to lead generation.
Google's head of webspam, Matt Cutts answered the SEO question this way at SXSW 2012 earlier this year:
"Normally we don't sort of pre-announce changes, but there is something that we've been working on in the last few months. And hopefully, in the next couple months or so, in the coming weeks, we hope to release it. ... So all those people who have sort of been doing, for lack of a better word, 'over optimization' or 'overly' doing their SEO, compared to the people who are just making great content and trying to make a fantastic site, we want to sort of make that playing field a little bit more level."
So if Google's out to get the SEO guys with the calculators and spreadsheets who are gaming search algorithms, your best strategy for increasing the visibility of your website is to create great content, lots of it. As blogger Joe Pulizzi writes in Coca-Cola Bets the Farm on Content Marketing: Content 2020, Coke's marketing mission statement makes it clear: content drives engagement. And we know that engagement drives sales.
Google Has One Simple Mission
At the end of the day, remember, Google's entire business is based on a simple value proposition:
Connect people with questions to content with answers better than anyone else.
If you want to generate more leads, I'd bet on Google. I'd bet on content and I'd create lots of it, starting with your blog. Look for the SEO guru with the pencil and paper. If you need help creating great content or optimizing your content to improve organic search results, Innovative Marketing Resources has the insight, expertise and resources to help.