That's BSOD, Blue Screen Of Death for you Mac users ;-) and something that PC types recognize as frustrating and bad. At the end of the 3rd quarter 2011, Google announced changes to the way organic search information would be reported under the pretense of Making Search More Secure.

The essence of Google's changes was encryption of search query information of signed-in users. Many have speculated, and I tend to agree, that the intention behind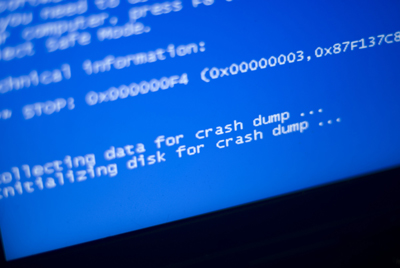 Google's policy change is to make its social networking platform, Google+ and the AdWords more attractive/competitive (especially because, surprise, Google paid search results still contain the organic keyword information even when users are logged in… so much for altruism). Users logged into their Google+ account get the "benefit" of this encrypted search cloak. As stated by Google on its blog,"Websites you visit from our organic search listings will still know that you came from Google, but won't receive information about each individual query."
Non-signed-in users can also encrypt their searches by manually typing in the secure Google web address, https://www.google.com instead of the ubiquitous http://www.google.com. The single difference between the two addresses, the "s" after http, means you're on a secure page. On most browsers, you'll also see a secure-connection icon in the browser window, typically a lock. (If you've never noticed this icon before, it's a good thing to be aware of if you're ever entering your credit card number, paying bills, etc.)
There are obvious implications for online marketers. Visitors that come to your site via encrypted, organic search will register as an organic visitor, but you won't see what keywords got them there.
Google, at the time of rollout made claims that even after fully implemented, the keyword encryption would only impact "single-digit percentages of all searches on Google.com." Hmm....

Key Details for Marketers
At a very basic level, here are the take-aways:
What's impacted:
Analytics data, no matter what tool you're using.
Reporting to managers, executives, clients, etc.
Landing page optimization and search-driven content targeting, including keyword research and accuracy of conversion rates.
Search-driven advertising outside of Google's network.
What isn't:
Paid search data for Google advertisers, and related targeting.
What Does the Update Look Like?
Within Google Analytics (GA), in the Traffic Sources > Sources > Organic section, you'll see the token "(not provided)" which identifies encrypted search visits. In GA, the report looks something like this:

In the Hubspot analytics package, you can find the same information under Analyze > Sources and then clicking on the Organic Search category. You'll see something like this:

not provided in GA or Unknown keywords (SSL) in Hubspot sources has been one of the top referring "keywords" to our website, trailing just slightly behind variations on our brand. That doesn't look good. Who are these visitors? Are they people I should care about? Not care about? And what kind of search queries are these? Brand? Non-brand? What else?
What Is A Marketer To Do?
Google analytics users will want to read this excellent post by Avinash Kaushik. In his post, he goes through an analysis of his own website analytics to answer the question "should I care" about this policy change. He creates, and provides a download of a great custom report for GA users. The data in the report will help you answer the question for your own business.
As of this writing, Hubspot users will have to settle for either adding GA to their site and following the route taken by Mr. Kaushik or using a coarser proxy to answer the question of whether you should care, which is the percent of your conversions coming from "unknown keywords". The higher the percentage, the greater cause for concern. Here is a blog posting from Hubspot on this issue.
In either case, what marketers are left with is a subset of their overall data that used to be completely transparent to them and now only provides a black-box perspective. If blocking referrers isn't a privacy issue, then Google needs provider referrer data to all publishers, not just those who advertise. The real question is how the web community - and other search engines like Bing and Yahoo - will respond, should (as many anticipate) the black-box percentage of organic keyword information from Google continue to increase. Your thoughts?