Less Distance. Less Friction. More Action.

The mobile medium, unlike any other, has the power to interrupt a prospect from whatever else they are doing and get them to take action. Chief among the mobile marketer's tools is the Quick Response code – QR code for short. A QR code is a type of matrix barcode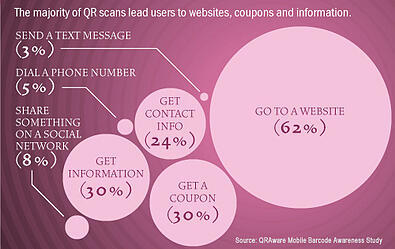 or two-dimensional code consisting of black modules arranged in a square pattern on a white background that can be imaged on any flat surface.
When a prospect scans a QR code with a smartphone or tablet, it instantly connects them to digital content or activates various smartphone functions such as email, text messaging or a web browser. Rather than simply giving a prospect information and hoping they take the action you intend, QR codes both give the information and take the action in one step. Less Distance. Less Friction. More Action. Very cool.
Slapping A QR Code On Your Ad Does Not A Mobile Strategy Make

Now your wheels should be turning. The possibilities are endless. Think beyond simply teleporting your prospect to your website. Think integration of offline marketing to measurable online actions: print items, signage, menus, business cards, name tags, point of sale displays. Think about what you are testing for and what you want to achieve. The successful QR code strategy is like playing a good game of pool. The current action should be a setup for the next.


A great QR code implementation grants a wish and does one, perhaps two things at most – really well. The prospect euphoria of instant gratification is a powerful tool. A mobile conversion strategy using QR codes should be a concert of a lot of little pieces. Trying to do too much at any one step in the process is a recipe for failure with QR codes. Think through the entire campaign and where your conversion opportunities exist:
Where will your prospect be when they scan your code?
The prospect will be physically holding/touching/interacting with the item that carries the QR code. What can you do with that information?
Do you have a call to action with each code and does your call to action clearly state how to scan and what a scan will do for the prospect?
Have you mapped out a mobile-friendly call to action and offer for each step in your buying process?
Once you have mapped out your strategy, here are some action ideas to stimulate your thinking about QR code actions to drive prospect activity for your business:
Bookmark a website.
Make a phone call.
Send a short message.
Send an e-mail.
Create a vCard (v2.1 or v3.0) with coordinates to add a contact to your device.
Create a meCard to add a contact to your device.
Create a vCalendar event to add to your calendar.
Create Google Maps URLs.
Create Bing Maps URLs.
Create raw geological coordinates.
Create iTunes app and review URLs for iOS devices.
Create market:// URLs for searching for publishers or packages on Market app for Android.
Create Foursquare venue URLs.
Create special youtube:// URLs for YouTube app on iOS.
Obtain and encode the latest tweet of a Twitter user.
Overlay a Twitter profile image over the code.
Create a mobile URL to tweet on Twitter.
Initiate a chat to a particular Blackberry PIN on Blackberry Messenger.
Connect to a WIFI network on Android devices.
Read plain or free formatted text on your device.
Something this powerful must be difficult to create, right? Wrong. You can create your own QR codes, instantly, online, with a tool like Kerman Erken's QR code generator (this also happens to be the developer of QRafter, one of the many free apps available to read QR codes on you're the iphone and ipad).
How have you used QR codes effectively in your marketing mix?