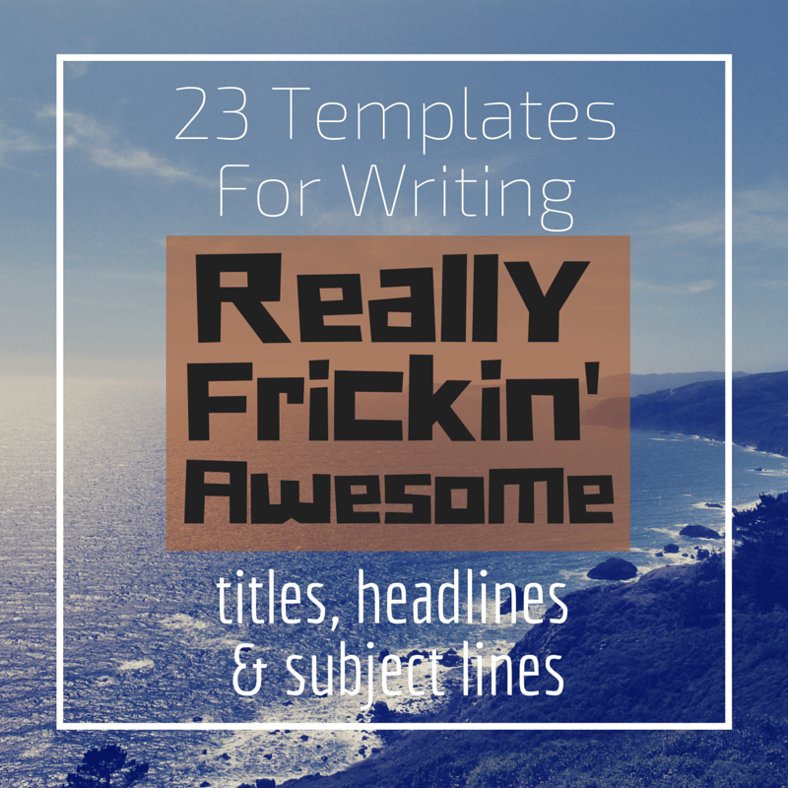 Like every content marketer, journalist, or content writer, there's a good chance that you've encountered this incredibly common problem. You spend hours writing a blog post, an email, or some other piece of content, but you just can't figure out what the best headline/subject line/title is. The problem is, you're trying to reinvent the wheel.
What if I told you that some very smart writers (print advertisers and journalists) have perfected this very task over the last century? Don't reinvent the wheel.
Below are 23 templates for headlines, titles, and subject lines that have been tested and proven. Use them.
1. Who Else Wants [blank]?
You audience wants something. What do they want? This will REALLY connect with them.
Who Else Wants a Higher-Paying Job?
Who Else Wants to be Better at Design?
Who Else Wants to Get the New iPhone Without Waiting in Line?
2. The Secret of [blank]
Everyone wants the recipe for the secret sauce. Your audience has some pain, and they're wondering what the secret is to overcoming it.
The Secret to Convincing Your Boss to Give Unlimited Vacation.
The Secret to Whiter Teeth
The Secret to Getting More Blog Subscriptions
3. Little Known Ways to [blank]
People love the "uncommon ideas." It makes them feel like part of an exclusive group of experts actually using these tactics.
Little Known Ways to Convert More Traffic into Leads
Little Known Methods for Better Communication in Your Marriage
4. Get Rid of [problem], Once and for All
The holy grail. Not only are they solving a problem, but they are solving it forever.
Get Rid of Bed Bugs, Once and for All
Get Rid of Pesky Telemarketers, Once and for Al.
5. Here is a Quick Way to [solve a problem]
Everyone feels like they don't have enough hours in the day. How can they solve their problem quickly?
Here is a Quick Way to Manage Your Affiliates Better
Here is a Quick Way to Housetrain Your Dog
6. Here is a Method that is Helping [blank] to [blank].
This is a case study, of sorts. Talk about how someone else, or some group, is accomplishing the same objective that your audience wants to accomplish. Extra points if you call out your audience specifically in the title.
Here is a Method that is Helping Homeowners Save Major $$$ on Energy
Here is a Method that is Helping Therapists Treat their Patients More Effectively
7. Now You Can Have [something desirable] [by great circumstance]
Think of this as sort of the "lazy" headline. It's how people can acquire something desirable, without having to do much work.
Now You Can Have Big Muscles Without a Gym Membership
Now You Can Make $400 a Day While Working from the Beach
8. [Do something] like [World-Class Example]
Who is the best at doing something? And how can they also do the same thing? (Note: You have to make this feel reachable; you don't want them to throw their hands up in frustration).
How to Be a Rock Star like Dave Grohl
Become A Thought Leader Like Larry Kim
Rapidly Grow Your Company's Users like Uber.
9. (Have a/Build a) [blank] You Can Be Proud Of
Giving people a feeling of pride is one of the most powerful things you can do. Helping them do something worthy of pride will jazz them up.
Have a DIY Wedding You Can be Proud Of
Build a Website You Can be Proud Of
How to Build a Homeschool Program You Can be Proud Of
10. What Everyone Ought to Know About [blank]
People want to know the most critical pieces of information about the subjects they care about, especially information that they may not have known previously.
What Everyone Ought to Know About the Affordable Care Act
What Everyone Ought to Know About the Syrian Refugee Crisis
What Every Salesperson Ought to Know About Human Psychology
11. Give Me [short time period] and I'll Give You [blank]
Who wouldn't click on this? Not only are you GIVING them something, but it's going to take a teensy-tiny investment on their part. (Note: Make sure this doesn't look like a glorified sales engagement. Remember, sell value, not yourself.)
Give Me 20 Minutes and I Will Tell You How to Improve Your Website
Give Me 20 minutes and I Will Design You a Social Media Header Image
12. If You Don't [blank] Now, You'll Hate Yourself Later
Humans are hard-wired for risk aversion. It's a fundamental trait of the human psyche. This type of title uses that hard-wiring to catch their attention and inspire a click.
If You Don't Learn the 'Get Things Done' Method Now, You'll Hate Yourself Later
If You Don't Build a Mobile-Responsive Site Now, Google is Going to Do More Than Give You a Slap on the Wrist
13. The Lazy [blank's] (Way/Guide) to [blank]
Again, how can they some accomplish something...without a lot of effort?
The Lazy Mom's Guide to Throwing the Best Christmas Party Ever
The Lazy Marketer's Guide to Web Design
14. See How Easily You Can [blank]
Another way of promising a benefit for little effort. There's a reason for this; everyone wants to do more, with less.
See How Easily You Can Impress Your Girlfriend for Valentine's Day
See How Easily You Can Shop for Every Person on your Christmas List
See How Easy it Will be to Impress Your Boss
15. You Don't Have to Be [something they're not] to [accomplish desired result]
People get really wrapped up in their own deficiencies. They often fear that someone else is inherently better than them in some way (smarter, more attractive, funnier, stronger, etc.). Or, they worry that they have some other unattainable benefit that sets them apart.
You Don't Have to Be Rich, Ripped, or a Rock Star to Get the Girl You Gave a Crush On
You Don't Need to Be in a Fun Industry to Write Engaging Content
You Don't Have to be CEO to Make a Difference in Your Company
16. Do You Make These Mistakes?
This can be really powerful. What are the common mistakes/pitfalls people encounter?
Are You Making These Common Productivity Mistakes?
Do You Make These Common Parenting Mistakes?
Do You Make These Inbound Marketing Mistakes?
17. How to [blank] and [blank]
This is your time to double-dip. Don't just give them one benefit they will accomplish...give them two.
How to Win Friends and Influence People
How to Kick Ass and Take Names
How to Give Better Presentations and Make People Enraptured When You Speak
18. How to [task] That [attains rewarding benefit]
What are some basic tasks, especially mundane ones, that they can do that will help them attain a rewarding benefit.
How to Sell in a Way That Blasts Past Quotas Every Month
How Walking 100 Minutes a Week Will Help You Live to 100
19. [Number] Types of [Occupation] – Which Are You?
People naturally compare themselves to others, trying to see where they fit into the overall scheme. Identity those different "types" or people. You can use this as a way to present "bad" types vs. "good" types, with the implicit understanding that your offering will help them be one of the good ones.
There Are Six Types of Student Athletes—Which Are You?
There Are Two Types of Marketers - Which Will You Be?
20. How [blank] Accomplished [contrasting idea]
The contrast is key here. You want to present something they can do that will accomplish a surprising thing.
How Making My Bed Got Me a Job as a CEO
How A Dirty Room Made Me Homeless
How Talking to My Rubber Ducky Made Me a Million Dollars
21. Are You [blank]?
For this, you're allowing someone to self-identify in some way. The key to this is that it's going to really pique their interest if they already feel it describes them. As such, be bold in what you say here. Don't be afraid to ruffle some feathers. However, it can also be effective to do it with a positive trait.
Are You a Bore at Parties?
Are You Courageous?
Are You Bold or Boring?
22. If You're [trait or descriptor], You Can [get something they want]
It's critical that you start this headline out with something they are, or that they aspire to be. Then, follow that up with the benefit they can obtain as a result.
If You're a Good Writer, You Can Also Triple Your Traffic in 2016 With These Tips
If You're a Therapist, You Can Be Much Better at Healing Your Clients.
If You're Salesperson, You Can Close More Deals by Understanding a Little Psychology
23. [Number] Ways to [blank]
What would a list post, like this one, be if I didn't talk about the power of lists? Look, people love lists. It tells them exactly what to expect, it quantifies the value, and lets them know that they can probably skim it.
23 Templates to Help You Write Really Frickin' Awesome Titles, Headlines, and Subject Lines
Conclusion
There! No more excuses. If you use these templates, your blog titles, headlines, and subject lines will be infinitely more engaging and clickable. Enjoy!