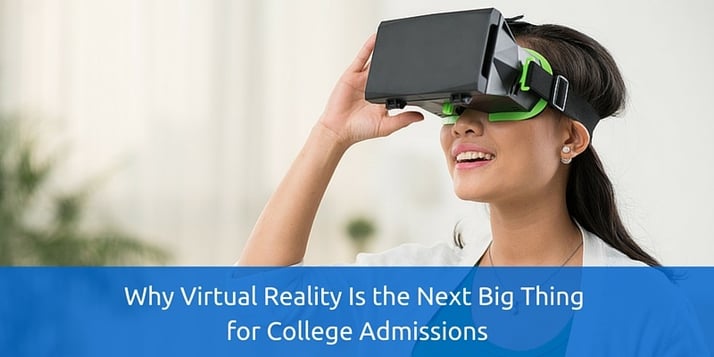 A few years ago, college admissions teams were struggling to figure out their social media strategy. Today, most schools have a robust social media outreach program. Many have taken it a step further by using social media to check out prospective students.
According to a Kaplan Test Prep survey, 40 percent of college admissions officers browse social media profiles to learn more about admissions candidates. I am sure that this percentage will continue to grow and reviewing a prospective student's social media presence will become part of the application process checklist.
Now that they seem to have a handle on using social media to attract and find students, I believe the next big technology that admissions teams will need to come to grips with is virtual reality (VR).
Several schools are already using VR as a tool in the admissions toolkit. In a Los Angeles Times article, we learn about a campaign by Savannah College of Art and Design in Georgia. The college sent Google Cardboard headsets to a few thousand prospective students. The goal was to give the students the ability to take a virtual tour of the school's various campuses.
Here is was a student who received the VR package said:
"Since I was working with these cardboard goggles and my iPhone, I had low expectations going in… it was way better than I expected it to be. It was super-realistic."


Why Virtual Reality is a Useful Tool for College Admissions
A virtual reality tour is different than a 360-degree panoramic tour. A 360-degree video is limited to the filmmaker's camera movements (here is a great example of a high-quality 360-degree campus virtual tour from Marist College). Virtual reality provides an immersive world where you can walk around in (assuming you are not tethered to a computer).
The cost of the headsets is dropping to the point where it is in line with other direct mail print costs. While some high-end sets can run in the hundreds of dollars (HTC Vive and Oculus), the Google Cardboard device can be as low as $5 per unit.
Besides the device, a school would need to produce the high-definition video. This is where a company like YouVisit comes into the picture. The content that a firm like this produces can be used for both VR devices as wells as 360-degree panoramic video presentations. The cost of producing this type of video is more expensive than traditional video, but the whole "immersive" experience for the viewer is worth the premium.


3 Ways College Admissions Teams Can Use Virtual Reality
I see several opportunities for an admissions team to use virtual reality:
Overseas students

. For many students it is difficult, due to the time commitment and cost, to come and visit all the schools they are interested in attending. A VR package would allow these prospective students to get a sense of what the community and campus are like from the eyes of an existing student.

Prospective students

. A VR package as part of the recruiting process will help differentiate your school among the many direct mail pieces sent to the home. It creates the image of a cutting edge school. Using a cost effective device like Google Cardboard, you can keep the costs in line with other, more traditional direct mail outreach programs.

Accepted students

. With a VR package, you can give accepted students (that have not already taken a campus tour) a more in-depth sense of campus life and community. The idea is to entice them to take the time for an in-person campus tour.
Virtual reality is more than a fad. Some schools are already experimenting with using it in their admissions process. It is a new technology that all schools should have on their radar screen.