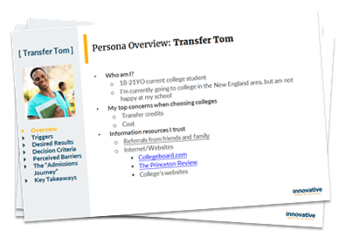 Do you know the #1 concern of the prospective students applying to your school? What criteria are they using to narrow down their school list? Why are they choosing your school over your competitor? What information are they looking for when they come to your website? How do they find out about your school in the first place? What resources are they using to look for information? Who else influences their decision?
Answering these questions is the key to creating effective content to attract the qualified applicants you want to your school. The business world uses a marketing intelligence tool called "buyer personas" to answer these questions about buyers, but this method is rarely taken advantage of by admissions teams in the higher education space.
What is a "buyer persona?"
A buyer persona is a research-based representation of a typical buyer and their buying (decision-making) process – how, when, and why they make a purchase decision.
My favorite definition comes from buyer persona expert Tony Zambito (seriously, couldn't have said it better myself):
Buyer personas areresearch-based archetypal (modeled) representations of who buyers are, what they are trying to accomplish, what goals drive their behavior, how they think, how they buy, and why they make buying decisions. (Today, I now include where they buy as well as when buyers decide to buy.) - Tony Zambito
What is a "student persona?"
For colleges and universities, these personas are representations of your prospective students (applicants):
Student personas are research-based representations of real applicants and the process they go through when researching, applying to, and deciding on a college.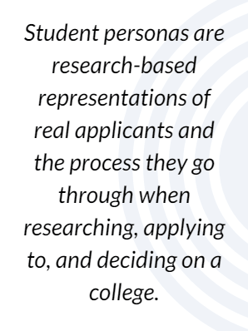 What these personas are NOT are a smattering of demographic information about your prospective applicants. While demographics are certainly a piece of the puzzle, the most important information is based around the decision making process (from the moment they start considering going to college, through researching their options, to ultimately choosing a school).
When I discuss prospective student personas with my EDU clients, occasionally marketers will respond, "Oh, our marketing team already made those." But often what they have created is just a quantitative analysis of their typical applicant pool (geographic location, average GPA, average SAT scores, ethnicity, family size, family income, etc). This is a great start on the who, but doesn't cover the what, where, why or how of their college search process.
When we create student personas, we explore these questions at each stage of the college research and decision making process: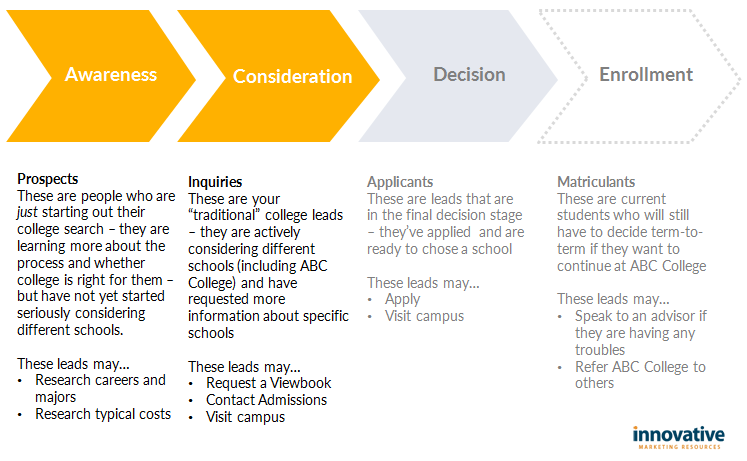 What questions should student personas address?
Triggers – Why are they looking at colleges?
Goals – What are they hoping to get out of going to college (Guaranteed job placement? Networking opportunities? Living the "typical" college experience?)
Decision criteria – How are they comparing schools? What information do they care about?
The "Application Journey" – How does the research + consideration + application process look? When do they start looking, visiting, and applying to schools? Who else aids and influences their decision?
How Student Personas Can You Help Attract more Inquiries and Applicants
Student personas help identify what information is most important to prospective students – which can have implications for all of your marketing content (especially your online content). We've used student persona research to support marketing decisions like:
Reorganizing a college's site navigation so the "critical pages" for prospective students were all accessible in 2-3 clicks from the home page
Writing eBooks addressing questions prospective students typically struggle with (like a First Timer's Guide to Filling Out the FAFSA) that can be downloaded in exchange for their contact information
Creating automated email campaigns addressing the most common "pushbacks" prospective students have against applying to a specific university
Rewriting web and marketing copy to highlight the information and selling points the personas really cared about
Want to learn more about student personas and the research they include? Download the example below.
Download Sample Student Persona
Download this free sample student persona based on research we did for one of our higher ed clients (name and some details have been changed).