When we start working with our education clients at Innovative Marketing Resources, one of the first "tasks" we assign them is to act like a prospective student and go to their website and find a way to identify themselves.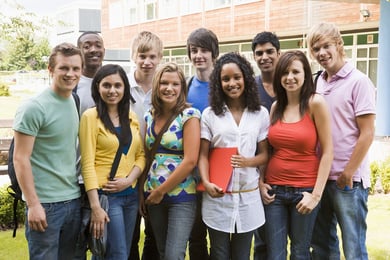 The typical process they follow is to type in the URL of their institution's home page, select the admissions tab, then select either the "request information" tab or the "contact us" tab. Then there is a series of questions - anywhere from 20 to 50 - that must be filled out (nearly all of the fields are required ones) before the process is complete. Once they have completed all these steps and hit the submit button, most marketing and admissions people cannot answer our question, "Now that you have finished this process, what communication do you expect from the school?"
In almost all cases, the response is consistently, "I do not know what to expect." Does this cumbersome and outdated process help with prospective student engagement? The clear answer is no!
All of our EDU clients have thousands of anonymous visitors to their websites each month, but how do these visitors become prospects? How many of these visitors are current students and how many are prospective students? The tedious process outlined above does not entice website visitors to identify themselves, contributing to the growing number of stealth applicants.
How Should You Engage With Prospective Students?
We all know that the attention span of the target audience is very short, think Instagram, Snapchat, Twitter and WhatsApp. So, many of them probably won't have the patience to answer 50 questions right out of the gate. You need to create concise and compelling content that shares your school's story. What differentiates you from other schools?
In exchange for more detailed information about campus life and curriculum you should ask a handful of questions: name, email address, entry status, entry semester. With this initial information, you can use a marketing automation tool to create a workflow that will push out relevant content to the prospect, at pre-determined time intervals, while at the same time continuing to gather more information about the prospect – intended major, need information on financial aid, etc.
How Marketing Automation Can Help
Today's modern marketing automation tools can help manage these and other tasks:
Blogging
Posting to various social media platforms
Creating calls-to-action and landing pages without involving the HTML web engineers
Automating workflows and emails
Reporting and analytics
Marketing automation should not be confused for email marketing. Effective marketing automation can be used to attract and recruit students, engage with current students and maintain relationships with alumni.
You Need a Strategy
While marketing automation tools like HubSpot are powerful and multi-faceted, just purchasing the software does not ensure success. The foundation for successful engagement is a comprehensive inbound marketing strategy. The purpose of inbound marketing is to create awareness and educate prospective students about your institution's unique position vis-à-vis other schools, generate more prospective applicants and nurture them through the admissions process.
Creating content and workflows that resonate with your prospective applicant population will increase engagement with this target group and marketing automation can help in these key ways:
Nurture prospective students with follow-up educational content by creating automated workflows
Send out highly targeted emails with personalized messages rather than generic email blasts
Nurture prospects through the admissions funnel over a period of time rather than attempting to gather all the information at the initial point of contact
Measure, track and analyze all activity on your website and email campaigns to determine what is working (highest engagement levels) so you can focus on what is resonating with your target population
Learn More about Inbound Marketing
To learn more about inbound marketing, and seperate the fact from fiction, check out our free guide on the 3 things you need to know before you adoptan inbound strategy: