As a junior in high school, I conducted extensive research before choosing a school that was the perfect fit for me.
I wished to attain a liberal arts education while pursuing a career in Strategic Communications.
Marketing and advertising had always been of particular interest to me. Having spent years observing my dad run and operate his marketing agency, BKM Marketing, I was enamored by the glitzy, attention-grabbing content that the team produced.
Based on my love of writing and persuasion, I knew that I wanted a school with a strong Communications, Marketing, and Advertising program.
My college search process
My college search process was a whirlwind of self-reflection, self-advocacy, and evaluation. I worked to develop my own personal story—a story that would sell. I brainstormed several essay topics and asked my teachers, parents, and college counselors for approval.
I did my online research, using the keywords: "best communication schools" or "southern liberal arts colleges." Inherently, it was the websites with the most effective search engine optimization (SEO) that I viewed the most. I compiled a broad list of schools that fit my criteria in attempt to keep an open mind.
I also used Naviance, a program my high school uses to match students to schools that would best suit them.
College propaganda
Each day I would receive countless emails and direct mail from various schools claiming to "want me." Me in particular? I received offers of scholarships, early admission, and so-called "priority review."
The emails and letters addressed me by name and complimented me with words such as, "I'm impressed, Grace," and "You have been chosen for the Early Admission Application!" Many of these pieces of mail included a copied signature at the end, as if the admissions officer had actually written the letter.
Initially, the propaganda made me feel special, as if these schools somehow knew my grades, work ethic, standardized testing scores, and interests.
So I found myself considering certain schools that I had no interest in attending, simply based on the idea that they wanted me.
My ah-ha! moment
"If I get one more email from a crappy college, I'm going loose it!" my friend declared one day at our lunch table. "I never should've filled in that bubble on the SAT!" she exclaimed.
I vaguely remembered a question asking whether or not I wished to give my contact information to schools. Did I fill in that bubble, releasing my email to hundreds of schools around the country? I couldn't recall. Another friend incredulously exclaimed:
"I haven't even expressed interest, so why are they trying to get me to come visit?"
I listed the schools that had reached out to me, which matched up with those who had contacted my friends.
I realized then that these schools did not contact students because they wanted us to attend, they contacted us because they want us to apply. I felt as though I had been cheated, blind-sided, bamboozled. In essence, I felt like a number. Ugh.
A more relaxed, effective approach
I found Elon University in North Carolina through word of mouth and internet research.
Elon did not bombard me with numerous emails claiming to be interested in me. They took a more relaxed, simplistic, yet effective approach to their campaign:
I was contacted enough times so that I wouldn't forget about them (but not so much that the school seemed desperate)
They didn't promise me a scholarship
Nor did they pretend like they knew my academic record
I learned about their credibility directly from their from alumni
So, I decided to visit Elon University. They had all the hands-on experiences I envisioned for myself as an up-and-coming marketer.
A state-of-the-art communications school
Incredible communications facility
A beautiful campus
Extensive study abroad programs
A professional development center
Campus marketing opportunities (social media chairmen, The Edge magazine, communication design classes, etc.)
Certain that Elon was the perfect fit for me, I chose to apply Early Decision. My admission decision was available online November 31st at midnight. I clicked the link I received, instigating an explosion of virtual confetti and a letter of congratulations. I was thrilled!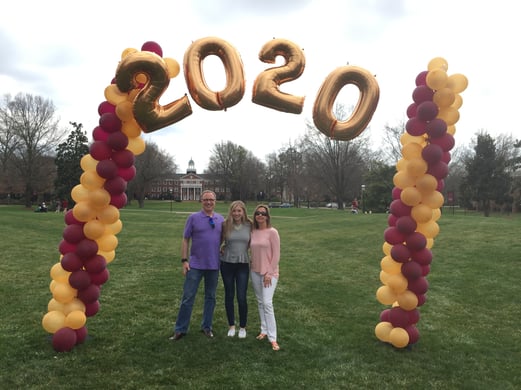 How do you market your school?
As head of university admissions, what approach do you take? As you can see, the most effective strategy that played a major role in my decision was the one that made me feel like a person.