Pay-per-click advertising (PPC) — and Google AdWords specifically — is a line item in just about every school's marketing budget. Which is why it's particularly shocking to me how so many schools are blowing their precious marketing budget on AdWords. I'm not saying that AdWords is a waste, I actually think AdWords and PPC in general are actually a great "rocket fuel" for inbound marketing (so long as you set your campaigns up strategically).
How much are you spending on AdWords campaigns for your school each month? And what's the return you've gotten? Are your ads targeting the right audience and incentivising them with the right offers? How can you be sure?
I pretended to be a student Googling different types of schools as part of the college search process, and was surprised at the amount of PPC ads that came up that made some very basic mistakes. If you're making one of the 4 mistakes below (many schools I discovered are guilty of more than one of these) you're wasting your ad budget!
Mistake #1 – Not Directing Leads to a Landing Page
If you aren't generating leads for your school, you shouldn't be dumping money into AdWords. Period.
Sure, visits and "brand awareness" are nice vanity metrics, but at the end of the day you have no way of measuring the effectiveness of your marketing investment if you have no leads (whether they be inquiries, campus visit registrations, applicants, etc.) to show for your efforts.
The easiest way to get leads is to send the people that click on your Google ad to a landing page with a form on it asking for their basic contact information.
You're Doing it Wrong: New York Institute of Technology
I Googled "Massachusetts architecture schools" and got this ad from the NYIT Architecture College:

Clicking the ad takes you to the About page on their site: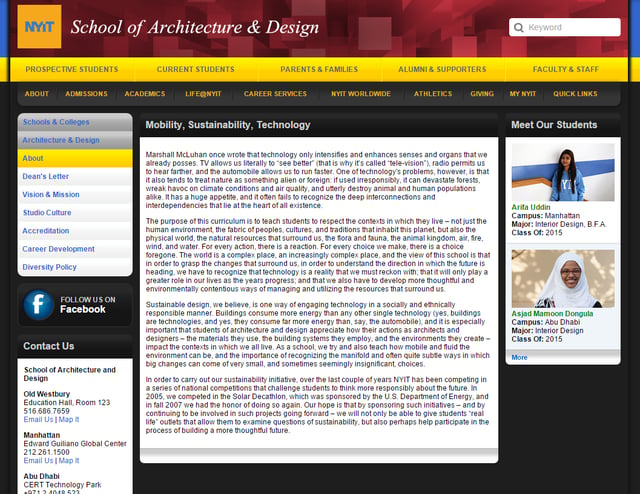 What they're doing well:
The ad copy itself is relevant and contains the keyword I Googled.
What needs work:
The ad links directly to the About page on the School of Architecture & Design site, which is wildly disorienting.
The page doesn't speak to the "winning architecture courses" the ad referenced at all.
Remember, people have very short attention spans. If I'm not convinced the page is what I'm looking for within the first three seconds, I'm going to click the back button.

There's no form. As a visitor, I can just check out the site and leave, never to be heard from again.
This school is based out of New York, which, last I checked, isn't located in Massachusetts. If I'm only interested in local schools then they're out of luck (more on this later).
Overall AdWords grade: F
How to make it better: Build out a dedicated landing page (with a form to request more information) that speaks specifically about the architecture program. As a visitor, I get all of the highlights about the program I wanted to learn about and the admissions team gets my contact information to follow up on. Everybody wins.
Mistake #2 – Not Customizing the Landing Page to Match Your Campaign
OK, so we know we need landing pages, but just any ol' landing page won't do. In fact, a generic, non-program specific landing page might actually be worse than sending visitors straight to the program page on your site (eek!).
If you are writing AdWords copy meant to target specific major keywords, you should have unique landing pages that speak to each program. Remember, you're not selling your school you're selling your program.
You're Doing it Wrong: New England College Online
I Googled "new england culinary schools" and got this ad from New England College Online (NEC):

The ad took me to a landing page (nice!), but didn't mention anything about the culinary program at all (not nice!). Let's take a look: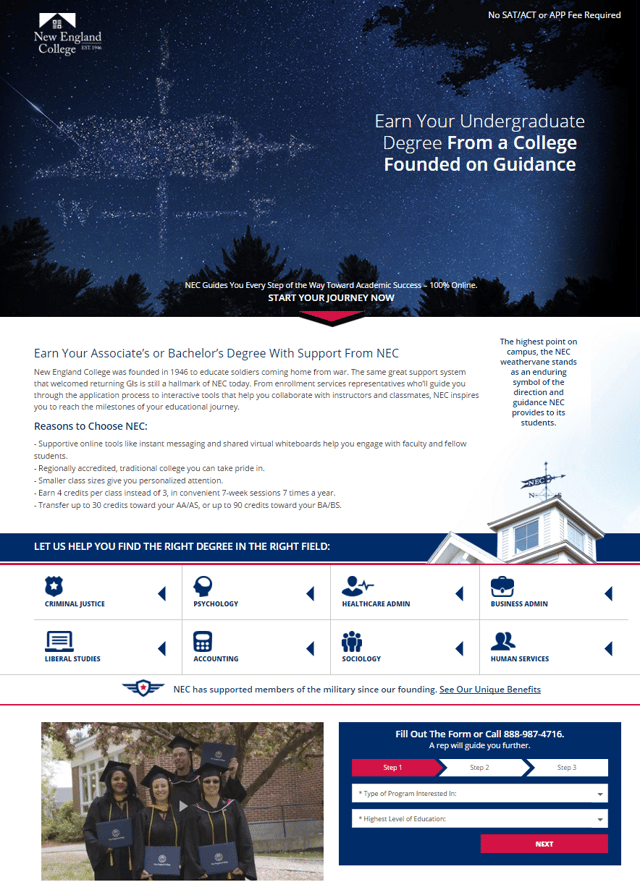 What they're doing well:
The ad links to a landing page.
The page mentions some differentiating benefits of their accelerated program options (transfer credits, 4 credit classes, etc).
What needs work:
The landing page doesn't give me the information I was looking for – information about their culinary school program (majors, degrees/certificates, externships, scheduling, etc).
Upon further investigation, I discovered that culinary degrees aren't even offered at NEC.

I have no compelling reason to fill out the form. There's no big "Request More Information" headline explaining what I get by filling out my contact information (especially because I see no mentions of culinary programs, which is what I was searching for to begin with).
Overall AdWords grade: D-
How to make it better: Create landing pages for each of the separate programs that address some of the highlights of studying that major at NEC. Even if I was looking for a psychology program (which is offered by the NEC), there's nothing compelling on this page that speaks to the strengths of the program. Also, NEC should tweak the copy on the form to clarify what the visitor will "get" in exchange for providing their contact information (will they receive a viewbook? A personalized consultation with an admissions rep?)
Mistake #3 – Asking for WAY Too Much Personal Information
How many form fields do you have in the inquiry form on your landing page? 5? 10? 20? And what's your submission rate on these pages? Are you at 20%, or are you closer to 2% (or, *shudder*, 0.2%)?
If you're like most schools, your admissions team wants you to capture a LOT of personal information on these forms. But the more fields you include in your form, the fewer visitors who will fill it out. Just include the bare minimum your team needs to follow up with the student at this stage in the process. If all you're going to be doing is sending them emails and direct mail pieces, don't ask for their phone number (asking for a phone number alone can cause a 5% dip in form submission rates).
You're Doing it Wrong: Keene State College
I Googled "engineering colleges in new england" and got this ad from Keene State College:

The ad took me to this landing page: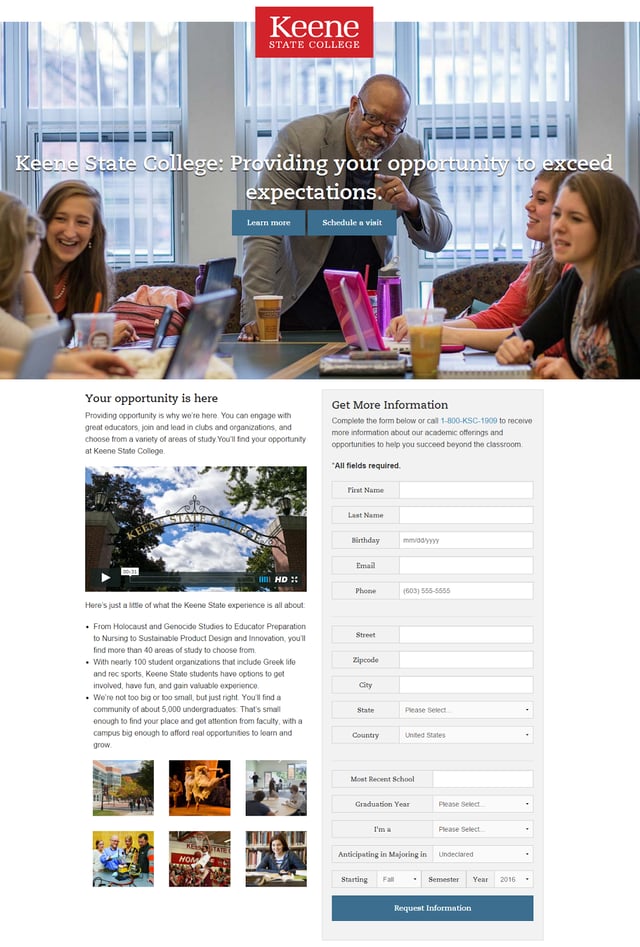 What they're doing well:
Looks professional, has some nice glossy pictures.
What needs work:
Again, this page doesn't provide me any information about the keyword I researched at all ("engineering colleges").
The request more info form is HUGE, and all fields are required. I'd imagine the bounce rate on this page is exceptionally high
Overall AdWords grade: D-
How to make it better:
Keene should create separate landing pages for each of their programs, even if 90% of these pages are identical. Even minor changes like swapping out the images and including a couple of bullet points about the program is enough to make a difference. Also, Keene should considerably shorten the Request Information form (is knowing your birthday critical information the admissions team needs right now?).
It's best to only ask for the information you need for an immediate follow-up, you can always ask for more information (mailing address, most recent school, etc) at a later time. Unbounce has a great article on how test test shorter forms on a landing page to increase submission rates.
Mistake #4 – Forgetting to Include Negative Keywords
Even with a killer landing page that highlights the benefits of your academic program and give the visitor a compelling reason to give you their contact information, if your ad is targeting the wrong audience, you're still going to be wasting money on your campaign. Including negative keywords in your campaigns will help the number of "false" targets your ad is displayed to.
Remember to include negative keywords for:
Jobs/careers - This will help prevent your ad being shown to people using a lot of your potential keywords, but who are clearly looking for employment opportunities, not school.
Programs not offered by your school - Consider adding a list of popular programs not offered by your school as an exclusion list. This will prevent people looking for those specific programs from clicking on your ads by mistake.
Other locations - If the majority of your student population is local, you should definitely include negative keywords for all of the major US cities and states in your campaign. At a minimum you should be targeting your ads to a geographic location. But this does not protect against people searching for non-local options outside of that area. Including negative keywords in your campaign will solve this issue.
You're Doing it Wrong: Fashion Institute of Design and Merchandising
I Googled "fashion schools in boston" and got this ad from the Fashion Institute of Design and Merchandising:

The ad took me to this landing page, which was the best I had seen yet: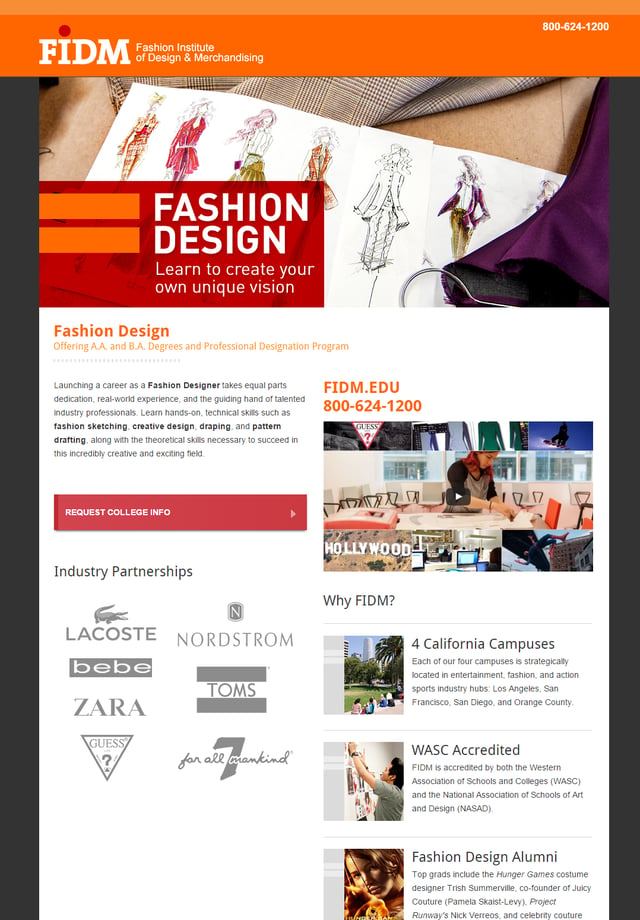 What they're doing well:
The page is very well designed.
FIDM is clearly a fashion school and this page tells me more about their amazing fashion design program.
Includes "Industry Partnerships" with recognized brands.
Provides interesting information about a career in fashion.
Mentions accreditation and noteable alumni (for credibility).
What needs work:
The school's campuses are only in California, and I was only looking for Boston-based schools.
Overall AdWords grade: C
How to make it better: FIDM's page setup is great, but they're still losing money showing their ads to searchers looking for schools not in California. By including negative keywords in their campaigns (like "-Boston," they will prevent their ads from being shown to and clicked on (which cost valuable marketing dollars) by the wrong audience.
AdWords is Just Part of the Marketing Mix
PPC is just a small part of your online strategy. Without the key elements to convert paid clicks to leads (landing pages with forms) you will never see a measurable return on your marketing investment. Taking an inbound marketing approach to PPC is a great way to not only get more inquiries, but be able to analyze which were the best leads (eventually enrolled). To learn more about how inbound marketing works for schools, check out our free eBook, Inbound 101.