This week, I am attending HubSpot's Inbound 2012, the world's largest gathering of inbound marketers. The conference has featured great keynote speakers, including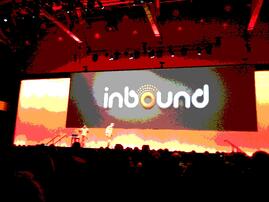 Hubpot CEO Brian Halligan, HubSpot CTO Darmesh Shah, David Meerman Scott, Rand Fishkin, Susan Cain and Gary Vaynerchuk. Today, I will focus on a seminar given by David Carpenter of Connection Model, Cut the Geek Speak and Triple Your Earnings. In order to win long contracts with high value and high margin, you need to learn how to craft custom-tailored language and positions and ask the right questions to position your agency for C-level marketing success. Engaging business principals about business growth through analysis and targeted online marketing is the key to achieving inbound marketing success at the enterprise level. David Carpenter outlined a 15-point plan for high-level inbound marketing, which I will share with you now.
1. Do Your Homework
Demonstrate in-depth vertical knowledge, so prospects are intrigued and get invested in your process. Favor assessments over proposals. Do not invest research time until a meeting is booked. Once it is, really dig in.
2. Speak Their Language
To succeed at the C-level, you must be fully versed in financial and technical marketing implications. Learn how your C-level prospect defines their customers, and never use the wrong language. Know who the decision-makers are before you take a meeting.
3. Meet Them at Their level
Engage in confident dialogue. Do not go in at a subservient level, begging for a contract. Go in strong and show knowledge. Ask smart, targeted questions. Make full use of analytics, graphs, charts and metrics.
4. Speak About Growth
C-level executives are the most likely to have performance-based compensation, so focus on profit on the horizon. Demonstrate expansive possibilities. Speak to strategy, vision, goals, geography, expanding to foreign markets. For example, China is ripe for inbound marketing.
5. Create Reciprocity
Provide prospects with the gift of knowledge and information. Frame information in the way that is most useful to them. When you give an informational gift, such as a marketing assessment, prospects will be more likely to associate you with good things and hire you. Create a sense of value that is received just by meeting with you
6. Never Throw Away Your Most Valuable Commodity: Your Time
You cannot afford to waste any time. Spend the most time on the valuable stuff: networking, assessments, planning and business generation.
7. Busy People Respects Others Who Are Busy
Busy people get things done. You need to be busy to get high-level contracts. You also need to be somewhat hard-to-get and aloof. Do not be too accommodating and easy to meet with. Offering two meeting options a week away is sufficient.
8. Define Your Process
The process of how you generate business is far more important than any single opportunity. You need to develop a tested and proven process, provide transparency and engender trust and credibility. Creating a defined and repeatable process is essential for achieving consistent results. Use a thorough discovery process, create a framework and ensure that goals are aligned. Create thorough marketing assessments and require that prospects spend an hour reviewing it with you.
9. Create Work Statements to Drive Momentum
Do not provide proposals. Instead, create custom-tailored work statements, which are blueprints of the services would provide.
10. Negotiate from Strength
Be strong, confident and knowledgeable. You need a defined process and proven track record for finding and closing your next $250,000-per-year client.
11. Know Which Secrets to Share and Which to Keep for Paying Clients.
Providing free content and blogging is great for your business. However, do not give away more than 80% of your ideas. Save the best 20% for paying clients.
12. How You Describe Yourself Matters
Do not call yourself a VAR. Instead, position your agency as a company that helps other companies to create revenue and generate new business through inbound marketing—or something along those lines. The words you use to describe yourself travel fast and follow you, so think carefully.
13. Marginalize Your Competition
Show prospects how your company is uniquely poised to create increased revenue. Use all available resources. Dig deeper to be better.
14. Bring The Ideas
In the information age, knowledge and innovation reign supreme. Brainstorm frequently for new ideas. Be innovative.
15. Make Common Sense of Social Media
Bigger engagements require more graphs and data to demonstrate the importance of social media for brand development. You need to describe the value of various social media channels in clear, easy-to-understand ways.
I hope you found this advice as eye-opening and helpful as I did. For more insights on inbound marketing, visit the Innovative Marketing Resources website and blog.