Buyer personas must be an important part of your B2B marketing arsenal. Research says 80% of your customers find you rather than the other way around. In the old days you were in control. You were selling a product. You did control the information. Today the buyer is in control and most importantly, your buyer is not buying a product, your buyer is solving a problem! So what are you selling?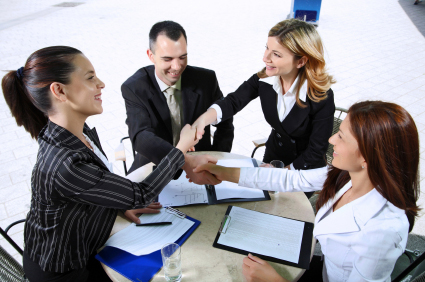 Buyer personas can help you appreciate and better target the new breed of B2B problem solvers that you're selling to by understanding their issues, what influences them and the urgency of their need. Defining and using your buyer personas in your inbound marketing uncovers previously unknown prospects, enables more targeted initial engagements and generates the most qualified sales opportunities.
What's a B2B Buyer Persona?
A buyer persona is a profile of all the different factors that impact your buyers and motivate them to buy. But a buyer persona isn't a profile of a person. It's a common mistake to think of your B2B buyer persona as a person because as marketers or sales people we want that clearly defined target. In B2B, buying is a process – often a complex process - and while one person may ultimately make the choice to buy your product or service, your B2B buyer persona must capture the complex influences, steps and qualities of the buying process that will lead to a decision to buy your product or service. Your B2B buyer persona will account for multiple people, departments and influences; by definition.
How is a Buyer Persona Defined?
We often think of a B2B buyer having traits such as: title, has buying authority, manages IT, company revenues of $50M+ etc. Old-style outbound marketing list brokers trained us to think about our prospects like this and while these traits may be accurate, they don't tell you much about the problems your prospect is trying to solve. Limiting your buyer persona to these types of prospect qualities leads you back into the mode of selling a product rather than solving a problem.
Rather than defining your B2B buyer persona as a well-defined target, think about your persona in terms of problem solving. Consider the end goal that your prospect needs to achieve and how they might achieve those goals. How does your product or service help achieve these goals (solve the problem)? Think about what threats exist to achieving the goal. Consider what drivers or motivators enable your prospect to make a decision to choose your product or service. How does your prospect perceive business objectives and organize priorities? Are you mission-critical or a convenience (more on that below)? What or who influences your prospect's buying decision? What information do you need to provide to your prospect to help gain consensus for a decision? Where does your prospect go for information? What associations do they belong to? What social media networks are they active in?
Note I have not once mentioned your product or service or how it might be used by this prospect! All these questions, and more, will help you develop a B2B buyer persona that drives top-of-the-funnel inbound marketing content that solves problems and attracts the new breed of B2B problem solvers who run from product pitches but who will find you and buy from you when you demonstrate your ability to help them solve their problem.
Don't Think You're The Only Game In Town
Most companies are guilty in their marketing of believing that their solution is the only way a B2B buyer persona can solve a problem. The more innovative the product or service, the easier it is to convince yourself that you are a must have for your buyer persona. To illustrate how limiting this type of thinking is, consider something of profound significance – the internet. Before the internet… that is before about 1990… we had computers, sent men to the moon, had global communications etc. Even something as profound and valuable as the internet had alternatives! Your B2B buyer persona is already overcoming the problem that your amazing product or service solves, they're simply using a workaround or have lower expectations of the solution. What's the take away? If you design your top-of-funnel content to tell everyone how you do something that no one else does (the I am great, listen to me type of content) you'll fail. Instead, use your B2B buyer persona to develop content that describes the current problem and the work-around solutions. Meet your B2B buyer where they are right now. In the trenches. Struggling. As you are granted the privilege of nurturing your B2B buyer prospect, you can begin to tell them, with premium content like a white paper or webinar, about your new approach to solving the problem.
The First Step: Helping Your B2B Buyer Persona Find You
One of the first exercises we go through with a B2B client is keyword analysis. In that analysis we ask clients to come up with a list of words and phrases that describe their value proposition. Almost without fail, the keyword list is full of the names of the products or services being marketed. I'm sorry but if you're a B2B company trying to grab market share and increase revenue, I have a difficult time believing that your product or services is as synonymous with the problem it solves as Kleenex is to facial tissue. When your prospect means facial tissue, they probably search on Kleenex, but you can be pretty certain that when your prospect is searching for the solution to a problem they have, they're not entering your company or product name into Google. Instead, identify keywords and long tail keyword phrases related to the way your persona will discover a solution. The keyword connection to your content is the first step in entering your B2B prospect's mental narrative about the solution they will choose.
The Second Step: Create Your B2B Buyer Persona's Value Proposition
As you may know, I am a staunch advocate of having a well defined business value proposition. But did you know that your buyer persona has a value proposition too? A B2B buyer persona value proposition follows the form of:
I need to ____________ in order to ____________.
For example, I need to improve my product development process in order to get to market faster.
Remember, your buyer persona can buy a service or product from any qualified vendor, but the vendor they will choose to buy from is the vendor they perceive to have added the most value in addition to the product or service. You can begin demonstrating your added value and expertise through your content.
The Third Step: Create Great Top-Of-The-Funnel-Content
Using your keywords and your buyer's value proposition and the buyer persona you've developed, start blogging and generating web-pages for your site that speak to the problem your B2B buyer is trying to solve. Focus each piece of content on one issue, one aspect of the buyers value proposition and one or two keywords. Focus is power and you're better off having more short pieces of focused content than a voluminous tome on a subject. Remember, you're not writing to a person and you're not pitching your product or service. Challenge yourself to write your content as a pure problem solving exercise that shares your expertise without even mentioning your product or service. Cover the problem from the perspective of the purchasing department and the contracts department as well as the group that will ultimately use your product or service. In B2B, you never know which of the many roles in the decision to buy from you will be online looking for an answer!
Marketing Take Away
What makes B2B buyer personas so unique is their ability to help you conceptualize your buyers and their reactions through multiple factors, such as threats, priorities, personal details and motivations. The better you understand these factors, the better your persona and the better able you are to identify ways to articulate your value proposition so that it resonates with your prospect. An important point to remember is that the reason for creating a persona is to help you identify with the problem your prospect is trying to solve. The purpose of a persona is not to manipulate the buying process so that you're back in control.
To take the concepts of B2B buyer personas to the next level in your inbound marketing, I recommend reading Ardath Albee's book, eMarketing Strategies for the Complex Sale. If your business struggles with B2B buyer personas and is looking for an inbound marketing agency to help, check out the Innovative Marketing Resources blueprint for increasing sales in 180 days or contact Innovative Marketing Resources for a free initial consult.