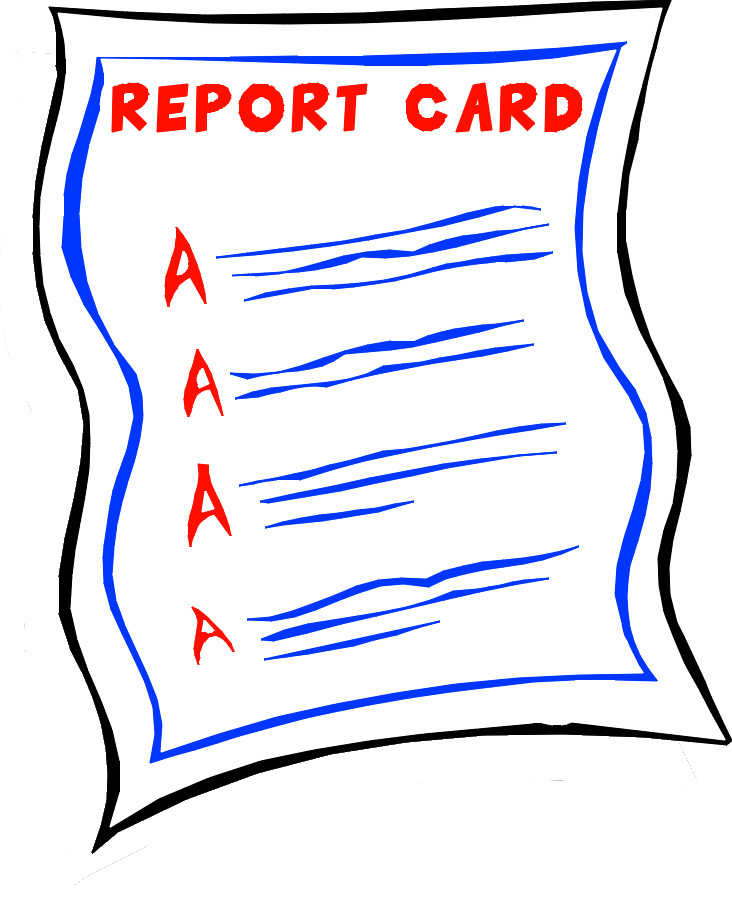 There was a time when schools had to hire a specialist to come in and grade their enrollment marketing programs and recommend a strategy for increasing brand awareness and filling the enrollment funnel. No longer. Hubspot's FREE marketing grader provides a great assessment of your strengths and weaknesses as well as pointers for improvement in about 30 seconds.
Using the grader is simple. You go to the website marketing.grader.com and enter your school website address (you can even enter the addresses of two of your arch rivals to see whether their marketing program is on cue). Marketing grader evaluates the metrics that matter for creating a healthy, predictable enrollment funnel:
Website structure

Blog

Social Media
If the analyzer can't find one of these items automatically, it prompts you to enter the information. In less than a minute, you have your analysis. The grader evaluates your marketing in relation to the three key elements that make up your enrollment funnel: Top (TOFU), Middle (MOFU) and Analytics. For each element, HubSpot's assesment techniques, developed from thousands of websites, grade your communications and enrollment marketing potential on the most important factors:
Top of the Funnel
Blog setup, sharing and subscriptions

SEO: on-page optimization, indexed pages, inbound links and mozRank

Mobile website setup and optimization

Social media reach, activity and influence
Middle of the Funnel
Blogging, calls to action and landing pages

Social media conversation and content linked to lead capture
Analytics
Google Analytics setup and tracking

Website unique visits

Comparison to other HubSpot customers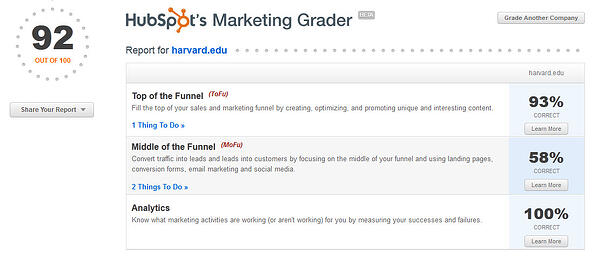 So How Does Your School Compare to Harvard?
Perhaps it's an unfair question, but it's hard to resist comparing your marketing to the school that routinely ranks at the top of the class – especially when Hubspot makes it so easy. So Harvard's doing a few things right, but there's clearly room for improvement. Your school's enrollment marketing efforts will benefit by learning from Harvard's strengths and weaknesses.
At the top of the funnel Harvard's doing some great stuff. They have a blog, and they're getting good traffic, comments, and sharing. (If your school doesn't check out our Great School Blog Webinar for some tips) Harvard also has some powerful inbound links, which help with its Moz ranking of 6 – lots of web authority there. And in social media, Harvard is active on Twitter and Facebook (good thing, huh?!) with a Klout score of 64.
But at the middle of the funnel, Harvard isn't converting all its traffic to prospective enrollees. Perhaps your school enrollment marketing suffers in the same way? You may have lots of activity on your site but you continue to struggle to fill your enrollment queue. Landing pages and lead nurturing are two key elements of an effective school enrollment marketing program that are missing from Harvard's own online marketing efforts. Landing pages and relevant content-offers give visitors who like the first impression your school creates an easy way to go further, learn more, and self-qualify to choose to apply at the bottom of your enrollment funnel.
In the analytics department Harvard provides a great role model. Having solid analytics is essential to improving your school's enrollment marketing. Even if your site is on a platform like Whipple Hill, SchoolWorld or Silverpoint, you can use Hubspot's excellent analytics package that does the work of correlating your site performance back to marketing activities.
Do Your Own Work

Teachers say that all the time, right? Run your own report. Review it carefully. This is a great way to see where your school stands in building and growing an effective enrollment marketing program. You can immediately see which tactics and strategies could use retooling or additional resources.
Innovative Marketing uses Marketing Grader with its clients and prospects to help them understand where they are now and how they can improve their marketing results. When working with a school we take the report and drill down into each component to make specific recommendations on content, social media, lead generation and analytics. Once you've done your school's self-assessment, you can jump-start your thinking about how to improve with our schools marketing blueprint, or contact us for a more in-depth consultation. School enrollment marketing is our specialty.